Section Branding
Header Content
Centennial Seeks To Join Soccer Royalty
Primary Content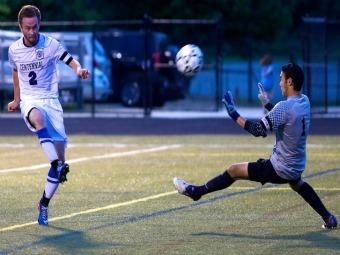 With a stellar 20-1-1 record this year, the Centennial Knights look to capture the school's first boys state soccer title tonight at Collins Hill. The Knights defeated the Parkview Panthers Wednesday, 5-1, for their 14th consecutive victory.
The Knights have outscored opponents by a total score of 18-3 in the Class AAAAA state playoffs under the direction of head coach Phillip Thomas.This includes one shutout over the Harrison Hoyas (3-0).
The ways in which Knights goals have been scored are unorthodox. Senior defender Ryan Spence whipped in two throw-ins near Parkview's goal box. Senior midfielder Connor Davis flicked on the throw to senior forward Kane Davis, who pulverized the ball with his head into the net to make the score 2-0.
Six minutes passed, and Spence flicked in a pin-point throw to junior defender Cameron Bean who finished off the goal with his head to make the score 3-0 Knights.
"We do a good job taking advantage of set pieces," Thomas said. "We're creating the opportunities in front of the goal. We want to capitalize, and we do a really good job of taking advantage of our strengths."
The Knights will enter hostile territory to attempt to bring home the GHSA silver soccer trophy. Collins Hill is home to the 2009 and 2010 AAAAA state champions. In 2008 Sports Illustrated ranked Collins Hill as the nation's No. 9 high school athletic program.
Like the Knights, Collins Hill has dominated opponents in terms of scoring margin in these playoffs. Collins Hill has outscored opponents 15-2 during, including two shutouts over Grayson and Brookwood.
Thomas is a proud Parkview grad and soccer product. Parkview has won six state titles, its last one in 2005. Thomas hopes that with a victory, his program can join Parkview as a perennial power in GHSA soccer.
"I was telling them last night, I played at Parkview, (and) when you put on a jersey for Parkview it was special because of what players and coaches had accomplished in terms of state championships and success of that program," Thomas said. "Our program is on the cusp of being one of those special programs. They have an opportunity be considered a viable program like a Collins Hill, Walton or a Parkview."
Secondary Content
Bottom Content