Section Branding
Header Content
Four Gwinnett Teams Make AAAAA Semifinals
Primary Content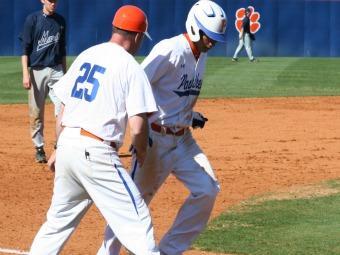 The Pierce County Bears knocked out the defending Class AA champion Buford Wolves in a decisive Game 3 extra-inning affair. Pierce County got on the board early against the Wolves on Buford's home field thanks to a two-run single in the first inning from Tim Huff. Buford would take the lead 4-2 after a big third inning, but Pierce County battled back to tie the game on a Nate Gay RBI groundout. In the eighth inning, Josh Bryan allowed Pierce County to push across the game-winning run on a Cole Dowling single. The Wolves stranded 14 runners in the game.
Parkview managed to stay alive with an 8-5 victory over Hillgrove in their quarterfinal matchup. The Panthers scored seven runs over the first two frames, and Jack Esmonde slammed the door on the Hawks' chances with two strong innings. Matt Olson went 2-for-3 with a double and two runs driven in for Parkview.
Loganville eliminated Pope 12-2 in six innings thanks to home runs from Clint Frazier, Daniel Milligan and Brandon Pergantis. Garrett Ford pitched all six innings before Pergantis ended the game with a walk-off grand slam to trigger the mercy rule.
George Walton Academy bounced ELCA from the postseason with an 8-4 Game 3 victory. Casey Schubert earned the win and Trey Lang the save for the Bulldogs. Cade Sorrells drove in a pair of runs during the Bulldogs' five-run third inning. Evan Alderman drove in two runs in the sixth inning to ice the win. Todd Marquis and Hunter Rice each chipped in a pair of hits.
Cedric Mullins contributed mightily against Harrison as Brookwood dropped the Hoyas 12-4 in Game 3 to advance to the Class AAAAA semifinals. Mullins drove home three early Broncos runs before scoring another run later in the victory. Brookwood advanced to face Grayson in the semifinals, with Parkview and Mill Creek on the other side of the bracket, ensuring a Gwinnett County team will win the Class AAAAA title.
Secondary Content
Bottom Content