Section Branding
Header Content
Wheeler Takes Out Lassiter On Busy Weekend
Primary Content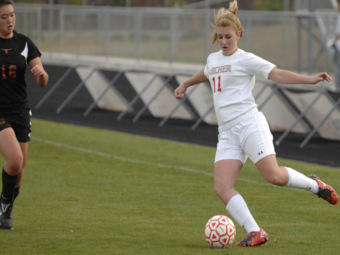 Wheeler upset No. 1 Lassiter (gaspots.com rankings) 5-4 in penalty kicks to break a 1-1 tie after overtime. Facundo Fabre scored with 2:19 left to force OT. The Wildcats then edged the previously unbeaten Trojans, who missed their second PK attempt. Lassiter was the No. 1 team in America per ESPN Rise rankings. The Wildcats, meanwhile, improved to 9-2-2 (3-1). Parkview (6-2-3, 3-0) beat Dacula 3-2 in boys soccer Friday as Zach Welch scored twice.
Fiorella Gamarra and Kim Fincher each netted a hat trick as the Brookwood girls trounced Berkmar 9-0. Sanon Williams added a pair of goals and three assists in the win. Tristian Bailey of North Hall canned three goals in a 4-0 Trojans win over Lumpkin County. Alex Lawson scored the other goal for the North Hall girls. Alexa Webb also got into the hat trick action with a three-goal performance in Grayson's 6-0 win over Central Gwinnett. Brittney Bennett found the back netting twice in the Rams' win.
Six different Peachtree Ridge players tallied goals in a 7-0 win over Meadowcreek. Archer blanked South Gwinnett 4-0 behind two goals from Megan Wilson and a shutout from goalkeeper Rachael Pfeiffer Johnson-Gainesville received an early goal, then turned the game over to keepers Macy Collins and Bethany Johnson, who let the 1-0 lead stand in a win over White County. Brittany Martin found the netting for Johnson. Armuchee received two goals each from Meg Dunwoody and Claire Tibbetts in a 6-0 rout of Rockmart. Dorothy Lambert and Katrina Lyle each found the back of the net once in the Lady Indians win.
TRACK AND FIELD
Marietta took first place after the first day of the Cobb County track and field championships. The meet will conclude today at Marietta. The Blue Devils hold a 50.5-49 lead over second-place Wheeler. Kell is in third with 36, and is followed by Pope with 34.5 and McEachern with 30. Marietta's Jordan Southerland won the high jump while the 3200-meter relay team won its event as well.
Brookwood senior Caroline Kissel blew the field away in the 1600 meters, running away from second place-finisher Katherine Yost of Norcross and Brookwood teammate QuanDra Shanks. Kissel won the event in 2011.
Dacula sophomore Anna Machovec claimed a pair of titles from Day One of the event, winning the shot put and discus events. Norcross leads after Day One of the Gwinnett County championships with Mill Creek 11 points back and Peachtree Ridge sitting in third place.
The Marietta girls had a strong showing on the first day of the Cobb County Track and Field Championships Saturday. The Lady Blue Devils received a number of outstanding finishes including a third-place finish from Jenessa Jackson in the shot put. Kell's Kendell Williams won the girls high jump and long jump events. Both of the wins also came with a meet record as she busted the 20-foot mark in the long jump and the 5-foot-10 mark in the high jump. Kell is in third place with 33 points, behind Marietta (45) and Pope (36.5).
BASEBALL
North Gwinnett won an interesting Gwinnett County duel with Class AA defending champ Buford Saturday in Suwanee. The Bulldogs took a 7-5 victory after Cody Short drove in four in a 3-for-3 performance. Harrison won a key Region 4-AAAAA game over Kennesaw Mountain after a walk-off single by Jacob Stalling. The Hoyas took the 7-6 victory in eight innings. Harrison is now 7-6 (3-0) while the Mustangs fell to 9-5 (1-1).
Tift County took down Lowndes 8-2 Friday night in Valdosta in a key Region 1-AAAAA clash. Cole Janousek went 3-for-4 in the win while Zach Bullard was 2-for-4 ith a homer and three RBIs. The Vikings fell to 6-7 (4-1) while the Blue Devils improved to 7-7 (3-2). Richmond Hill topped Benedictine 10-3 Saturday behind seven fifth-inning runs and a 2-for-2 performance at the plate from Jonah Reyes. The Wildcats improved to 7-5 (4-0) after the victory.
GOLF
Brookwood's Taylor Allen shot a 35 as the Lady Broncos golf squad took down Grayson 80-96. Allen's 35 tied a school record.
Secondary Content
Bottom Content