Section Branding
Header Content
Friday Night Review - State Recap
Primary Content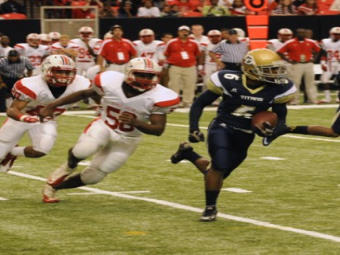 Lowndes joined Valdosta on the sidelines after getting beat 25-17 by No. 2 Grayson Friday night. The Rams' Robert Nkemdiche rushed 16 times for 61 yards with three touchdowns and also had three sacks. … After the loss by Lowndes, Colquitt County is the only Region 1-AAAAA team left in the playoffs. The Packers also traveled to Gwinnett County, but unlike the Vikings, left with a win. Rush Propst's boys edged No. 6 North Gwinnett in a 17-7 win. It is the third year in a row Colquitt County has made the quarterfinals. Willie Woodward scored two TDs while E'Darius Davis had two interceptions.
Warner Robins continued its resurgence by upsetting defending state champion Chattahoochee in Alpharetta 20-6. The Demons jumped out to a 20-0 lead before the Cougars scored a fourth quarter touchdown to prevent a shutout. Brian Sutton scored twice, while Dede Wright had a 66-yard scoring run to open the scoring. Warner Robins has now won seven games in a row. … No. 1 Camden County blasted visiting Marietta 48-7. The Wildcats will face Colquitt County in a juicy quarterfinals matchup next week.
Class AAA No. 4 Carrollton won its 11th game in a row with a 35-10 victory over Stockbridge. The Yellow Jackets rushed for 338 yards to dominate the line of scrimmage. Carrollton has won 10 or more games in seven of eight seasons and in eight of coach Rayvan Teague's 10 seasons. However, the Jackets have not won it all since 1998. … In Class A, No. 3 Lincoln County won a showdown of traditional powers with an impressive 27-0 win over defending state champion and ninth-ranked Clinch County.
Two Class AA middle Georgia powers defeated Atlanta-area private schools as Lamar County and Dublin won their second-round home games. Undefeated and seventh-ranked Lamar County defeated Blessed Trinity 28-14, while No. 5 Dublin routed Westminster 45-21. … Class AAAA No. 3 Northside-Warner Robins routed Clarke Central 48-14. It was the second year in a row the Gladiators have been knocked out o the playoffs in the second round after a finals appearance in 2009. The Eagles, meanwhile rushed for 347 yards and five touchdowns against the overmatched Glads.
Secondary Content
Bottom Content