Section Branding
Header Content
STATE PREVIEW: Raiders Face Test In Bowdon
Primary Content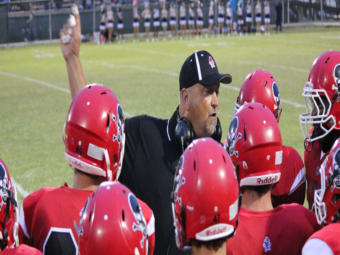 Class A No. 1 Savannah Christian takes on Bowdon tonight, which went on the road and outscored Holy Innocents' 57-43 last Friday in Atlanta. Raiders coach Donald Chumley, a former starter for Vince Dooley at Georgia, is trying to lead his team to its first GHSA state title after falling in the finals two years in a row. Bowdon RB Maricio Askew, who ran a 4.29 40 over the summer, leads Bowdon's powerful offensive attack. "Offensively this is the best team we've seen, nobody comes close to them," said Chumley.
Rush Propst will take his No. 10 Colquitt County Packers to Suwanee tonight to face No. 6 North Gwinnett. The Bulldogs are coached by Bob Sphire, who moved to Georgia after a successful coaching career in Kentucky. Propst knows about transitioning to Peach state football after coming to Moultrie from Hoover, Ala. Despite both coaches having success at their current schools, neither has taken home the state title ... yet. Last season, the Packers rode a wave of momentum to the state finals where they lost to Brookwood 52-38. But the surprising part was that Propst's squad began the season 0-3 and finished the regular season 5-5.
Perennial power Lowndes has been in an awkward position for the playoffs thus far, as the No. 3 seed Vikings have been on the road for the first and second rounds. Lowndes, winner of Region 1-AAAAA seven times since 2001, finished third in the region this year. Tonight, the Vikes travel to metro Atlanta for the second week in a row to face No. 2 Grayson. Last week, Lowndes took down uber-talented Stephenson 7-0. Will Randy McPherson's squad be able to squelch the Rams' powerful rushing attack as well? One thing in the Vikings' favor is that Grayson runs the Wing-T, which is the same offense Stephenson employed.
Two lower-seeded teams will clash tonight in the Granite Bowl as Elbert County hosts Cook in the Class AA playoffs. Elbert County is the third seed from its region despite going 10-1 this season. It will be the first meeting between the schools. The Blue Devils are led by junior RB Tyshon Dye, who has been offered by Georgia and Clemson. The winner of this matchup will likely face defending state champ Buford, which has won the last four state titles.
Secondary Content
Bottom Content