Section Branding
Header Content
Friday Night Review - Metro Atlanta
Primary Content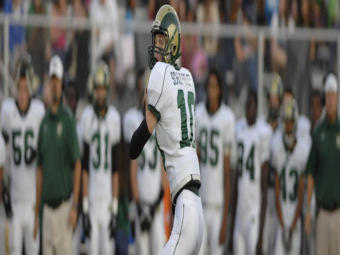 The Grayson Rams and Brookwood Broncos engaged in a war of YouTube videos before taking the field to battle for region supremacy. The Rams and Broncos were tied 7-7 late in the game before Kasey Gaines returned an interception 15 yards for the winning score. ... Centennial jumped out to a 20-0 lead at Alpharetta before the Raiders rallied back to dump the Knights 32-26, shutting out Centennial in the second half. Carlos Burse snagged his 12th touchdown of the year and Jalen Simmons scored twice including the game-winner on a 29-yard screen.
Marist shut down the Mays attack in a 24-0 victory to secure homefield advantage through at least the first round of the playoffs. Myles Willis rushed for 155 yards. ... Roswell dropped to 0-9 on the season, falling to West Forsyth 35-14. West Forsyth clinched the No. 2 seed in the region with the victory. ... Walton claimed the Region 5-AAAAA title after ending Marietta's four-game winning streak. Tyren Jones ran for 172 yard and scored four touchdowns in the victory.
Stephenson and ML King made certain that next week's showdown would be a top-10 matchup for the region title as both cruised to victories. The Jags defeated Newnan 35-13 while the Lions spanked East Coweta 20-7. ... Hillgrove whitewashed Kennesaw Mountain 35-0 to improve to 9-0 on the year. ... Lovejoy posted its seventh shutout of the season and fourth straight with a 24-0 victory over Creekside. ... It was a squeaker but St. Pius put one touchdown on the board and it was enough to defeat Washington 7-0. ... Parkview's skid continued as the Panthers fell to Archer 40-16. Parkview lost its third straight and now is behind Archer in the race for the last playoff berth out of Region 8-AAAAA.
Secondary Content
Bottom Content