Section Branding
Header Content
Enjoy Family Time With 25 Under $25 And Georgia Traveler
Primary Content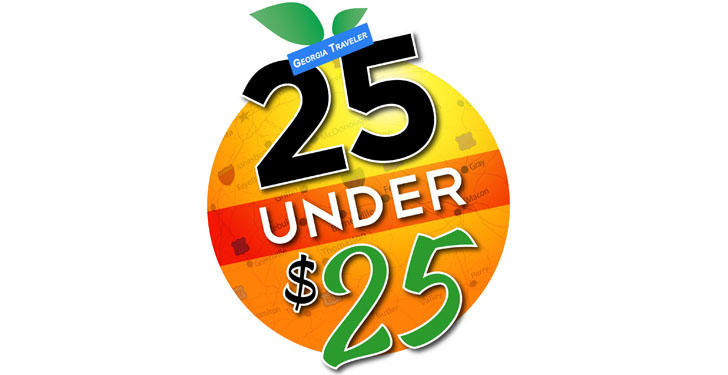 The Georgia Traveler Team searched all around Georgia for 25 things you can do with your family for $25 or less. Explore hiking, roller skating, canoeing, bike riding, museums! There are so many great things to do with your family on a budget.

If you missed the episode when it aired, you can watch it online. Go ahead and gather up the whole family for this episode.



1. Hiking Kennesaw Mountain National Battlefield Park. Lots of trails, animals, history and natural beauty. It is the most visited battlefield in the National Park System. Free

2. The Fringe at Area 51 is just outside the entryway to Aurora Cineplex in Roswell. Fringe is home to two 18-hole, family-friendly miniature golf courses.
Children ages 4 – 12: $5.00 Adults: $7.00
Children 3 and under free with paying adult

3. Jekyll Island Sea Turtle Center. A great place for children to see large and small turtles being rehabilitated. There's a window at the operating room so they can even see staff members nursing wounded reptiles. The tours are thorough and there is a boardwalk where kids look down into the pools holding rehabilitated turtles.
$7 for adults $5 for children 4 – 12 years

4. Helen Tubing and Waterpark. For $3.00 a person, families can rent a hot pink inner tube and float two hours down the Chattahoochee. Free ride back to your car.

5. Stone Mountain Park. Families pay $15 for a parking pass, and that gives them access to the huge granite mountain, which is fun to climb with an incredible view at the top.
There is a grist mill, a covered bridge, a lake, picnic areas, and a free laser show at night.

6. Gwinnet Braves game in Lawrenceville. Sunday Family Funday
Bring your ball and glove for Pre-Game Catch on the Field starting when gates open and lasting for 20 minutes. All kids 12 and under will get to run the bases following the game! Spread a blanket and have dinner while you watch the players.
$6 per person.

7. Canyons – Georgia has two incredible canyons. Providence Canyon in the southwest from Columbus is beautiful. Erosion created spikes and valleys of different colors that look like Arizona. Cloudland Canyon is totally different with waterfalls, and steps leading into the canyon. It is near Chattanooga. Free. Parking $5

8. Tour downtown Atlanta in the new streetcars. You can begin at Centennial park and catch a ride to the King Center where kids can learn about Martin Luther King and the area where he lived. Back at the park, water displays are a favorite with children as they splash in the Olympic circles that spray water.

9. Tybee Island Marine Science Center. Live creatures from the coast are on display and there is a touch tank where kids can pick up spider crabs, snails, and other coastal critters.
$4 a person

10. Mayfield Dairy Tours. In Braselton, kids don a hairnet and explore the dairy. They learn where milk comes from, get to milk a mechanical cow, and watch ice cream being packed. Everyone gets free ice cream at the end of the tour.

11. Chasing Waterfalls. There are many waterfalls in Georgia and North Carolina. Search the internet for easily accessible waterfalls, and make a list. Visit one a month, and put a star on a map to keep track of where you've been. Our favorites – Minnehaha (free), and Dukes Creek Falls (less than $5 to park).

12. Sparkles Rolling Skating in Smyrna. They have dollar days and other specials that make roller skating extremely affordable for a family. If you need to rent skates, it's only $4. Fun for kids and adults, and lessons are available if you are afraid of falling

13. Bike riding. There are bike trails all over the state, like the Chattahoochee River walk or the trails on Jekyll Island. If your family has bicycles, you can have a great outing by riding the trails together. If not, reasonable bike rentals are available at many sites around the state.

14. Booth Western Museum in Cartersville. It's everything western, with cowboys and art that even kids will enjoy. They get a chance to draw, and Sagebrush Ranch is a hands-on place that allows them to interact with the exhibits. There is a café for dining.
Adults $10. Children 12 and under free. Free admission the first Thursday of each month from 4pm to 8pm

15. Hurricane Shoals in Maysville. Natural setting park with shoals to splash in. Reconstructed covered bridge, gristmill. Swimming and wading on shoals. Playgrounds, as well as an 1850 Heritage Village. Places to picnic. Free admission

16. Noah's Ark in Locust Grove. A 250 acre sanctuary for abused, unwanted, and neglected animals in a park like setting. It has bear and tigers that hang out together, with paved walkways. Bring a picnic, and enjoy the playground. Donations requested, but admission is free.

17. Tybee Pier and pavilion. Bring your own fishing gear, or rent some at the pavilion. Access to the pier is free, and if your kids don't catch anything there are plenty of fishermen around who will be pulling them in.

18. Chick-fil-a Backstage Tour. Get pictures on a chick-fil-a billboard with the now famous cows. It is a walking, guided cultural tour that explains how this huge company began with simple principles. Kids get to taste the chicken, see behind the scenes, and get that famous photo on a real ground level billboard. Free

19. Atlanta Beltline. It runs along the abandoned rail lines, and you will see families biking, walking and eating at the various restaurants that have popped up along the way. Art, people, parades. It's a fun place to be and costs nothing.

20. Georgia Sports Hall of Fame in Macon. This is the country's largest state sports museum with 43,000 square feet. With old style ticket booths and exhibits that honor over 300 inductees, it is all about the history of sports in Georgia. There are even places to throw a pass.
Adults - $8 Children - $3.50

21. Lake Lanier Kayak and Canoe Club. This is the site of the 1996 Lake Lanier Olympic venue. There are kayaks, stand-up paddle boards, and canoes for rent on peaceful waters that come with having a world class flat water racing course. Rent a canoe that fits 4 for $15.

22. Oatland Wildlife Island Center of Savannah is home to more than 150 animals from 50 different species. The animals are exhibited in large natural habitats along a rustic trail through forest and marsh lands. Along the trail are cougars, bobcats, bison, alligators, red fox and birds of prey. Cows, sheep, goats and rabbits can be viewed in the "Georgia Farm" area. The center is a unit of the Savannah-Chatham County Board of Education and is open daily from 10 a.m. – 4 p.m. Adults - $5 Children - $3

23. Coca-Cola Space and Science Center in Columbus. It is located along the Chattahoochee Riverwalk with a state of the art facility that houses a Challenger learning center, interactive exhibits, and the Mead Observatory. Great for kids interested in space, astronauts, or astronomy. Adults - $6 Children under 12 - $4

24. All Fired Up Pottery. A chance to grab some snacks, pick out a piece of pottery and let the kids paint. The cost of pottery varies beginning at $5.00. That includes the paint and firing the pottery when it's complete. There are locations in Alpharetta, Marietta, and Atlanta.

25. Georgia State Parks. There are 65 parks around the state and it only costs $5 for a day pass. That includes access to some of the prettiest places in Georgia. It breaks our $25 rules, but for $50 you can buy an annual pass and visit as many parks as you can squeeze in.
Secondary Content
Bottom Content