Section Branding
Header Content
Last Minute No-Sew Halloween Costumes
Primary Content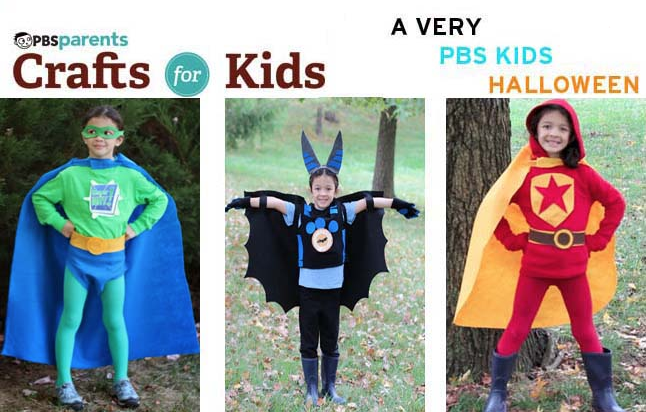 For many families, fall festivals, parties, and apple and pumpkin gathering leave little time for costume shopping and fashioning. Suddenly, Halloween weekend is here – when we could have sworn we had one more week to get ready! These no-sew costumes are great for speedy and affordable costumes that hook into your child's favorite PBS Kids shows. They all rely on felt and clothes your child likely already has or that can be easily secured from thrift or big box stores.

Felt works because it's a sturdy fabric that doesn't fray when cut, so there's no need to worry about the costume unraveling! These costumes should endure through dress-up play time or even 2nd generation use for younger siblings. If you can't find felt on a bolt (you'll need ½-1 yard of some colors), you can use other no-fray options like fleece or jersey knit. Keep in mind that fleece will be warm and that jersey knit won't have the sturdy hold that felt has, but either should be relatively interchangeable for these costumes.

No-Sew Super Why Costume:
By switching out the colors and adding accessories (crown, bike helmet, roller skates, etc.) these instructions are a great starter for any of the Super Reader crew!

You'll need
felt
scissors
Velcro
Hot glue
Paper
Markers
Packing tape
Printable Super Why logo





No-Sew Wild Kratts Bat Costume
With a few modifications and the handy printable power discs (link below), this Wild Kratts DIY could easily become another fantastic creature suit. Swap out all references of "blue" to "green" and you've got Chris Kratt instead of Martin. This would make a really fun siblings costume set!

You'll need
Felt
Scissors
Cardboard
Hot glue
Packing tape
Black knit gloves
Marker
Blue t-shirt
Black t-shirt
Velcro
Black pants
Printable Creature Power Discs




No-Sew WordGirl Costume
Add in an adorable monkey/ gorilla/ ape costume with a blue shirt and red bottoms and you've got a very believable WordGirl - Captain Huggy Face sibling theme.

You'll need
Red long-sleeved shirt
Red hoodie
Red pants/ leggings
Felt
Velcro
Hot glue
Red gloves




You can find out more information, complete instructions, and even more PBS Kids character costumes online at PBS.org/parents.

Remember to review safety rules with your children before heading out and carry flashlights, reflective clothing, and glow sticks if you're planning to be out after dark. We've made glow necklaces a routine for our kids who never seem to mind whether or not they coordinate with costumes… because glow necklaces are just that awesome.

Be safe and have a happy Halloween!
Secondary Content
Bottom Content