Section Branding
Header Content
Personal Reflections on "The Story of the Jews"
Primary Content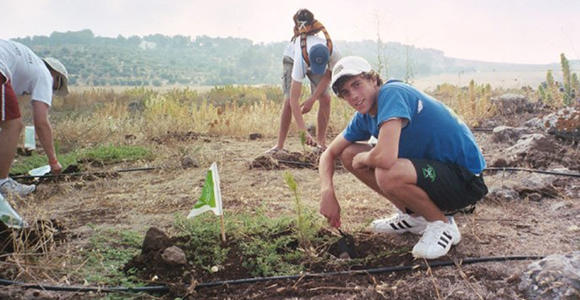 Join us for a live chat with Jeremy Katz, Archives Director, from The William Breman Jewish Heritage Museum, Sunday August 17 from
6 p.m. - 8 p.m. for a discussion during "The Story of the Jews" marathon on GPB./>
In this guest post, he reflects on the documentary and how Jewish history has informed his career.
After watching The BBC documentary, "The Story of the Jews," I cannot help but feel a sense of pride in being a Jew. Guided through the five-part series by British historian, Simon Schama, viewers are taken through time from the inception of the Jewish faith to the present day. One of the aspects of the series I enjoy most is the way it ties events in Jewish history to the difficulties Israel and Jews still currently face around the world. These connections to our past could not be more relevant as Israel clashes with Hamas in Gaza at this very moment.
Like Schama, Jewish history is what led me down my career path as well. During my first trip to Israel in 2005, I traveled the entire country for six weeks with Jewish American peers and an Israeli tour guide. During this time I learned about what Schama discusses in the first couple episodes of the series, the inception of the Jewish faith and biblical history.
Unlike American history that spans several centuries, Jewish history dates back several millennia. This history is present throughout the country in the form of ruins, historic sites, and pottery shards that literally litter the ground. As a first time oversees traveler, I had never experienced history that was so rich and meaningful.
When I returned to the United States after a fulfilling summer in Israel, I focused my attention on education. I was entering my senior year of high school and trying to decide what I wanted to study in college. Still unsure, I entered The Ohio State University undeclared.
After taking a few history classes, however, I knew I wanted to be a history major even though I had no idea how it would lead to a job after graduation. I focused my studies on what Schama discusses in episodes three, four, and five – 19th and 20th century European history, mainly focusing on German history and the growth of antisemitism that culminated in the tragedy of the Holocaust.
It was also at this time that I became more interested in American Jewish history as well. I interned with the Columbus Jewish Historical Society and helped curate an internationally-acclaimed exhibit on Jewish life in central Ohio. This experience led me to graduate school at Wright State University where I received a M.A. in Public History with a focus in archival studies. After graduation, I worked for nearly a year at the American Jewish Archives before accepting a job at the William Breman Jewish Heritage Museum in Atlanta.
Therefore, I owe my current job as Archives Director of the Cuba Family Archives for Southern Jewish History at The Breman Museum to the trip I took to Israel in 2005, and the fascinating history of the Jewish people.
I encourage viewers to watch Simon Schama's "Story of the Jews" on Sunday, August 17th. During the marathon, viewers will be able to live chat me any questions they may have regarding the series, Jewish history, or my recent trip to Israel, which I will have only just returned from several days before.
I also encourage readers to visit The Breman Museum to experience "PEACE: What does it mean to you?" – a multimedia community art project on display until October 8th, 2014, featuring A Peach of Mind, an exhibition by photographer John Nolter that fosters public dialogue about issues related to conflict, resolution, civic responsibility, and peace.
Secondary Content
Bottom Content