Section Branding
Header Content
Celebrate the 4th of July with These 9 Cheap Ideas!
Primary Content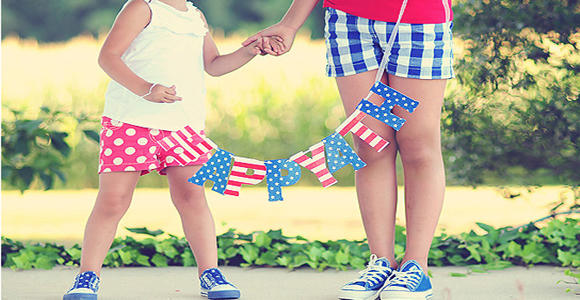 It can be easy to break the bank on the 4th of July right? Ya know, BBQ & drinks, decorations, fireworks, sporting your new red, white & blue outfit; it all adds up quick. 
This year, I want to help you out with 9 cheap ways to celebrate the 4th of July:
1. Don't cook and provide all the food yourself, have a potluck! Assign people different foods to bring, that way everyone is involved. 
2. DIY with Red, White & Blue. As fun as it is to go to your local designer store and purchase that amazing 4th of July shirt that you will wear for one night, look through your closet. Im sure most of us have a few items that are red, white and blue that could make a fun outfit. Remeber you don't always have to be decked out to celebrate, wear one color or get a little flag, its about celebrating with friends and family, it's not a fashion show.
3. No Fireworks. As fun as it is to go buy your very own fireworks, talk about running up a bill! We all turn into our 10-year-old selves in the store with bottle rockets and sparklers and then we have a few hundred dollars worth of fireworks that last 10 minutes - not exactly a great ROI. Instead, try to find a local area where you can see the big firework show. 
4. Cheap Drinks. With a lot of (adult) guests, it can be tricky keeping up with making cocktails for individuals. Instead, make sangria. It's cheap, and easy and you can prepare a head of time. For the kids, you can make non-alcoholic red, white or even blue drinks with Kool-Aid.
5. Make Decorations. This can be a fun activity for you and the kids. Get some construction paper and have the kids make their own flags, think of garlands with red, white and blue stars made out of construction paper. There are many different creative ways to make decorations, try searching "Fourth of July decorations" on Pinterest, you won't have a lack of ideas.
6. Prepare for next year-this year. If there are decorations or even that amazing 4th of July hat, shirt or shorts you can't live without, AFTER this 4th of July, purchase them. They will most likely be on sale and then you can save them for next year. 
7. Take advantage of FREE! There are usually TONS of free activities to celebrate the 4th of July: parades, live music, decorating contest for the kids and more. See Atlanta events HERE! 
8. Don't overpay for hotels when traveling. If you are going somewhere in the country that screams American history (Philadelphia or Washington, D.C.,)  hotel rates will be higher than usual. Use website like Airbnb.com or VRBO.com to rent a house/apartment. Also, consider public transportation as a traveling option for events, that way if you are further from big events, you may recieve cheaper rates.
9. Go Camping. This is a great time to spend with family and friends and celebrate our country in one of its national parks. If you are near a lake, they will probably have incredible fireworks on the water for you to enjoy. 
Secondary Content
Bottom Content