Section Branding
Header Content
Curious George Halloween Special
Primary Content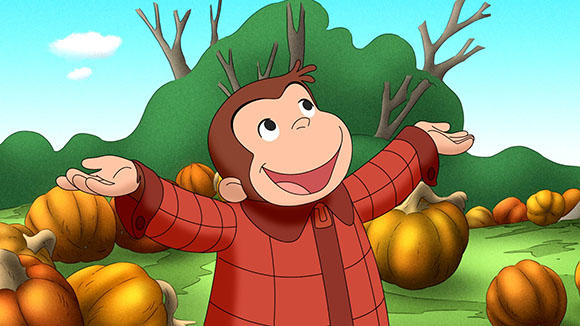 It's George's first Halloween in the country, and Bill tells him and Allie about the Legend of No Noggin -- a spooky tale about a hat-kicking scarecrow who haunts the countryside on Halloween. But is the legend really real? George and Allie are determined to find out by taking a picture of No Noggin in hat-kicking action. But first George needs to figure out what he's going to be for Halloween so he can win the costume contest at the town Boo Festival. Should he be a pirate? A clown? A magician? The pressure's on because the first prize for winning the costume contest is the Suckerpator 2000, a high tech vacuum for picking up leaves. The Man with the Yellow Hat's sore back could surely use a break from raking all those leaves… and George could jump in leaf piles over and over again. George is determined to win best costume!
This hour-long special airs on GPB on Monday, October 28 at 3:30pm and is a great way to carry over some autumnal fun from the weekend.
Get Outside
Want to keep adding to the fun? Toss a paper bag or reusable shopping bag to each kid along with a scavenger hunt list – clip photos from magazines for your early readers and be sure to include the words, too, to develop those letter recognition skills! Add a number to the items on the list and you've also built in some math skills. Put a crayon in each bag to that you can mark off the items that don't fit inside.
Scavenger Hunt List Ideas
1 Pinecone
2 Brown leaves
3 Red leaves
4 Yellow Leaves
5 Acorns
Scarecrow
Pumpkin
Jack-o-lantern
Bird
Apples
Feather
Spider web
Squirrel
Make this list your own. If you're including older kids in the mix, then get them to write out your list. As a family, make a story out of your scavenger hunt list by each taking turns making up a sentence in the story. It's a real mystery, but at our house, the five-year-old adds "chicken" in to each sentence. So, maybe I should go ahead and add it to our scavenger hunt list!
Costumes
If you've got an undecided kid (or maybe an indecisive kid) and need a quick no-sew costume, check out these tutorials from PBS Parents featuring your kids' favorite PBS Kids characters. You'll find even more fun recipes and crafts online when you follow PBS Parents on Pinterest.
Secondary Content
Bottom Content