Section Branding
Header Content
Summer Fun to Celebrate Ice Cream Month
Primary Content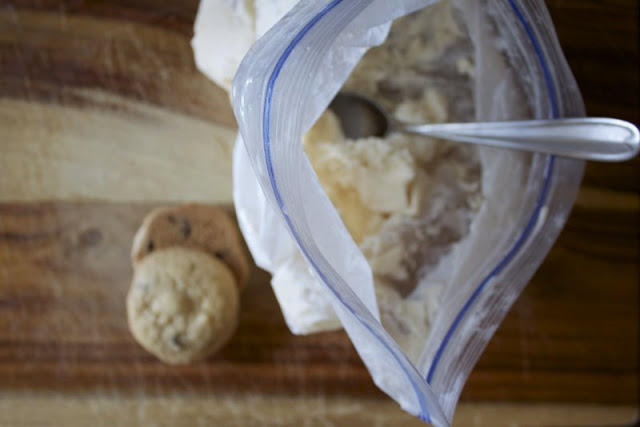 July is Ice Cream Month! Whoever it is that decides these random and silly holidays (peanut butter and jelly day, y'all?) has gotten it right this time. Ice cream gets a whole month. I'm in.
Finally, it seems today may have less rain than the consecutive who-can-tell-how-many-days-it's-been-raining days of rain. In fact, I heard an optimistic weather report that included sun, like actual sunshine shining kind of sun. Not that there is ever a bad time for ice cream, but sun-shiney summer days are pretty ideal. Just in case there is a lovely sunny afternoon in our futures – or to cheer us while the unusually rainy summer continues – below is a recipe for homemade ice cream made by shaking ingredients in a couple of zippy bags. You can have fresh, homemade ice cream in about 5-8 minutes.
I remember making this as a kid, including a middle school science class where we used whole milk from the cafeteria. That lesson was probably about chemical changes given that the heat from the environment melted the ice, which semi-froze the milk mixture into a tasty treat. There's a good lesson in there… also, ice cream.
After scouring the Internet (that's right, I now call Pinterest "the Internet") to be sure I'd found the best possible recipe, I realized they're all basically the same. Some say things like "shake for an extra 2 minutes if using heavy cream," but otherwise, it's all the same.
Zippy Bag Ice Cream
1 cup half & half (or light cream)
1/2 tsp vanilla extract
2 Tbl sugar
1/2 cup rock salt*
ice
pint-size plastic zippy bag
gallon-size plastic zippy bag
Put those first 3 ingredients into the smaller zippy bag, carefully squeeze out the air and seal tight. Place the ice and salt* into the gallon zippy, add your smaller baggie, seal the gallon bag and shake the daylights out of it all. This will take around 6 minutes.
If milk is not your friend, these folks at Eat Nourishing say you can use coconut milk, too.
*A note about that salt: Big salt is really the way to go, but table salt will work. I happen to keep ice cream salt at home because I have an old ice cream maker that takes bags of ice and rock salt to churn and freeze ice cream. It keeps me tied to my rural, DIY roots in a way that makes me all nostalgic and happy. You can find ice cream salt, especially during the summer, at your local grocery store.
Secondary Content
Bottom Content