Section Branding
Header Content
Good Gifts for Teacher Appreciation Week
Primary Content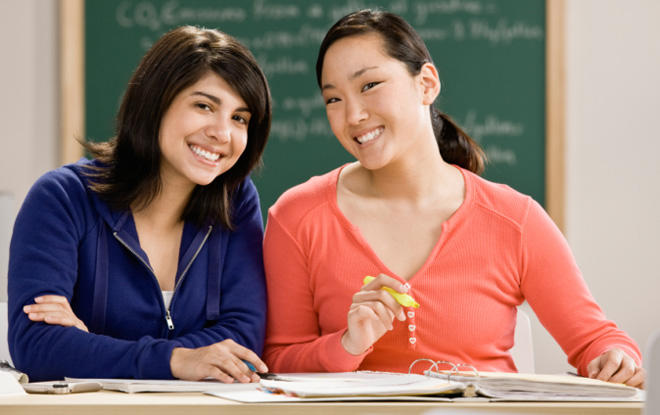 It's teacher appreciation week. Sadly, weeks still start with Mondays and I'm not the organized mom, so my kid's teacher will have to be treated on a day that isn't a Monday. Since I feel I'm likely not alone in this, I put together a list of thoughtful, useful, nice gifts for teachers. Hopefully, these will also be things that are not overly complicated and will be easy enough to recreate on your own.
Once again, Pinterest is coming to the rescue. I keep a board on Pinterest that I have cleverly called "Teacher Teacher" wherein I stash all of those cute teacher gift ideas. So stay tuned, because in a couple of weeks I'll do a summer-gift-for-teachers blog, too. (Maybe I can be organized sometimes!) As a rule, I do my best to avoid apples and school buses because they feel cliché, but it's really more of a guideline than a rule.
Blogger Amy at The Happy Scraps has a fun, easy-to-follow guide for making a bouquet of flowers with dry erase markers. The end of the year is approaching, and odds are the dry erase markers are waning and limping their way to the end of the school year. Using a small bucket, foam block, bits of paper cut into flowers and some leftover Easter grass, you too can make a charming, useful bouquet.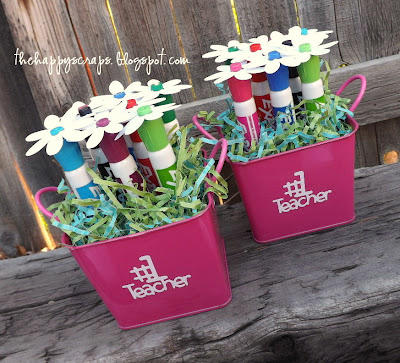 Maybe you're a sucker for things in jars (let's start a club!). If so, I Heart Nap Time has a cute sweet-treat appreciation gift tutorial complete with free printables. (FREE PRINTABLES, Y'ALL!) The presentation is an excellent recommendation: make the cookies and give your teacher the cookies-in-a-jar mix. That way they get a treat to enjoy now and can make more later. Double win.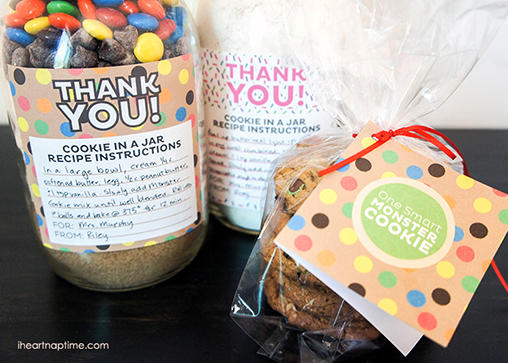 Combine the ideas of things in jars with practical gifts and create something like this jar filled with treats and surrounded by school supplies over at My Remodeled Nest. You could use dry erase markers, pencils or something else useful instead of crayons for higher grades teachers.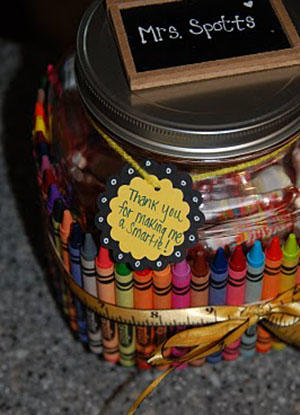 Speaking of free printables, Skip To My Lou has adorable flower tags that you can attach with a ribbon or glue to a popsicle stick and add to a bouquet or potted flower. This is a great idea if you feel non-crafty or are crunched for time.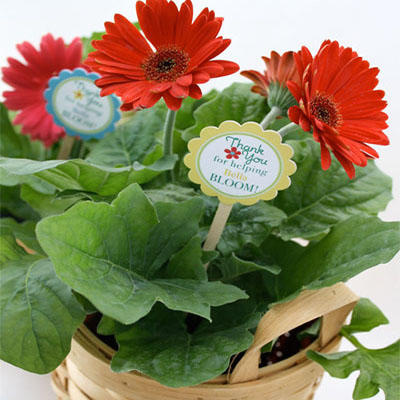 The economy is tight and we're all busy; but this week is a great week to simply write a note to thank your child's teacher for their work this year. Words of encouragement can go a long way, especially when written down for your teacher to savor after hectic CRCT days and the final push to pack your kids' brains full before summer break. Think about it. I know I'd like to get a note of thanks occasionally, even if it's for doing the things I'm hired to do anyway.
Whatever you do this week, get your children involved, too. It's a great opportunity to talk about respect and gratitude.
If you liked this, check out some good gifts for mom.
Secondary Content
Bottom Content