Section Branding
Header Content
Earth Day Weekend Events in Georgia
Primary Content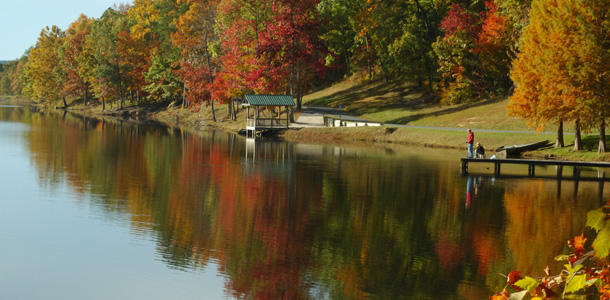 Earth Day weekend coincides with a number of festivals, fairs, and outdoor activities all over the state of Georgia. Many of those are specially designed with Earth Day in mind.
•Located between Adel and Ellenton, just off of I-75 in South Georgia, Reed Bingham State Park* is celebrating Earth Day with wildflower planting, recycling crafts, water clean-up, and more.
•Near Callaway Gardens, Franklin D. Roosevelt State Park* is hosting "Treerific Trees" for tree adoption and other fun activities for young nature lovers and their families. The program is part of PBS Kids "Explore the Outdoors" campaign. Head back on Sunday for their Earth Day Every Day Walk and explore Georgia's Piedmont woodlands, fish ponds, and wildflowers.
•In the northwestern corner of the state, Cloudland Canyon* has special Earth Day programing on Monday from 9AM-6PM including various guided hikes and crafts using recycled materials.
•Another Earth Day day-of event is located at James H. ("Sloppy) Floyd State Park* where you can go on a guided hike and picnic lunch to learn about native plants and animals.
•In southeast Georgia, Hinesville is celebrating Earth Day at the YMCA Soccer Fields with fun, free activities and live music. Find more information on their Facebook page.
•Zoo Atlanta is hosting a Party for the Planet on Saturday. Check out the website for meet-and-greet session times with Thomas the Tank Engine! There will also be a book-signing and green exhibitors. Also, if you bring a cell phone to recycle, you can get $3 off your admission, good for up to 4 people.
This list is not exhaustive and we're certainly open to adding to it, so fill up the comment section with other Earth Day events around the state!
If you're looking to get out and enjoy the outdoors this weekend, Explore Georgia has an impressive list of events and, as always, Georgia State Parks have loads of fun things scheduled.
Regardless of whether or not your family is enjoying a specific Earth Day event, it's a great idea to Trek in – Trash Out; just pick up the trash you encounter and put it where it goes. Recycle a plastic grocery bag by taking it adventuring with you. Use it to collect aluminum cans to recycle or pick up whatever other trash you find and deposit in an appropriate receptacle. In 2012, the US Census estimated nearly 10 million people live in Georgia. If we each pick up one piece of litter over the weekend, we will have made an effortless, positive impact on the ecosystem.
If you're interested in ways to save some green on the planet and in your pocket, check out GPB's EcoSense For Living. The video below talks about the lack of nature in the lives of our youth. Watch it and tell us what you think about "Nature Deficit Disorder."
* You'll need to remember to bring your $5 parking donation since these are State Parks.
Secondary Content
Bottom Content