Section Branding
Header Content
How to Talk to Kids About Scary Events
Primary Content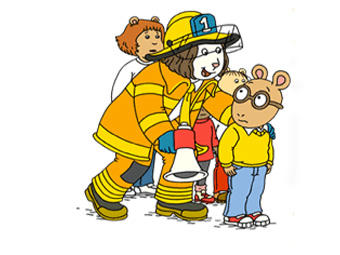 In light of the tragic events in Connecticut last week, several PBS programs have released tools to help parents and children discuss the events.
GPB is airing a special episode of Arthur that involves a scary event at school. In this case, that event is a fire. It will air on GPB at 5:30pm today. Originally created post 9/11, its goal is to help kids deal with fear after something scary happens. Watch the show with your child and discuss with them the importance of listening to teachers during emergencies at school. Go over some basic rules that they practice each day like walking in the hallway calmly and quietly. You can find a Companion Guide in English and Spanish that will help you talk to your kids about scary events.
See the program description below for Arthur 710: "April 9th".
Arthur 710: "April 9th"
April 9th begins like any normal day ... until a fire destroys the teacher's lounge and forces Lakewood Elementary to close. This unexpected event finds the children dealing with a wide range of emotional reactions: Sue Ellen is devastated when her diary is ruined. Binky sees the frightening flames up close but tries to act cool. Mr. Read escapes a school catering job unhurt — but now Arthur is constantly worried about his dad's safety. And Buster feels totally left out because he overslept and completely missed the disaster!
As Arthur and his friends struggle with their feelings about the fire, they wonder if life will ever return to normal. But with the support of parents, teachers and community members, they discover that by reaching out and working together, they can help each other through the most difficult of times.
My son is 4 and we have been very, very careful about not listening to or watching the news or even discussing it among ourselves while he's around. However, one of his classmates saw it on the news and began asking questions in class. Fortunately, his teacher was able to see what was coming and had a careful, private conversation where she could appropriately handle the fears and questions.
In the event that your young children also have questions, Sesame Workshop's You Can Ask series has a list of tips, parent guides, and even short videos to help ease discussions.
1.Be Aware of Your Feelings. It's normal to feel anxious, unsettled, or even helpless. Keep in mind that children respond to and learn from your reactions.
2. Ask Questions. Encourage your child to ask questions, too. Let her know that it's OK to express her feelings.
3.Be Patient, Positive, Reassuring. Children want to know that you will care for them and that things will get better. Hugs help!
For more tips and tools, visit Sesame Workshop's You Can Ask website.
Share this video on "fear" with your children to help children vocalize and understand their emotions.
Secondary Content
Bottom Content