Section Branding
Primary Content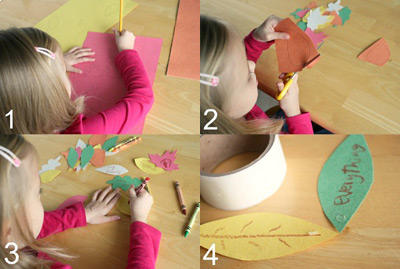 This is a craft we're doing at our house over Thanksgiving break. It will get us out of the house and into nature (hooray!), enable us to spend quality time together talking, and work on letter recognition and motor skills, still pretty tricky for my micro-preemie kiddo.
We're making a "Thankful Tree."
What you'll need:
•Colored paper
•Pencil/ crayons
•Scissors
•Glue dots, tape, etc
•2-3 bare branches
•tall vase (for displaying your Thankful Tree)
Draw simple leaf patterns onto the colored paper and cut them out. Kids (and adults) can color and draw on one side of the leaf and write down something you're thankful for on the other. Whenever my kid is invited to name something like this, he invariably says, "chicken." He has declared it his favorite word, so we roll with it. Because, in our house at least three times a week, we are thankful for chicken.
Attach the leaves to your "tree" branches and place in the vase.
You can find this activity and many more online at .
Secondary Content
Bottom Content