Section Branding
Header Content
Support Georgia's Kids with Books
Primary Content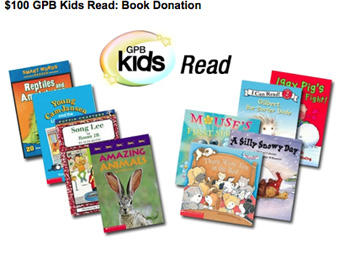 It's time for GPB Radio's Support Drive and, as usual, there are some great thank you gifts in return for your donation. They're often souvenirs of some of your favorite programming or GPB merchandise to let your friends and family know that you're a fan of GPB. One of those thank you gifts is new during this drive and it actually keeps on giving.
When you make a $100 contribution to GPB, we'll thank you with a very special gift. GPB will provide ten early learning books to children in underserved communities across Georgia on your behalf. The books will be distributed through Georgia Head Start. This is a unique and impactful way for you to support the programs you enjoy on GPB while sharing books with children.
We know from research that children have a better chance of success in life if they are reading at grade level by the time they reach 2nd grade. We hope you will support GPB right now and help put a book into the hands of a needy child in Georgia.
GPB is worth sharing and now we're giving you the opportunity to share your love of reading and learning with a child.
Already during this fund drive, over 1000 books have been pledged to support Georgia's early learners. To make your gift today, visit GPB.org/Support.
Secondary Content
Bottom Content