Section Branding
Primary Content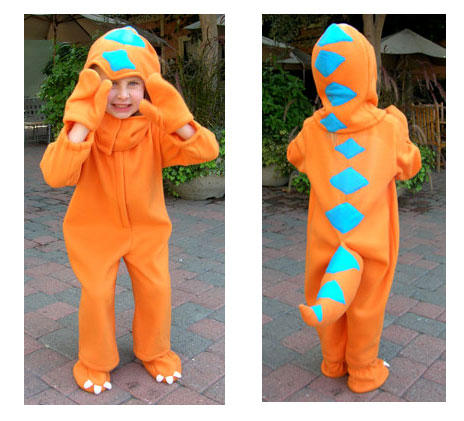 While you can find just about any PBS Kids costume out there for purchase, those can get pricey and now it may be too late to order them to arrive in time for your Fall Festivities. The alternative – if you can't find one to borrow – is to make it yourself. You don't have to know how to sew or be especially handy with a pair of scissors to make a Halloween costume. I honestly cannot cut a straight line and can only barely sew one. However, I've made my son's Halloween costume for the last three years, complete with customized bag. He has been a "roaming gnome," Charlie Brown (Paint a shirt with zig zags. Done.), and a monkey. That last one was pretty involved, actually. But it has been so fun to create and connect with my child with something that is meaningful to him.
Our family blog Five Favorite Halloween Foods and Fun from Pinterest includes a link to Sesame Street costumes based on tutus (though you could easily do the same with a sweat suit for boys). Below are several other costume ideas for PBS Kids characters.
Curious George*
Starting with a base of a brown sweat suit or something similar, cut out an oval from a lighter shade of fabric and center it on the front of the shirt with iron-on adhesive. Next, use the same fabric and adhesive to add ears to a brown hat OR use this Curious George Mask from PBS Parents.
Arthur and D.W.*
Arthur wears the same outfit every day: blue jeans, white shirt, yellow sweater, sneakers. Using this Arthur Mask from PBS Parents, you'll have the complete look for little or no cost at all.
D.W., Arthur's little sister, has a constant daily wardrobe as well: white tights, mary janes, white long-sleeve shirt, pink jumper. Again, you can print of this D.W. Mask from PBS Parents.
This one would be especially cute if you can still get your kids to dress on a theme together.
Dinosaur Train
A favorite at our house is Dinosaur Train. The generous folks there have actually posted a tutorial and patterns for making a Buddy costume.
Super Why!
With some minimal searching online, you can find tutorials from other parents who have made costumes for their children. This one from Treadmilling Around shows how to make a Super Why! costume. You would need a sewing machine for this one, though. To simplify it, you can make a very believable Super Why! costume with a green t-shirt layered over a blue long-sleeve t-shirt, cut blue flannel into a cape and attach with sticky-backed Velcro to the green t-shirt. Lastly, cut out a green mask from foam paper or fleece or some other non-raveling fabric and attach with a bit of elastic thread or more sticky-back Velcro.
Princess Presto is also very popular. Her costume can be refashioned from a pink dress you already have in the closet. Add a green belt (no-sew this and use more of that sticky Velcro!) and pin on a glittered purple star. Pull out a crown from the dress-up bin and you've got your very own Princess Presto!
*A word about masks:
Personally, I refrain from putting my child in masks. It's probably due to a family sitcom I saw as a teenager where a parent (comically??) lost her child by confusing it with someone else's who was also wearing a mask. So, if your kid wants to be Curious George and you have the same aversion to masks that I have, don't worry. Your kid will clarify to others that he is, in fact, not just any monkey, but that he's actually Curious George.
I also feel I would be remiss in not recounting my favorite childhood story about my husband who just had to be Oscar the Grouch – still his favorite – when he was 5. As it turned out, he was terrified of his mask and wound up trick-or-treating as a garbage can.
Whatever costumes your family don and however you acquire them, have a safe, fun time together!
What are your kids dressing as this year?
Secondary Content
Bottom Content