Section Branding
Header Content
Bookfinder for Kids Books
Primary Content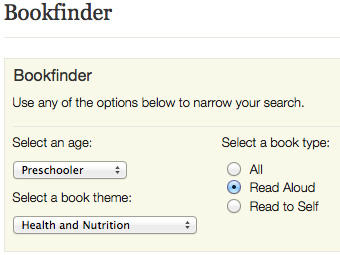 Where do you go for a trusted source on recommending books for your children? I rely heavily on the advice of my friends. If Kati or Jen tell me about a book, there is a strong-to-definite possibility that I will go find that book to share with my son. We also have a fantastic local bookstore operated by its owners who have yet to lead us astray with recommendations. We can't leave out librarians from the list. These individuals have made it their life's work to become a living resource warehouse.
We tend to spend a lot of time on the web – for work and for leisure – which is how I found another fantastic resource: PBS Parents Bookfinder. It is an organized (oh, how it is organized!!), searchable, enormous list of chidlren's books for ages birth through third grade. You are given the option to search by age, book theme, and can search by keywords. For example, Kati told be about some pigeon book that I could not for the life of me remember. Ta da! Found it with this bookfinder tool.
As an additional, very handy feature, the folks at PBS Parents have connected the books to Amazon.com and you can link right on over in one click to purchase the book you've found. You can, of course, jot down the titles you've found and head straight for the local library, too.
I'm looking forward to using the Bookfinder on upcoming road trips and over school holidays so we can find books on a theme. For example, we make a trip to Dahlonega each fall and to Ellijay to visit the apple barns. My family's favorite season is Fall, especially my son whose favorite color is "orange like a pumpkin." Ask me how many Fall books we own for him? Just the one. Yikes! Imagine his delight when I come back with a list of books (free at our local library) designed around his favorite theme. (I searched "fall, autumn, Halloween, and pumpkin," separately.)
If I can build around the things my son already loves and connect them to something I want him to love, reading and learning, then I can improve the odds of his successful school experience.
What are some of your children's favorite books? What was your favorite book when you were young?
Secondary Content
Bottom Content