Section Branding
Header Content
Library Card Sign-up Month: How To
Primary Content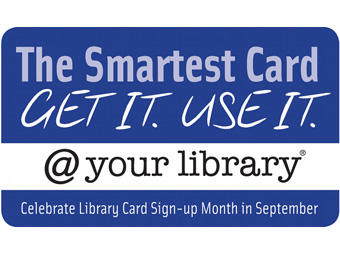 Participating in Library Card Sign-up Month with the Georgia Library Service during September?
Be Prepared
If you're heading out to get your library card this month, then be prepared. If you've never had one before, you'll need to take an ID with your current address on it OR an ID and a current utility bill for proof of residence. If you have had one before then you need that plus $1 for the card replacement fee.
For folks signing up minors, your ID will work to get them a card if you are the child's guardian.
Bonus features:
•The taxes you already pay in your county are supporting this institution. Thus, it's essentially free. But, to get your "money's worth," so to speak, the more you use it, the better deal you get.
•It costs nothing to rent books from your local branch… unless you neglect to return it on time, but you're on your own there.
•You can also rent books for free from other libraries in your county. Just ask you librarian to request it from another location and you can pick it up when it comes in.
•You can also request books from other counties (if yours happens to not own a copy of what you're looking for) for only $3, much less than buying it on your own.
•Libraries rent more than just books! You can get movies, too, and books on tape.
•Thinking of learning a new language? Check your library and rent the multimedia kit for free!
•Meet your neighbors. That's right. Folks are already there, very possibly with interests similar to yours. Libraries often have special events for all ages and provide opportunities for volunteer service.
What are some the favorite moments or characteristics of your library? When did you first get your library card?
Secondary Content
Bottom Content