Section Branding
Header Content
A Korean's experience on Fourth of July
Primary Content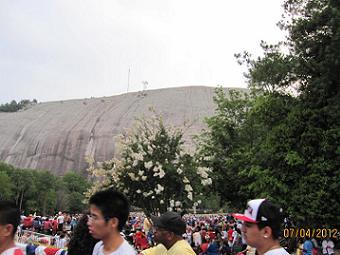 We are pleased to introduce you to Jungmin Kim who is our new intern. She'll be writing periodically for this blog while she puts her marketing and communications skills and education to work over the summer.
Hello everyone. I am the new intern here at GPB. I came over to Atlanta from Korea for the summer. Ever since I was little, I grew up with a variety of TV shows, story books, and Disney movies. (I still love to go watch Disney movies. My mom tells me that I'm too old to watch them, but I say that you are never too old for anything.) I've always been interested in the broadcasting and the entertainment industry so it is a pleasure for me to work here.
I come to the States and the first big thing I get to experience? Fourth of July, the Independence Day.
It was definitely one of the craziest days in the entire year. I am still getting used to the time zone, so I rested at home for the morning. I heard about the Laser show at Stone Mountain and I begged my dad, who does not go well with commotions and huge crowds, to take me there in the afternoon. I am just going to say that when I arrived there, the crowd was huge! I don't think "huge" even describes it well. My dad and I got there a bit late so all the good parking spaces were taken. We parked the car around a neighborhood and climbed up our way to the Memorial Hall. I'm glad we were armed with comfy shoes and plenty of drinks. We got back seats but the view was still good and I loved the finale with the fireworks right after the national anthem ended. The view was spectacular.
You can see photos and watch video's of one of the largest and most attended American Independence Day celebrations in the state on Stone Mountain Park's website.
I hope everyone had lots of fun yesterday because I definitely enjoyed it.
Secondary Content
Bottom Content