Section Branding
Header Content
Peachtree Road Race Training 3: So Hot you Could Fry an Egg on the Sidewalk
Primary Content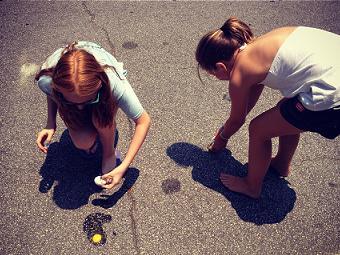 It's been a grueling final days of training. The 103-degree heat was most challenging. I was thwarted once again in my attempts to train on Saturday with the realization that our air conditioning had gone out. We knew this because when we awoke we had all returned to our birth weight while sleeping in the triple digit heat. John remained confident that nothing was amiss – just a tad too much pull on the old HVAC. He approached the attic with concern while we took turns putting our heads in the freezer. Too hot to eat, we began to quarrel (at this point, out of ice) and bicker amongst ourselves for the last ice slivers to hold against the back of our necks while John braved the steaming attic. What was my husband thinking? It was 150 degrees in the attic. I briefly left the freezer to call our life insurance agent to make sure John was current. Relieved, I pushed my youngest out of the fridge while we waited patiently for word from the attic. John descended a broken man. We began to make all-day mall and movie plans. Before vacating the house, the children thought it was a good time to test the old "fry an egg on the sidewalk". Armed with 2 eggs, daughters Daphne and Annie and friend, Clare hit the street with poultry. Naturally we consulted the expert, Bill Nye the Science Guy, who has a wonderful discussion on sidewalk eggs.
Above you'll see the delicious results of our demonstration, after about four hours, sunny side up.
Based on Bill Nye's recipe, I should put olive oil on my the soles of my shoes on Wednesday morning before proceeding to the starting line at the Peachtree Road Race… based on my number, I don't I actually go off until Thursday morning, which should give me plenty of time to see the full wheelchair competition beginning at 6:45 a.m. and all the front runners, most of whom are small enough to fit in my purse. I wish them well and look forward to competing heartily with all 60,000 of them – Happy Fourth of July! Hear hear!!
Secondary Content
Bottom Content