Section Branding
Header Content
Veggie Night - Eat Like There's No Tomorrow
Primary Content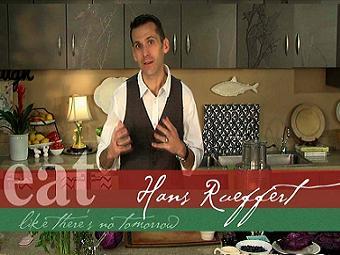 Here's the challenge: set aside one night a week to have a meat-free meal. Hans Rueffert, chef at Woodbridge Inn in Jasper, Georgia, makes it entirely possible to prepare flavorful and exciting dishes that rely only on the use of vegetables to satisfy your every hunger.
We know the risks associated with eating too much red meat and meat high in cholesterol and sodium (like bacon, but oh, how I love thee). But, the truth is that we just don't need as much meat in our diets as we typically eat. According to an article on NPR.org, Americans eat 10-12 times the amount of meat as our international neighbors.
There are entire cultures that revolve around not eating meat, so it's clearly possible to get the protein we need and have a satisfying diet... at least once a week. If you pay much attention to Facebook and Pinterest and the like, then you may have heard of Meatless Monday. The alliteration makes it fun, but it's this same concept of choosing to eat more vegetables for a healthier life. I have a girlfriend who started with a Meatless Monday routine and has switched to almost completely vegetarian menu planning. A head of lettuce is a lot cheaper than a package of meat at my grocery store, so it is a good investment in more than just your health!
What can you expect from Hans' Veggie Night Menu?
Beet and Radish Salad
Barley and Black-eyed-Pea Fritter
Tapenade Topping
I'll confess that I'm a recent beet convert. Those drippy things that my dad likes to eat from the can are still not plausible for me, but a fresh, roasted beet, lightly salted… oh, sign me up! And, I have been a long-time fan of radishes. Remember that time that I told you about growing our own food when I was a kid? Some of my earliest memories are of snatching up radishes and carrots, rinsing them under the garden hose and chowing down. For me, radishes could have been included in the Comfort Food episode! This particular combination in a salad hits at my favorite duo: sweet (beets) and spicy (radishes).
In the third of four episodes, Hans demonstrates the simplicity of building a healthful diet that satisfies your tummy and your palate.
Celebrate every meal by incorporating these rewarding recipes into your daily routine and let us know if you try out the once-a-week veggie night.
Secondary Content
Bottom Content