Section Branding
Header Content
Hang On To Your Headsets! GPB's Mobile VR Lab Is Back Up And Running
Primary Content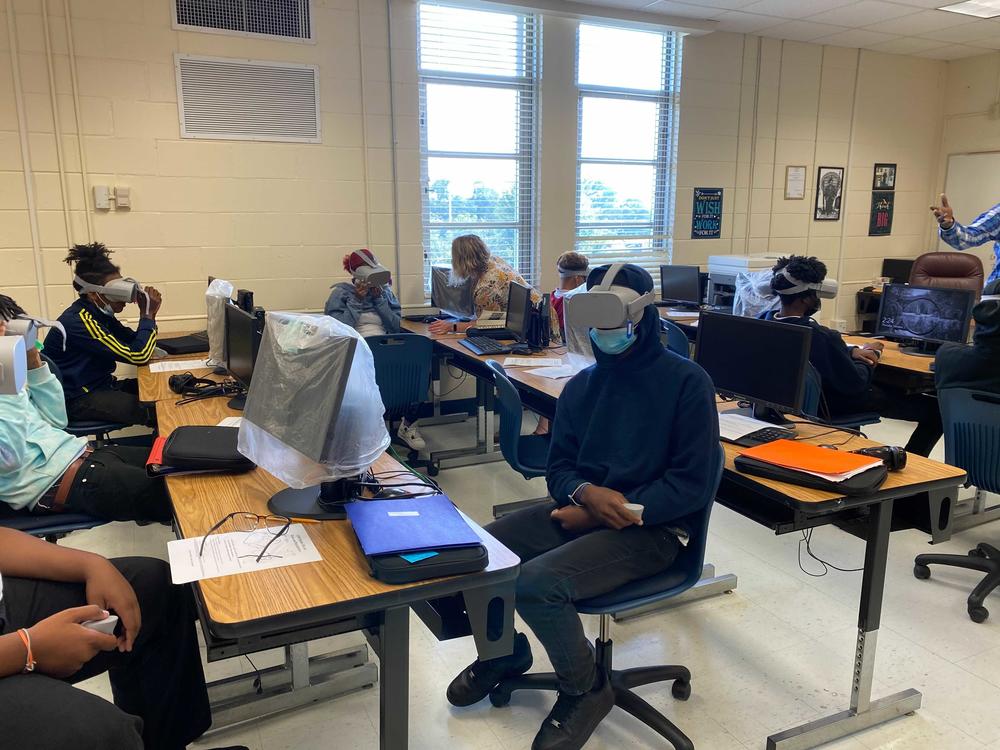 The education team at Georgia Public Broadcasting is excited to announce the re-launch of our Mobile Virtual Reality (VR) Lab, an initiative made possible by the Imlay Foundation. The Mobile VR Lab is equipped with 48 Oculus Go virtual reality headsets that transport students to virtual environments without leaving the classroom. With our class set of VR headsets, each student can experience virtual reality firsthand. 
Virtual reality has been around for quite a few years, with some commercial success in the gaming industry. However, usage of this technology has barely begun to scratch the surface of its potential. Institutions of higher education like Fisk University in Nashville, TN, are using a virtual cadaver lab in pre-med and biology-related majors. In virtual chemistry labs, students can conduct experiments that would prove too expensive or dangerous to carry out in the real world. On virtual field trips, students can explore far-off locations or even travel in time.
Continuing our mission to provide quality, no-cost digital content and recognizing the exciting educational opportunities available through virtual reality technology, GPB Education has produced new Georgia Standards of Excellence (GSE)-aligned resources in partnership with the Georgia Department of Education, the Telfair Museums, and the Georgia Forestry Foundation. To provide Georgia's students the opportunity to try out this immersive, engaging VR technology, the GPB Mobile VR Lab is ready to bring GPB Education's Virtual Learning Journeys into middle and high school classrooms across the state. 
In the Civil Rights Movement Virtual Learning Journey, students can sit at a virtual lunch counter to browse interactive maps of the Freedom Rides, view biographical videos of civil rights leaders, and listen to protest songs on the jukebox, among a variety of other highly engaging experiences that explore the history of the Civil Rights Movement. 
Future foresters marvel at 360º videos of ATV rides through forests and drone flights to monitor tree farms as part of Georgia's Forests Virtual Learning Journey. 
Learning about Slavery and Freedom, students can venture through an urban antebellum estate, examining the working conditions and considering the lived experiences of enslaved people, like Emma and Diane, who worked as nanny and cook in the Owens-Thomas House in Savannah. 
Mobile VR Lab operations initially launched in February 2020 but were shut down within a month due to COVID-19. "Health and safety is our utmost concern," affirms Laura Evans, Director of Education at Georgia Public Broadcasting. "We have established new safety protocols based on thorough, detailed review of CDC guidelines and continuously evaluate and adjust them as conditions change." 
Practices implemented to operate safely during the pandemic include the following:
All GPB Mobile VR Lab staff are fully vaccinated and wear masks through the duration of the engagement. 
Engagements are scheduled at intervals to monitor staff for COVID-19 symptoms. Following exposure to a known positive COVID-19 case, staff are tested within 3-5 days, and no further engagements are conducted until negative test results are received. 
Cleanboxes are employed to sanitize headsets in between users.
Educators and administrators are invited to schedule professional learning sessions with our Education Outreach team in conjunction with a classroom visit from the Mobile VR Lab. Our Educational Outreach Specialists can help familiarize faculty with the thousands of no-cost, standards-aligned resources including additional STEAM materials and VR/AR/XR assets available from the Georgia Home Classroom and PBS LearningMedia. Our Education Technology Specialist is also available to provide further consultation on VR lab setup and content curation.
Click here to learn more about GPB's Mobile VR Lab and to sign up for a hands-on, in-class virtual learning journey with your students. 
Teachers and students can also experience GPB's original virtual reality content by downloading our VR|AR app, or by going to gpb.org/vr.
Secondary Content
Bottom Content