Section Branding
Header Content
Americans Select To Kill A Mockingbird As America's Best-Loved Novel
Primary Content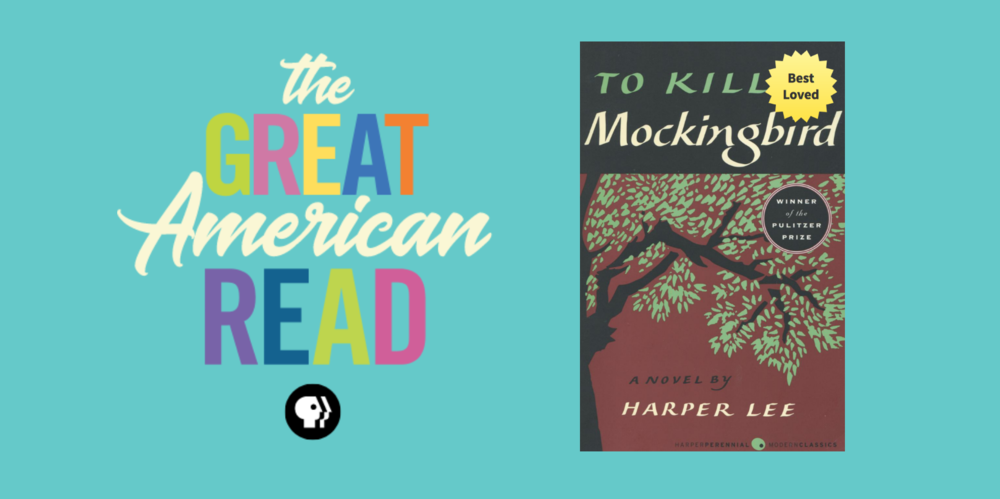 PBS revealed that To Kill a Mockingbird was voted by viewers as America's best-loved novel during THE GREAT AMERICAN READ "Grand Finale" on Tuesday, October 23. The final episode, taped in front of a live audience at the Masonic Hall in New York City, counted down all 100 novels, which were first revealed to the public in April. Voting opened with the two-hour premiere episode on May 22, 2018 and concluded on October 18, 2018, generating more than 4 million total votes and inspiring a multi-platform and multi-generational celebration of literature. Series host Meredith Vieira joined the playwright and cast from the new Broadway play based on To Kill a Mockingbird – Aaron Sorkin, Jeff Daniels (Atticus Finch), LaTanya Richardson Jackson (Calpurnia) and Gbenga Akinnagbe (Tom Robinson) – to celebrate the best-loved novel, and discuss its impact and why it still resonates today.
One of the best-loved stories of all time, Harper Lee's To Kill a Mockingbird has been translated into more than 40 languages, sold more than 40 million copies worldwide, served as the basis for an enormously popular motion picture, and was voted one of the best novels of the 20th century by librarians across the country. A gripping, heart-wrenching and wholly remarkable tale of coming of age in a South poisoned by virulent prejudice, it views a world of great beauty and savage inequities through the eyes of a young girl as her father, a crusading local lawyer, risks everything to defend a black man unjustly accused of a terrible crime.
"What an exhilarating and powerful journey THE GREAT AMERICAN READ has taken us on over these past few months. I am so proud of the way in which readers have embraced this series, and honored to have been a part of it," said Vieira. "I'm not surprised at all that Americans chose To Kill a Mockingbird as their best-loved novel. It is a personal favorite of mine — one that truly opened my eyes to a world outside of my own. Harper Lee's iconic work of literature is cherished for its resonance, its life lessons and its impact on one's own moral compass."
The top five ranking novels — which also included Outlander, Harry Potter, Pride and Prejudice, and The Lord of the Rings — were all showcased during THE GREAT AMERICAN READ finale event with live in-person interviews with key talent who have strong personal connections to each literary piece. 
Click here to see the full list of 100 best-loved novels ranked in order. 
An eight-part television series and nationwide initiative, THE GREAT AMERICAN READ explores the power of books and the joy of reading through the lens of America's 100 best-loved novels. The 100 titles included on the list were selected through a demographically and statistically representative national survey conducted by YouGov. Viewers were able to cast votes for their favorite titles each day at pbs.org/greatamericanread, through hashtag voting via Facebook and Twitter, through SMS texting using the dedicated book hashtag, and by phone toll-free.
"Thank you to the millions of people who joined us for this national celebration of books," said Paula Kerger, President and CEO of PBS. "It has been truly inspirational to see people across generations and cultures coming together to share in their love of reading. We are especially grateful to PBS' nearly 350 member stations for bringing the power of this effort into communities in every corner of our country."
Teachers looking for ways to incorporate novels from THE GREAT AMERICAN READ, including To Kill a Mockingbird, can explore this collection of resources on PBS LearningMedia. 
Secondary Content
Bottom Content