Section Branding
Header Content
Summer Learning Activities For Kids
Primary Content
As kids spend time outside the classroom this summer, GPB is releasing all-new content and resources to help keep them active and encourage exploration at home and outdoors with their favorite characters. As part of our annual summer learning initiative, we will air all-new specials and episodes, beginning in June, and will offer free digital resources below and at pbsparents.org/summer to make learning fun all summer long. 
"While kids are out of school during the summer months, it's important that they remain engaged in learning and exploration," says GPB President and CEO Teya Ryan. "GPB is committed to providing learning resources that help to bridge the achievement gap, especially to children in underserved areas who need it most. Every year, GPB brings these resources to families to encourage them to keep their minds active all summer long."
Keep your child's brain busy and engaged this summer with these extended learning ideas for families and caregivers. Click on the links to download the PDFs and get started!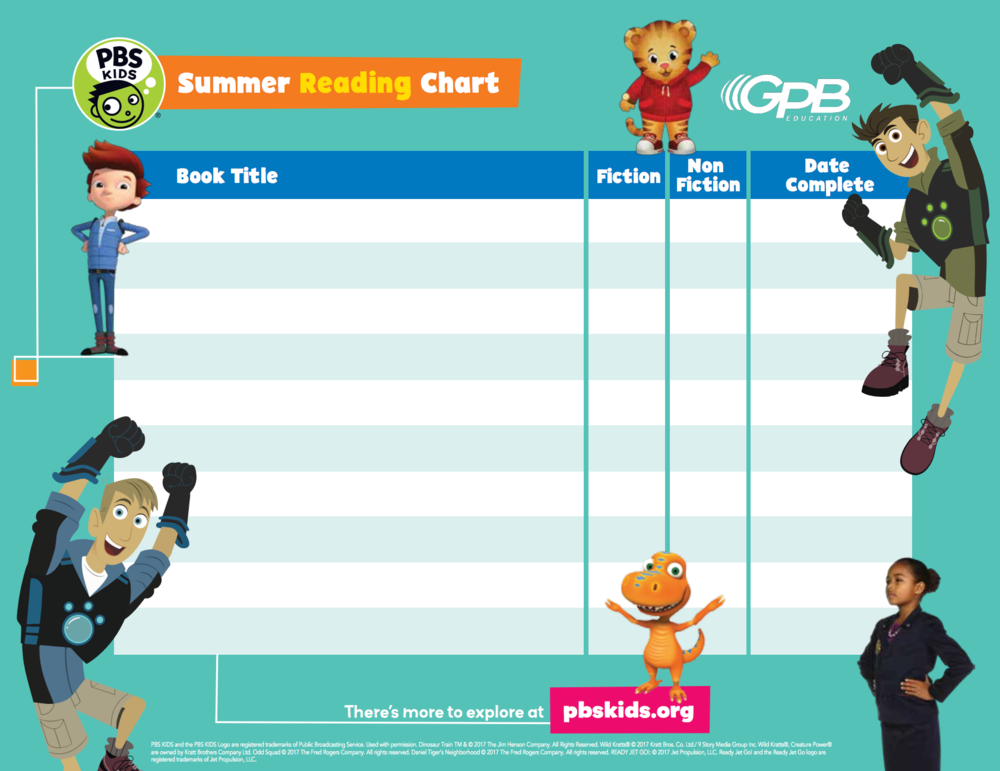 Learning on the Go Activities
Monthly Activity Booklets
PBS Kids Apps
PBS Kids offers a variety of free apps for parents and kids that support summer learning and exploration, including the new PBS Kids Games app. Information is available at pbskids.org/apps. PBS Kids programming and content is available for free on the PBS Kids Video App, which can be downloaded from iTunes, Google Play and Amazon.
GPB Summer Screening Parties
Need to get out of the house or take a break from the screen? Join GPB for one our many Atlanta-based community events this summer! GPB encourages families to be a part of something new and learn something along the way. Visit GPB.org/community for a full list of events. 
Sesame Street Screening Party
When: Fri, June 8, 2018, 10:00 AM – 11:30 AM EDT
Where: Georgia Public Broadcasting, 260 14th Street Northwest, Atlanta, GA 30318
Join us for a special screening of Sesame Street at GPB headquarters! Attendees will enjoy an episode of the classic favorite, along with a snack and fun craft activity.
Summer Programming

PBS KIDS SUMMER OF ADVENTURE returns this year with a weekly summer movie in June and July. Check GPB local listings for dates/times. 
JUNE 2018
Odd Squad: The World Turned Odd
Week of June 4
When Oona, Olympia and Otis accidentally change the past, they undo every odd case Odd Squad ever solved.
Wild Kratts Super Summer Marathon
Friday, June 15
Wild Kratts take over PBS Kids all day on Friday, June 15 and includes four new episodes from season 5.
Wild Kratts: Back in Creature Time
Week of June 18
The Wild Kratts team uses Aviva's Time Trampoline to jump back in time and meet extinct species.
Daniel Tiger's Neighborhood: Family Trip
Week of June 25
Daniel learns there are many exciting things to do and see when you're on a trip with your family.
JULY 2018
Nature Cat: Ocean Commotion
Week of July 2
For the first time ever, Nature Cat boldly goes where he's never gone before. It's an aquatic adventure of epic proportions! Hal's best friend is lost at sea and it's up to that outdoor explorer extraordinaire to once again save the day. Grab your lifejacket for the movie event!
Ready Jet Go! Back to Borton 7 
Week of July 9
When Jet's parents need to return to their home planet, Sean and Sydney join the Propulsion family for an epic adventure to Bortron 7.
Nature Cat: The Return of Bad Dog Bart
Week of July 16
When Hal uncovers a treasure map, Nature Cat and his friends set off on an epic quest to uncover a hidden store of… cat toys!  Along the way, Nature Cat is reunited with his long-lost sister.
Wild Kratts: Creatures of the Deep Sea 
Week of July 23
Aboard Aviva's newly designed Deep Sea Explorer, the Wild Kratts team ventures to the last creature frontier -the Deep Sea. The challenges of the deep are many, and when ultimately they are forced to make a decision, the Wild Kratts must decide what is truly important.
Odd Squad: The Movie
Week of July 30
Odd squad maybe shutting down due to a new team in town the Weird Team. All the previous agents come back and fight with all the new. 
What are some fun summer learning activities you are planning? Let us know in the comments below! 
For more summer resources from the Get Georgia Reading campaign—including meal programs, safety tips and online learning collections—click here. 
Secondary Content
Bottom Content