Section Branding
Header Content
'Feed My School For A Week' Adds Eight More Schools!
Primary Content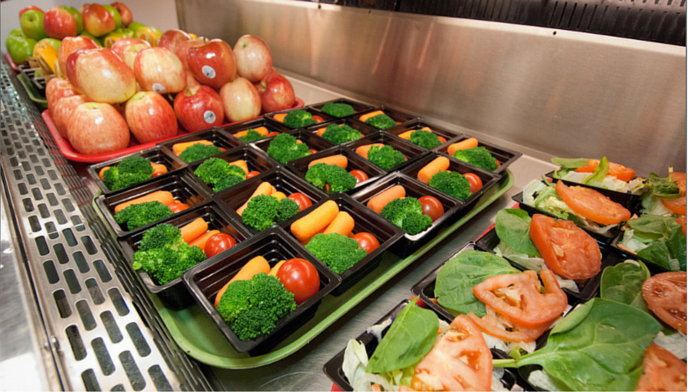 According to the Georgia Department of Agriculture (GDA), 37 percent of our state's children are overweight and have the potential to suffer from ailments such as diabetes or high blood pressure by the time they reach adulthood.
In an effort to help fix this issue and alleviate some of the obstacles schools face when attempting to provide healthy food options, the GDA and the state Department of Education implemented the Georgia Grown Feed My School for a Week program in 2011.
Feed My School for a Week helps raise the nutritional value and quality of food provided in schools. It also bridges the communication gap between the farm and cafeteria so there is better access to locally grown products. For one week, participating schools serve lunches comprised of 75-100 percent Georgia Grown items. They also arrange events that allow students to engage in activities such as taste testing. 
This year, Mountain View Elementary, Nahunta Primary, A. Dorothy Hains Elementary, Lyons Upper Elementary, C.J. Hicks Elementary, Banks County Elementary, A.L. Burruss Elementary, and Greater Atlanta Christian School will be added to the program for a total of 27 participants.
"These school nutrition directors are setting the example of how to purchase local products for school systems, all while improving the nutritional value for students," says Gary W. Black, Commissioner for the Georgia Department of Agriculture. "We look forward to working with these schools this year and beyond to promote local and healthy eating in school systems throughout the state."
Commissioner Black additionally conveys that those involved are leading the way in the farm to school movement. They are also vital to the fulfillment of the 20/20 Vision for School Nutrition in Georgia, a plan to have at least 20% of all public school meals consist of home grown products daily by 2020.
Read more about how to become a part of this important initiative here. There are also some classroom resources from the GDA website listed below. 
Georgia Grown Test Kitchens: Have your nutrition director apply to participate in the 2016-2017 Georgia Grown Test Kitchen program. Hurry! The deadline for submissions is May 23.  
Georgie Visits: Request a visit from Georgie the mascot. He would love to read books about farms and agriculture to your pupils.  
Classroom Resources: Initiate discussions about healthy lifestyles using the cookbook, harvest schedule, and lunch tray infographic found in this section.  
Recipes: Get students more involved in the cooking process with these Georgia Grown recipes.  
About Georgia Grown: The Georgia Grown program provides a powerful new branding tool as well as education, marketing and business connections to expand agribusinesses and the agricultural industry throughout Georgia. Learn more today at: www.GeorgiaGrown.com.
About the GDA:  The Georgia Department of Agriculture is the voice of the state's agriculture community. The department's mission is to provide excellence in services and regulatory functions, to protect and promote agriculture and consumer interests, and to ensure an abundance of safe food and fiber for Georgia, America, and the world by using state-of-the-art technology and a professional workforce. For more information, visit them at: www.agr.georgia.gov.
Secondary Content
Bottom Content