Section Branding
Header Content
Explore The Life And Legacy Of Jackie Robinson
Primary Content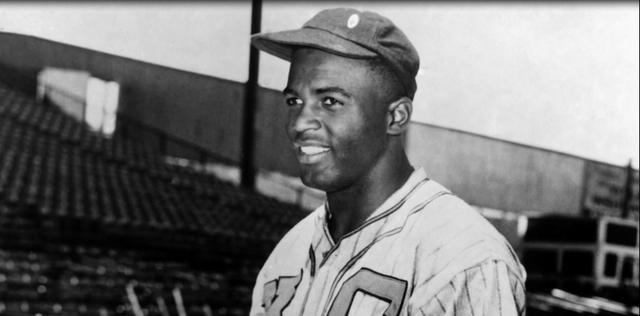 "Jackie Robinson was a sit-inner before sit-ins, a freedom rider before freedom rides." - Dr. Martin Luther King, Jr.

Jackie Robinson, the two-part, four-hour film directed by Ken Burns, Sarah Burns, and David McMahon, tells the story of an American icon whose life-long battle for first class citizenship for all African Americans transcends even his remarkable athletic achievements.

The film explores the legacy of a man whose exemplary life and aspirational message of equality continues to be a major influence on the lives of countless Americans. It illuminates how Robinson, after baseball, continued his fight against discrimination as a widely-read newspaper columnist, tireless fundraiser and advocate for the Civil Rights Movement, and divisive political activist. It will look back at a pioneering entrepreneur and devoted family man who struggled to remain relevant as diabetes crippled his body and a new generation of black leaders set a more militant course for the Civil Rights Movement.



To coincide with the airing of Jackie Robinson, we have compiled some classroom resources to help students learn more about the American icon and the sport he loved - baseball.

Baseball: The Tenth Inning | Jackie Robinson
Grades: 7-12
In this activity, students explore Jackie Robinson's character and his impact on baseball and American civil rights. They will construct character sketches of Robinson and various people who played a significant role during his entry and first years in major league baseball. They will then build historical role-play skits or interviews on key events in Jackie Robinson's first few years in the major leagues.

Anatomy of a Home Run
Grades: 8-12
Some noted physicists have said that, on paper, hitting a home run is impossible. In this activity, from QUEST, take a look at what it takes to hit one out of the park. The associated video is available in both English and Spanish audio, along with corresponding closed captions.

The Physics of Baseball
Grades: 9-12
Two scientists from San Francisco Bay Area institutions break down a few of the many different ways that baseball is a great way to learn about the physics of motion and energy, including aerodynamics and vibrations in this video adapted from QUEST.

Educators Guide: Baseball | DragonflyTV
Grades: 1-6
This resource helps guide an experiment figuring out where the "sweet spot" on an aluminum bat and a wood bat are.
Secondary Content
Bottom Content