Section Branding
Header Content
Excerpts from an Interview with Georgia's 2014 Teacher of the Year
Primary Content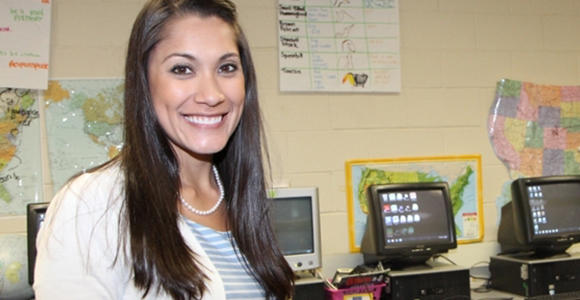 The Macon Telegraph has this wonderful interview with 2014 Georgia Teacher of the Year Amanda Miliner.
Miliner teaches fourth grade at Miller Elementary in Houston County. As the state's top teacher, she'll serve as an advocate of the profession.
She is no stranger to advocacy work as she is a former Miss Georgia pageant winner. During her tenure in 2006, she raised awareness on the benefits of mentoring programs.
As teacher of the year, she'll increase the profile of the education profession and expound on the issues teachers face.
Here are excerpts from her conversation with The Macon Telegraph's Andres David Lopez.
The Macon Telegraph: What would you most like to get across to people as a representative for all Georgia public schoolteachers?
Miliner: I've kind of been thinking about this, brainstorming this, because it's a heavy load to have education on your shoulders. One of the things I really want to make sure people understand is how hard we work. ... I think a lot of times people get caught up in test scores, and they make a judgment on teachers based on one score. But that's the hard data, and there's so much soft data out there that people are not acknowledging. ... We come in early, we stay very late to make lessons, and we're bringing breakfast for kids. When we go home we don't just turn off like a switch. ... It's a job you can't turn off. It's a lifestyle.
The Macon Telegraph: As Teacher of the Year, you also will have access to policymakers and will serve on state committees. What do you think is the most important issue in education right now?
Miliner: One of the new issues will definitely be the assessments (the Georgia Department of Education) just sent out (Thursday) explaining how we're going to have the Georgia Milestones Assessment, which is going to increase the rigor and ask students to answer more open-ended questions and not just multiple-choice answers.
The Macon Telegraph: Miller Elementary is a Title I school, meaning some of your students faced issues associated with their socioeconomic status. Do you relate to them? (Miliner is the first person in her immediate family to go to college.)
Miliner: A lot of the kids do live with single parents. We do have some military parents, but not that many. And we also have children who are kind of having to raise themselves, which I had to do a lot. So yeah, I do see a lot of myself in them. ... I think that's why I'm able to build a relationship with them.
The Macon Telegraph: Can you expand on that? How do successful teachers reach students who live in poverty to ensure they don't lag behind their peers?
Miliner: I think the biggest thing is you want to learn all about the child. You want to know about their learning, about their personality, what their interests are, and you also you want to learn about their family. Because if you have a child whose mother is incarcerated, when Mother's Day comes around, it's helpful if you're already proactive with it. ... You have different circumstances you are dealing with, with children that are in poverty settings, so you just have to be more sensitive to the needs of your kids.
Read the entire interview.
By the way if you had the opportunity to talk with Miliner, what would you talk to her about? What would you ask her to advocate? Share your thoughts here.
Secondary Content
Bottom Content