Section Branding
Header Content
New Career Clusters: Connecting Students With Jobs a Good Thing
Primary Content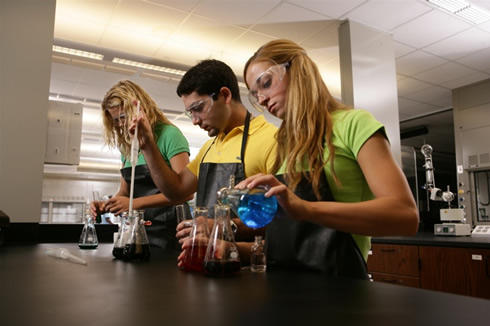 What do you think of the new Career Clusters Pathways? I think they are great.
Here are several reasons why requiring high school freshman to choose a career area to study early is a good thing:
It encourages students to start thinking about "what they want to do when they grow up" right away.
It connects what they are learning in the classroom to real world experiences.
It helps them to eliminate what they don't want to do as a future career too.
For example, my goddaughter is a ninth grader and wants to be a chemist. She is constantly talking about making drugs that will heal people. But she has never taken a chemistry class nor has she ever stepped foot in a chemistry lab. Through the Diagnostics Medical Lab - Pathways, she would be exposed to chemistry, microbiology and physiology classes. (Take a look at what is listed in the curriculum.)  She would get an introduction to what goes on in a lab through the medical technologist field. This would give her a sense of whether she truly wants to pursue being a chemist in depth as a future career as well as give her other options related to the field. This would also get her thinking about and pursuing internships early to get more hands on experience in the lab.
After going through this, she may decide to abandon the chemist career idea altogether and pursue a career as an app developer. Something similar happened to David Lemcoe Jr. who was profiled in an Atlanta Journal Constitution article about career clusters. He studied forensics in high school. Because of the hands on approach to his learning (field trips to labs, science classes) he decided to pursue another career instead. He is currently a freshman at Georgia Tech studying industrial engineering.
I can tell you from personal experience that the Career Cluster areas and curriculum are not developed lightly. I was part of the group that developed the Information Technology Career Cluster. It involved many meetings with educators, business professionals and business owners hashing out what would make sense to teach students to prepare them for the careers of the future. Sometimes those sessions were pretty "lively." Put a group of passionate web and technology professionals together in one room and we're bound to have many different opinions on the best way to introduce students to the field.
Essentially that is what the Career Clusters are: an introduction to the what is possible for a students' future. As educators, isn't that what we are tapped to provide them - potential roadmaps for their future?
What are your thoughts about the Georgia College and Career Clusters/Pathways? Are you concerned about how they will impact students or how schools will implement them? Let us know.
Secondary Content
Bottom Content