Section Branding
Header Content
Tech Thursday: Don Wettrick and The Focus Show Online
Primary Content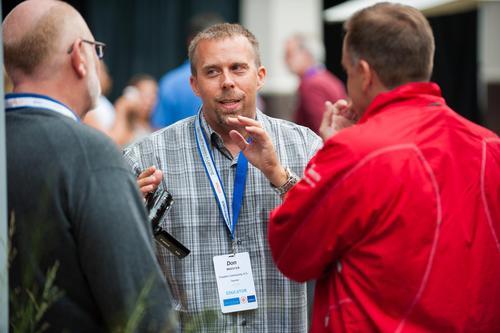 If you don't love Twitter, you should. Through Twitter you can meet and make contact with some of the most intriguing, energetic and inspiring educators across the country who are doing amazing things worth imitating - educators like Don Wetttrick. Wettrick is a television broadcast and documentary filmmaking teacher at Franklin Community High School in Franklin, Indiana. Among the out of this world projects he's implemented are a state wide documentary film festival he founded last year to showcase his students' work and his Innovations class.
In the Innovations class, he gives students the autonomy to research, create and work on projects they are passionate about and pair up with business and civic organizations to make that project relevant. Students then blog and tweet about their experiences. Plus he also challenges his students to connect their projects to common core standards too.
For example, one student was interested in getting iPads in the hands of kids who have autism after watching a 60 Minutes segment on the subject. While the school didn't have money to fund the project, the student was able to partner with a business to move the project further.
But it's his YouTube series The FocusShowOnline that put him on my radar. Focus stands for Finding Outstanding Classrooms Using Social Media. Through his show, Wettrick profiles classrooms that are using social media and technology in innovative ways. In the YouTube clip I've embedded, he conducts a video chat with computer science teacher Doug Bergman.
Bergman has turned his science class into a tech innovations lab where students create websites, design games and apps and then design marketing and promotions for their products in order to take them to market. It really steps up the term relevant learning up several notches.
Wettrick found a new passion for teaching through the Microsoft Partners in Learning Schools Program. This initiative connects teachers doing innovative things with each other. Learn more about the program here.
Thanks to Microsoft, Wettrick got on Twitter and got a smartphone! To connect with Don Wettrick you can email him at dwettrick@gmail.com, follow him on twitter @donwettrick and of course subscribe and watch TheFocusShowOnline.
Watch Don tell his story in these interviews.
Secondary Content
Bottom Content