Section Branding
Header Content
Meeting Mrs. Patmore: Lesley Nicol On Friendship And On Screen Cooking
Primary Content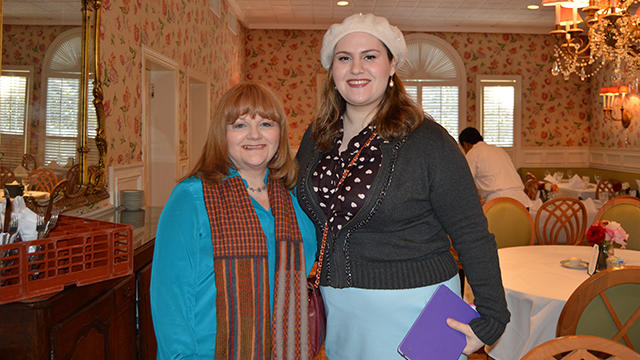 At first glance, Lesley Nicol seems to be nothing like her head cook counterpart. The apron and hat are gone and replaced with contemporary hair, make-up and clothing. Instead of shouting orders to Daisy and Ivy, she's all smiles, content with a cup of tea at the Swan Coach House.
She has a warm smile, and enthusiastically replies "Yes!" when my first question upon meeting her is a picture together. But like Mrs. Patmore, she commands a room with her presence and can deliver her opinion just as blunt and proud as our favorite red-faced cook.
While discussing Desperate for Downton and why I'm there today to interview her (an exclusive GPB luncheon for a small group of members at the Atlanta History Center), I explain I'm involved in the "Downton Abbey" costuming community as Lady Sybil as well as a co-blogger.
"Oh, but you're dead!" is her grinning reply and while my favorite character is indeed dead and gone, I can't help but smile with her. She's truly happy to be here for this fantastic event.
Desperate for Downton: How have you liked Atlanta? Is it your first time here?
Lesley Nicol: Yes, it is my first time here and I haven't really seen it, to be fair.
Desperate for Downton: What do you think of the "Downton Abbey" collection they're showing at America's Mart? Did you have any input in the design (for Mrs. Patmore's products, specifically)?
Lesley Nicol: They're very good, but I had nothing to do with the design of them!
Desperate for Downton: From Seasons 1 through 4, what has been your favorite scene to film?
Lesley Nicol: I quite enjoyed the stuff with the boyfriend!
Desperate for Downton: Yes, that was great! He was so pushy, and I love that scene at the end with Mrs. Hughes and she says "I don't want to be with him anyway!"
Lesley Nicol: She's not a victim, isn't that great? I went 'hurrah!' when that happened. Please don't let her be in a heap!
Desperate for Downton: There's such a good rapport on screen with Mrs. Patmore and Mrs. Hughes…
Lesley Nicol: That's kind of grown, it's nice!
Desperate for Downton: Is it the same way with Phyllis Logan in real life?
Lesley Nicol: Yes, totally. Her and Sophie [McShera, who plays Daisy].
Desperate for Downton: Yes, Sophie! You have such a mother-daughter relationship with her.
Lesley Nicol: She's blossomed on the show! She's grown into this young woman. That's the fact; she's grown through filming the show.
Desperate For Downton: So, I've read you're not really a fan of cooking…
Lesley Nicol: Yes!
Desperate for Downton: So you don't really cook, but have you learned anything about cooking from being on the show?
Lesley Nicol: No. They set up everything. We're really lucky to have a props guy called Mark. Mark is a chef. We have other people to advise as well, and others who make all the dishes. But Mark is always there. Whenever we film a scene, the first thing we figure out (apart from what scene it is) in the kitchen is what time of day is it and where are we [in the kitchen], because that dictates the pace. If we're about to serve, it's going to get manic. Then you'll say to Mark "Okay, what can I feasibly do at this point that would make logical sense?"
We're never just randomly doing 'chop, chop', we're doing whatever. It might be garnishing, it might be basting, but I tend to concentrate on what I think fancy cooks do. They taste, they garnish, they check the presentation and they shout at people.
Desperate for Downton: I really think out of all of the cast, you get some of the best lines in the show. Do you collaborate with Julian Fellowes on that at all?
Lesley Nicol: No, not at all. I tell you, there's never a conversation with the actors about how the scene is written. He writes so well. It's usually when in the case of all good writing you kind of hear it when you've said it wrong you think 'well that doesn't sound quite right, the rhythm's wrong, it's weird' So there's no improvisation really.
The only improvising is when we get to the bit after filming is complete, when we get to ADR, Every year they say to me "Can we do a few minutes of kitchen chatter?" and you will notice when there are other scenes going on in the corridor or in Mrs. Hughes' place or Mr. Carson's, you can hear me in the background so they'll let me loose on that.
I'll be making stuff up, so I'm in the studio going "James, pick that up! I said pick it up! And go wash your hands or I'll send you back to your mother!" or something like that. So you can't really hear, but you can hear her, and it's kind of subliminally knowing that she's there.
Desperate for Downton: So you have that eye on everything. I think it's this even distribution of power between Mr. Carson, Mrs. Hughes and Mrs. Patmore.
Lesley Nicol: Now that's a very interesting point. When we first started, Alastair [Bruce] lined us all up in order of importance. The person at the top was Mr. Carson and the person at the bottom was Daisy. What he explained was generally Mr. Carson is number one, Mrs. Hughes is number two, and I'm number three. However, in the kitchen, indisputably I'm number one. To where there would be little punch-ups with Mrs. Hughes at the beginning because she had keys to the store cupboard and the whole exchange with that. And that's all based on historical accuracy.
Desperate for Downton: We know you've moved to the U.S. recently for the winter. What's the biggest difference between living in the United States and living in Britain?
Lesley Nicol: The weather! That's the obvious one. And Americans, we speak the same language but we are different kinds of people. But I really value and enjoy your enthusiasm, how you like something and just plain straightforward celebration of a success.
Desperate for Downton: Especially with Downton as well, with so many fans coming out to events like today!
Lesley Nicol: Yes, yes! It's lovely!
I'll have more on my interview with Lesley Nicol and the exclusive luncheon with her at the Atlanta History Center. Check back here next week for part 2, which includes highlights of Ms. Nicol's on site Q&A with GPB's Bill Nigut and photos of the festivities.
Secondary Content
Bottom Content