Section Branding
Header Content
Scots, Servants, Surprises
Primary Content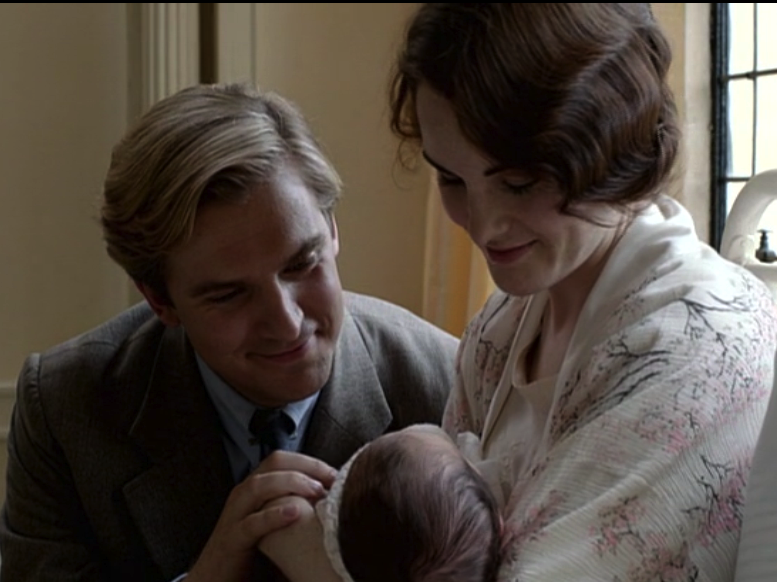 The show opens a year after the last episode. The family is traveling to Scotland to visit with Rose's family at Duneagle castle and do some hunting, fishing, and dancing. Mary is (finally) pregnant, about eight months along and Matthew is being the adorably worried father to be. Edith's editor is apparently still nuts about Edith, as he just happens to have a trip that will take him by Duneagle and he would LOVE to meet her family. Mary is rolling her eyes all over the place over that bit of news; apparently she still does not feel the need to be nice to her remaining sister. Tom was not invited to visit Duneagle for some reason, and Violet seems to be unsure about leaving Tom "unsupervised". Her worries turn out to be a bit accurate.
Isobel and Dr. Clarkson spent quite a bit of time together during this episode, having tea and dinner and drinks and even attending the fair together. Dr. Clarkson starts to work up to proposing marriage to Isobel, but she deftly stops his proposal before he's said anything he'll regret by telling him how much she enjoys her friends (including him) and her current lifestyle, and she would hate for anything to change. I don't think his idea of marriage to her was based on any grand passion, so there's no reason to think their friendship will be hurt.
Jimmy is obviously very uncomfortable around Thomas, even after a year, and Thomas is being unfailingly kind to Jimmy. When they attend the fair, Jimmy wins quite a bit of money and is waving it around (he was also completely in his cups at that point). Thomas is watching Jimmy and see Jimmy stagger to a secluded place where robbers find him. Thomas intervenes, allowing Jimmy to run away unscathed while Thomas receives the beating that Jimmy would have endured. Jimmy finds Dr. Clarkson at the fair (immediately after the doctor is rejected by Isobel) and he and the servants help Thomas back to Downton. Jimmy and Thomas agree to be friends, but I'll believe that when I see it.
There is a new housemaid at Downton, named Edna. Like Ethel before her, Edna doesn't fully understand (or willfully disregards) what is expected of her behavior-wise. I don't know what housemaid agency they're using at Downton, but I think they should find a new one, and maybe tell them they don't want anyone whose name starts with an E. Edna very obviously has a crush on Tom Branson and behaves like a love-struck teenager, finding excuses to talk to him and even "accidentally" running into him at the village pub and asking him all kinds of inappropriate questions. She even invites him to come eat with the servants so that he won't have to eat alone.
The worst of it is when she barges into his room while he is changing shirts (she could not have planned that any better!), then kisses him and asks him to meet her for lunch at the pub the next day. The NERVE!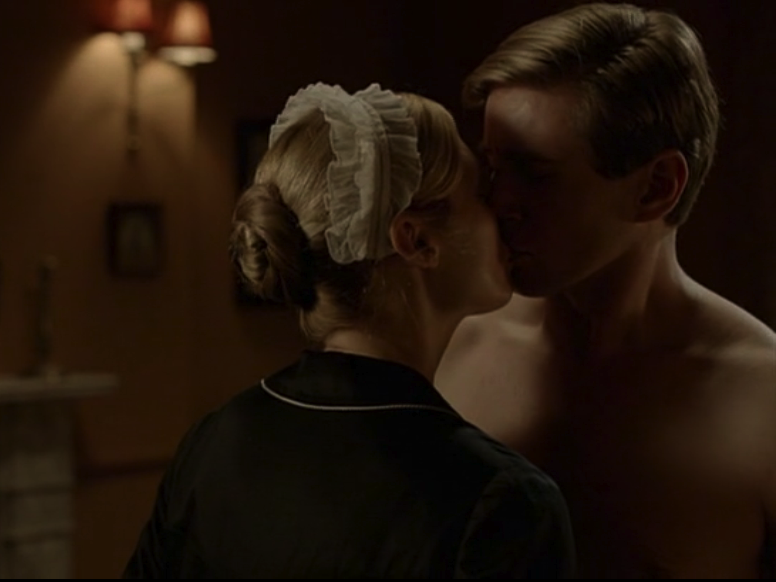 Luckily for us, when Edna tells Mrs. Hughes and Carson (in front of the other servants) that she can't work because she promised she'd meet "Tom Branson" (as opposed to Mr. Branson) for lunch in the village, it is agreed that she needs to be fired and that Mrs. Hughes has to tell Tom why Edna was let go. Mrs. Hughes speaks to Tom about it and points out that he didn't discourage her behavior, and that he let Edna make him ashamed of his new life. When she adds that Sybil would have been so proud of him, poor Tom breaks down in tears over his lost wife, but Mrs. Hughes manages to buck him back up.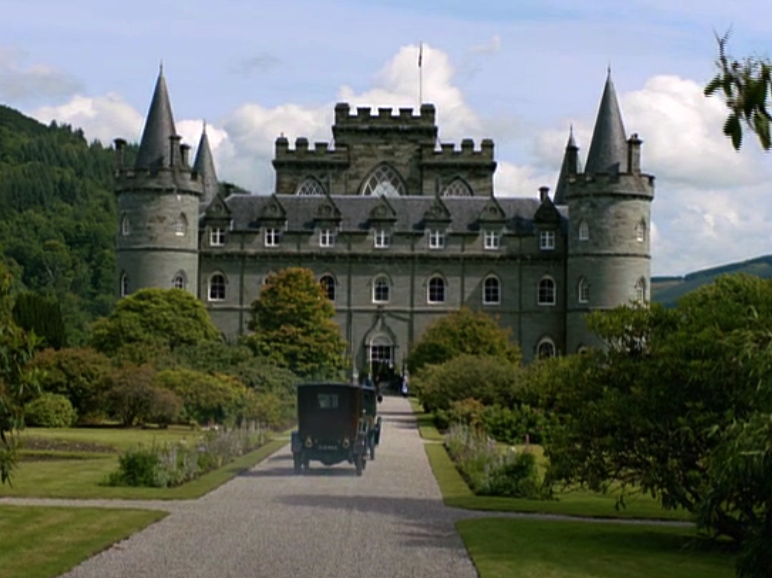 Rose is thrilled to see her Downton relatives when they arrive at Duneagle. It takes all of two scenes with her mother, Susan (Violet's niece), for us to realize that Susan is one sour lemon. Susan is obviously an unhappy woman, and she seems unable to hide it, especially where her husband "Shrimpie" and her daughter Rose are concerned. Shrimpie and Robert are old friends, since Susan is Robert's cousin. Robert has a grand old time stalking and hunting, although I don't think he is a fan of the eight a.m. bagpipe wake up call every morning. Shrimpie tells Robert that he is very unhappy in his marriage, and that he is losing the estate because the money was mismanaged. Robert realizes how close his family came to a similar fate, and finally realizes just how much Matthew has done for them all.
Edith's editor Michael Gregson comes to Duneagle for what was supposed to be a short visit, but winds up spending a good bit of time with the families. Michael goes fishing with Matthew on a beautiful river, and tells Matthew of his, er, domestic situation (his wife is in an insane asylum and he can't divorce her because she is insane – backwards logic, don't you think?), hoping Matthew will tell him not to worry, as long as he loves Edith everything will be fine. However, Matthew advises him to return to a professional relationship only with Edith, and to cut her loose so that she might finally find a man to call her own, and only her own. Michael tells her at the dance that they can't go on like this anymore (or something close to that), and she proclaims her love for him on the spot. That sound you hear is my head repeatedly hitting my desk. Edith! Stop falling for inappropriate men!
Luckily, there are far more interesting things going on at the dance. O'Brien has made an enemy of Susan's maid (no surprise there, since they are so much alike) because she dares to do Susan's hair for her one evening. The maid decides to give her some punch with what looks like an entire flask's worth of something in it. O'Brien takes one sip, shudders, and puts it down; before she can warn him against it, Moseley has grabbed it from her and chugged the entire cup in about two seconds. I don't know if any of you have been paying attention to Moseley in the last few episodes, but he has been getting funnier and funnier in the background. He hasn't had a storyline in awhile, but his lines are funny and his mannerisms funnier. During this dance, he has been off to the side, Riverdancing away, his little feet tapping merrily. After his cup of courage, he joins a dance reel and we are witness to the glory that is Moseley unleashed, hair blowing in the wind (figuratively) as he expresses his true self through the magic of dance. And we are awed. As is everyone around him, it appears.
The visit to Scotland ends with a glimpse into what Susan is really like, which is to say she's not as mean as she seems (is that a compliment?). She approaches Cora about taking Rose to live at Downton and helping her to come out in society. Susan and Shrimpie are moving to India so that he can take a diplomatic post, and she thinks Rose will be better off in England. Cora agrees to take Rose on (there's one of the main storylines for next season), and Susan asks that Cora speak well of her to Rose. Rose seems terribly excited about this turn of events, which I'm sure doesn't help her mother's bad mood.
Mary leaves Scotland early because she's tired and needs to rest (code for the baby is getting ready to be born), but doesn't even make it to Downton, since she heads straight to the hospital from the train station. Everyone is scared for her, after Sybil's post-childbirth death, but the birth seems to go well, since we see Mary looking quite tidy and holding a baby with an astonishing amount of hair. Matthew rushes to the hospital to meet his son and heir, but they don't bother to talk about what they might name the boy. I hate that! Matthew is rapturous and is praising Mary as the best woman ever (I wouldn't agree, but good for her) and there are several touching minutes with their tiny perfect family. THAT is how the episode should have ended. Matthew leaves to return to Downton to tell the rest of the family that they can visit Mary and son, and is killed in a wreck on the way. Just for the record, I found out about this last year, but it was still shocking to actually see it happen. It was so quick, and the episode ends with no one knowing of his death except for the lorry driver on the road.
I believe that next year's season will start some time after the death, so at least we won't have to see his funeral and the aftermath, as we did with Sybil. While Matthew has been an integral part of the story from the beginning, it will make for an interesting storyline to see where things go from here.
Only 40+ weeks until the next season! Hang in there!
Secondary Content
Bottom Content