Section Branding
Header Content
Georgia is set for freezing temps and 'high fire danger.' How long will this weather pattern last?
Primary Content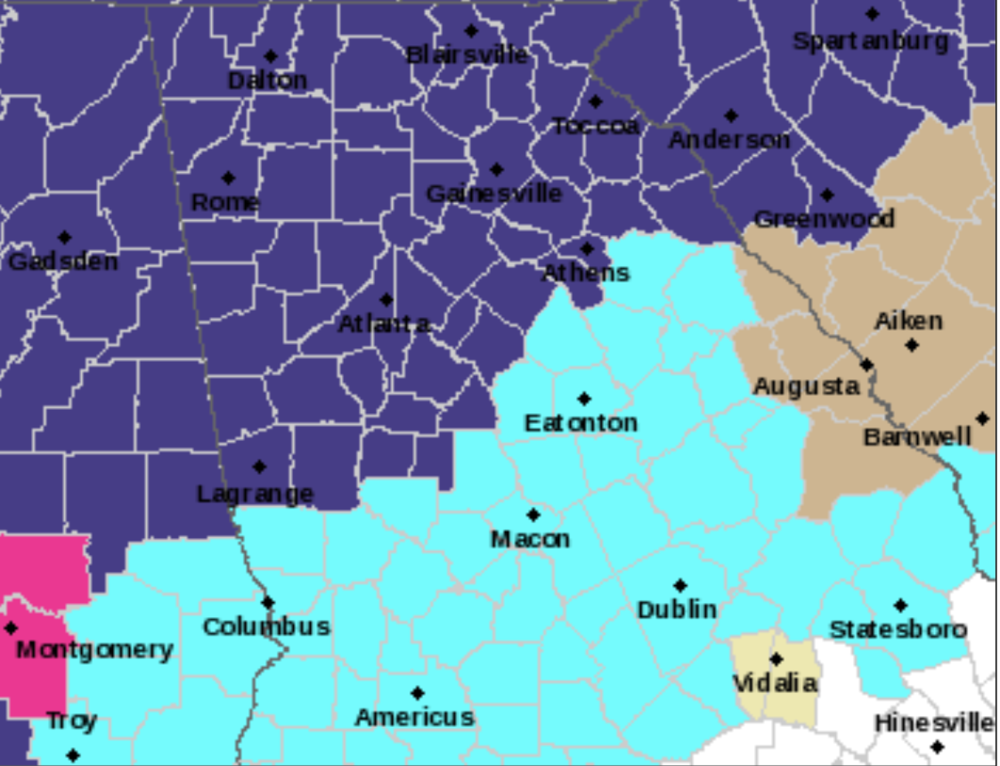 Tuesday's National Weather Service map shows Georgia dotted with deep purples (freeze warnings), rich pinks (Red Flag warnings) and turquoise blue (freeze watches). Each of these colors symbolizes a weather hazard many Georgians are likely to experience over the next seven days.
The agency today issued a Hazardous Weather Outlook in effect through Monday, Nov. 6, 2023.
This forecast affects dozens of counties, and please note, many counties will have multiple concurrent warnings in addition to the one that corresponds with their shading on the map.
Beginning Halloween evening, High Fire Danger conditions remain in effect for portions of Northwest Georgia due to low relative humidity and gusty winds.
A freeze warning is now in effect for most of North Georgia tonight into Wednesday morning as the first widespread freezing temperatures of the season are expected.
A freeze watch will be in effect for all of North and Central Georgia for Wednesday night into Thursday morning due to widespread freezing temperatures. Near-freezing temperatures likely again Thursday night.
Critical fire weather conditions are likely Wednesday and Thursday afternoons.
While Coastal Georgia is likely to experience lows in the lower 40s, there are no current freeze warnings in effect for the region. 
However, parts of Southwest Georgia will be under a fire watch on Wednesday and a freeze watch on Thursday.
Click here to enter your ZIP code for a localized forecast.
Fire hazard safety recommendations
Use caution when dealing with anything that could pose as a fire hazard.
Do not start a campfire or ignite a burn pile.
Do not burn trash.
Avoid using equipment such as a lawnmower, chainsaw, or any other implement that may emit sparks.
Do not dispose of cigarette butts on the ground or outside of your car.
It is okay to use your grill, just have a water source nearby and do not dispose of the ashes until the warning has been canceled and the ashes are fully extinguished.
Watch for smoke nearby. If there is an unattended fire nearby, report it immediately!
For fire calls, dial 911.
Cold weather reminders
Animal and pet safety
Bring pets and plants inside.
Provide your pets shelter and fresh water.
Keep salt away from paws.
Vehicle preparation
Check your battery.
Check your fluids (coolant, wiper fluid, oil, etc).
Check your tires.
Have jumper cables.
Pack a blanket.
Carbon monoxide poisoning
Carbon monoxide is a silent, deadly killer claiming about 1,000 lives each year in the United States.
Install a carbon monoxide detector.
Never run generators indoors.
Open a window slightly when using a kerosene heater and follow the manufacturer's instructions.
Never use a gas oven to heat your home.
If your heat goes out, you can keep warm indoors by closing off rooms you do not need, dressing in layers of lightweight clothing, and wearing a cap.
This information is provided by the National Weather Service.
Bottom Content