Section Branding
Header Content
Battleground: Ballot Box | Trump's arresting hold on the GOP
Primary Content
For the fourth time in as many months, Donald Trump was arrested on felony charges, this time in Fulton County for his role in the failed attempt to overturn the 2020 election. For the first time, we have a booking photo of the former president, a mugshot that looks just as defiant as his words and actions were after vote counts showed his defeat.
His brief visit to the Fulton County Jail last Thursday overshadowed the week before, where Republican challengers were in Buckhead pitching their place in a hypothetical world where Trump was neither running for president or the runaway favorite to win a third nomination.
The Gathering, hosted by Georgia-based radio personality Erick Erickson, saw six Republican presidential hopefuls show up and have substantive conversations about how they would run the country if elected. A few days later, eight candidates not named Trump took the debate stage in Milwaukee in a chaotic affair that saw plenty of attacks on candidates not named Trump, illustrating the uphill climb any of them face to mount a competitive challenge to the former president.
On this episode, we look at Trump's Georgia arrest and his arresting hold over the GOP primary.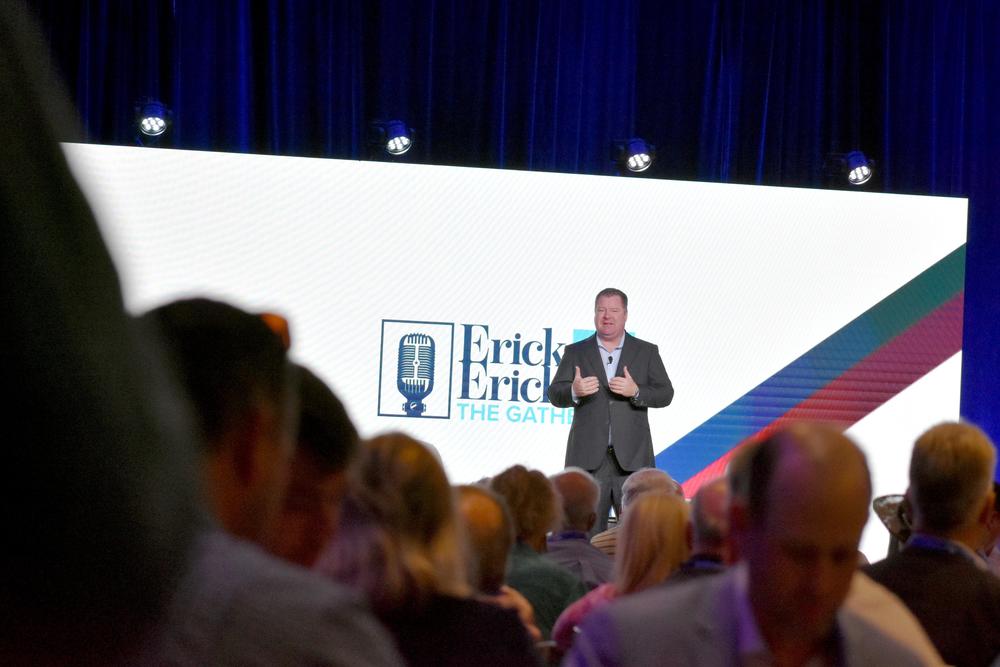 In the ballroom of the Grand Hyatt in Buckhead, just a few miles up the road from the Fulton County Courthouse where just a few days earlier a grand jury handed up racketeering indictments against Donald Trump and 18 others, conservative radio host Erick Erickson opened The Gathering conference by explaining what not to expect over the weekend.
"The former president isn't going to be here," he said. "But I don't want to ask the candidates all day and tomorrow about him."
After Trump's 2020 election defeat — and his attempts to reverse it followed by a yearslong effort to punish Republicans who did not go along with his false narrative — there is a sizable slice of the Republican electorate ready to move on.
Unlike the sprawling chaos of the Iowa State Fair or intimate retail stops in New Hampshire, The Gathering was an opportunity to hear in-depth policy points from non-Trump presidential contenders, spurred through 45-minute question and answer sessions hosted by Erickson.
"The No. 1 question from the crowd is military preparedness," Erickson said. "Lots of questions about finances and the economy and what to do with the banks. ... I don't know the answers to those questions for many of the candidates, because all the media asks them about is is 'What do you think about the indictments?' And so today is the day to actually have six presidential candidates today and tomorrow, and ask them about their policies, their visions."
Sen. Tim Scott, former Vice President Mike Pence, Florida Gov. Ron DeSantis, former South Carolina Gov. Nikki Haley, former New Jersey Gov. Chris Christie and entrepreneur Vivek Ramaswamy had the opportunity to wow conservative voters with their plans for America.
Indeed, there was robust discussion about immigration and the U.S.-Mexico border, education policy, foreign policy and the military, among other topics important to Republican primary voters. But despite the intentions to create a space for a post-Trump future, the reality is that Trump is polling above 50% nationally. The large and fractured field has prevented any one challenger from gaining traction and most candidates still have an unwillingness to highlight Trump's legal woes or differentiate themselves from his policy stances.
 
The strongest condemnation of Trumpism's obsession with the 2020 election results came from Georgia Gov. Brian Kemp, who managed to crush a Trump-backed primary challenger in former Sen. David Perdue, cruise to re-election against Democrat Stacey Abrams and maintain conservative bona fides and policies less befitting a battleground state.
"Look, you can believe whatever you want about the 2020 election, that is your right," he said. "I understand that. I have no problem with that. But the thing is, that was three years ago. And if you're still mad about that, quit complaining about that. Sign up to be a poll worker. Be a poll watcher, get involved in the process: door knock, phone call. Do something that will help us win in 2024. Complaining is not going to help us."
He laid out the stakes for next year with a metaphor about a pencil, pulling one out of his pocket for dramatic effect. The party who is in power holds the pencil and gets to write legislation and the direction of the country. With President Joe Biden and Democrats in charge, Kemp said they are "pencil-whipping the American people right now."
"And we have to stay focused on winning the pencil back, because then we can use the eraser to get rid of all the bad things," he said.
The only two candidates who seemed to take note of Kemp's message and remotely address Trump's indictments over the 2020 election as anything other than a witch hunt or weaponization of justice are also two viewed least favorably by the GOP primary electorate.
Pence, who faced public and private pressure from Trump to reject Electoral College votes from key states including Georgia, has recently leaned into his refusal to overturn the 2020 election in making the argument for his campaign.
"I always stood loyally by President Donald Trump until my oath to the Constitution required me to do otherwise," he said. "But my differences with the president go far beyond that fateful day and I hope to have a chance to debate them with him. Sometimes people ask me, 'How do you envision debating Donald Trump?' I say, 'I have debated Donald Trump a thousand times, just not with the cameras on.'"
But even then, Pence said he was proud of the record of the Trump administration and accomplishments over the four years in office.
"I'm probably more proud of the fact that we appointed three of the justices to the Supreme Court who sent Roe v. Wade to the ash heap of history," he added.
Chris Christie, a former federal prosecutor, was the only one with harsh words for Trump's four felony indictments and its effect on Republicans.
"Whether you believe in the criminal prosecutions or you don't, two things: One, they're real, and there's something politically we're going to have to deal with," he said. "And two, his conduct is reprehensible, but doesn't matter whether it's criminal or not on Jan. 6. I don't care, quite frankly, whether he's held criminally responsible or not. He's morally responsible for what happened on Jan. 6."
Christie called Trump a coward for planning to not show up to the Republican primary debates, hypothesized he couldn't win Georgia in November 2024 and rejected calls to have Trump removed from the ballot for his post-2020 actions.
"I want the voters to decide this," he said. "The only way the voters of our party and the voters of the country more broadly will accept results is if they believe that it's fair. And he's — Donald Trump's — made himself a candidate for president under the most ridiculous circumstances ever seen in my life. There's nothing more selfish than what he's doing. He's been charged with four different crimes, and yet he still persists in insisting that he has to be a candidate for president. I don't think you would have seen George Washington or Thomas Jefferson or Abraham Lincoln be charged with those crimes. But if they had, they certainly wouldn't have run."
It's also important to note that Christie played important roles in Trump's first two campaigns and provided support and legitimacy for the then-political outsider's run for office, something he doesn't apologize for but says things changed when Trump refused to accept defeat.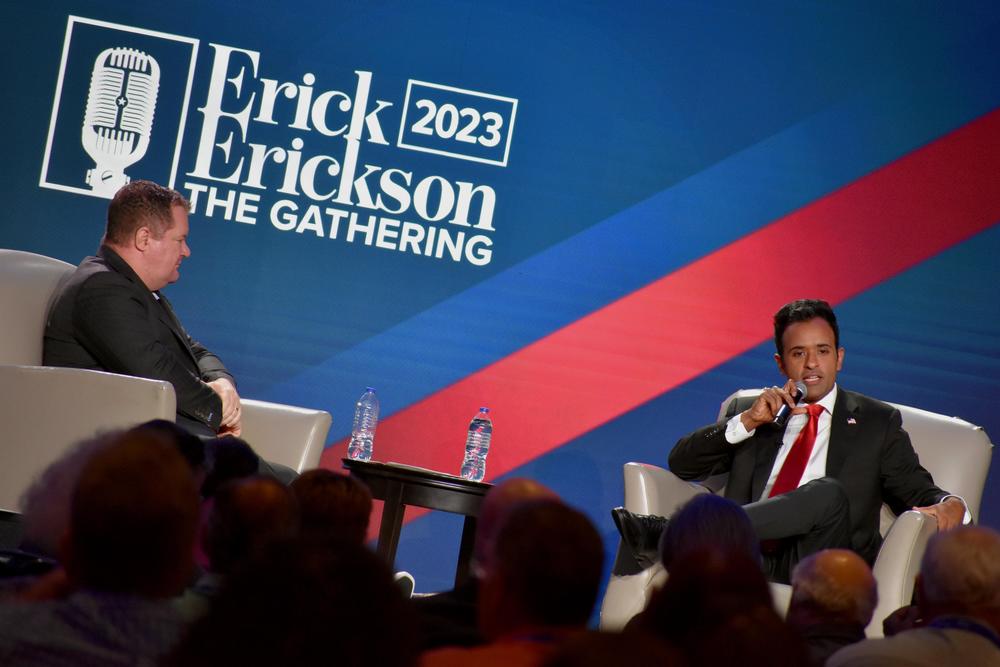 On the other end of the spectrum you have Vivek Ramaswamy, a wealthy former pharmaceutical executive and newcomer to politics, who appears to be running to defeat Trump by praising him and emulating his populist rhetoric and tendencies. During The Gathering, he received the most applause of any candidate for lines like this:
"Do you want incremental reform or do you want revolution?" he asked. "I stand on the side of the American Revolution, I stand on the side of reviving those 1776 ideals that set this nation into motion."
He argued there are two different theories of national unity: one by compromising, the other by "embracing the radicalism, the extremism of the American founding ideals."
Speaking to reporters after his session, he blasted Trump's indictments in Georgia.
"I think that these indictments are a disaster for the country," he said. "I think they set a dangerous precedent for the ruling party to use police force in the middle of an election against political opponents. That's not justice. That is the politicization of justice."
In all, The Gathering served as an interesting thought experiment about what could be Republicans' future, but without any accounting for Trump's sway over the party.
That brings us to the chaotic first Republican primary debate a few days later, where some candidates had their 15 minutes of breakthrough moments that quickly faded once Trump entered the Fulton County Jail. Just a few days after the Gathering in Atlanta, eight Republicans took the stage in Milwaukee for the first presidential primary debate — without Trump — in the first big opportunity for a broad number of voters to hear from them.
The two non-Trump frontrunners, Florida Gov. Ron DeSantis and Vivek Ramaswamy, stood center stage with longshot hopefuls former Arkansas Gov. Asa Hutchinson and North Dakota Gov. Doug Burgum at the end.
There were standout moments in the debate, like when former South Carolina Gov. Nikki Haley spoke about abortion.
"We need to stop demonizing this issue," she said. "This is talking about the fact that unelected justices didn't need to decide something this personal because it's personal for every woman and man. Now it's been put in the hands of the people. That's great when it comes to a federal ban. Let's be honest with the American people and say it will take 60 Senate votes. It will take a majority of the House. So in order to do that, let's find consensus."
Haley also had a viral moment attacking Vivek Ramaswamy over his nonexistent foreign policy experience. DeSantis, who has seen his polling numbers plummet, repeated a line he's used on the trail dealing with the U.S.-Mexico border and drug traffickers, vowing to leave traffickers "stone cold dead."
But for our purposes of understanding the state of the party and the primary, the most important exchange happened when Trump was directly mentioned by the moderator, asking if Trump was convicted and the nominee, would they still support him?
Only Vivek Ramaswamy immediately raised his hand, then slowly almost all the other candidates on stage sheepishly raised theirs, with DeSantis looking back and forth at his fellow conservatives before joining them.
Much like at The Gathering, Chris Christie had the opportunity to eviscerate Trump's actions in the aftermath of 2020 and Ramaswamy rushed to defend Trump.
"President Trump, I believe, was the best president of the 21st century," Ramaswamy said. "It's a fact. And Chris Christie, honest to God, your claim that Donald Trump is motivated by vengeance and grievance would be a lot more credible if your entire campaign were not based on vengeance and grievance against one man."
The debate didn't get as many eyeballs without Trump, who was busy enjoying a pre-taped interview with ousted Fox host Tucker Carlson. While dubious metrics on the social media site formerly known as Twitter indicated massive attention on his video, the reality was still far fewer eyeballs on him though some eyebrow-raising moments from the broadcast leaked over into mainstream discussion.
And on the topic of his indictments, Trump attacked them as political posturing. Even though Trump's attempted counterprogramming didn't quite derail the already-chaotic primary debate, his planned surrender at the Fulton County Jail certainly finished the job.
Thursday evening, Trump arrived in Atlanta from his New Jersey estate to be processed (mostly) like every other criminal defendant at the Fulton County Jail, complete with fingerprints and a booking photo. Unlike most defendants, he was in and out in less than 30 minutes. His paperwork appeared to be filled out in advance, listing him at 6' 3" and 215 pounds, both self-reported numbers. The fourth time the former president has been arrested in as many months also marked a momentous occasion where it was the first mugshot he had to take, and the surreal images — once the official picture was released — dominated the airwaves.
In true Trump fashion, the surrender was scheduled during prime time, where breathless television coverage of his motorcade's every move was punctuated by brief comments before leaving the airport in Atlanta.
"I really believe this is a very sad day for America," he said. "It should never happen. If you challenge an election, you should be able to challenge an election. I thought the election was a rigged election, the stolen election. And I should have every right to do that."
Trump went on to compare himself to former Georgia gubernatorial nominee Stacey Abrams and former Democratic presidential nominee Hillary Clinton and accused prosecutors of election interference.
"What has taken place here is a travesty of justice," he said. "We did nothing wrong. I did nothing wrong. And everybody knows that. I've never had such support.
And in true Trump fashion, after surrendering to jail he returned to X, formerly known as Twitter, following a two-year hiatus to post his mugshot with the caption "election interference — never surrender."
On the next episode of Battleground: Ballot Box
The booking of the 19 co-defendants moves the sprawling RICO case into its next phase, promising to be even more complicated than sorting out charges and waiting for consent bond agreements.
Some defendants, like former Trump chief of staff Mark Meadows, former Department of Justice official Jeffrey Clark and the three Republicans charged for falsely claiming to be official presidential electors for the state, are seeking to move their case to federal court. Others are asking for a speedy trial that could start as early as October
We unpack what's happened and what's to come with the legal wrangling in the RICO case and how the indictments affect who Georgia could vote for and how those votes are counted.
Battleground: Ballot Box is a production of Georgia Public Broadcasting and is produced by Chase McGee. Our engineer is Jake Cook, our editor is Josephine Bennett and the theme music was created by me, Stephen Fowler. Subscribe to our show at GPB.org/battleground or anywhere you get podcasts.
Secondary Content
Bottom Content