Section Branding
Header Content
New COVID cases in Georgia likely driven by summer travel, back to school
Primary Content
LISTEN: Between June and July, the number of Georgians hospitalized with COVID-19 rose more than 30%. That is higher than the national average, but the current wave is not yet cause for alarm. GPB's Ellen Eldridge reports.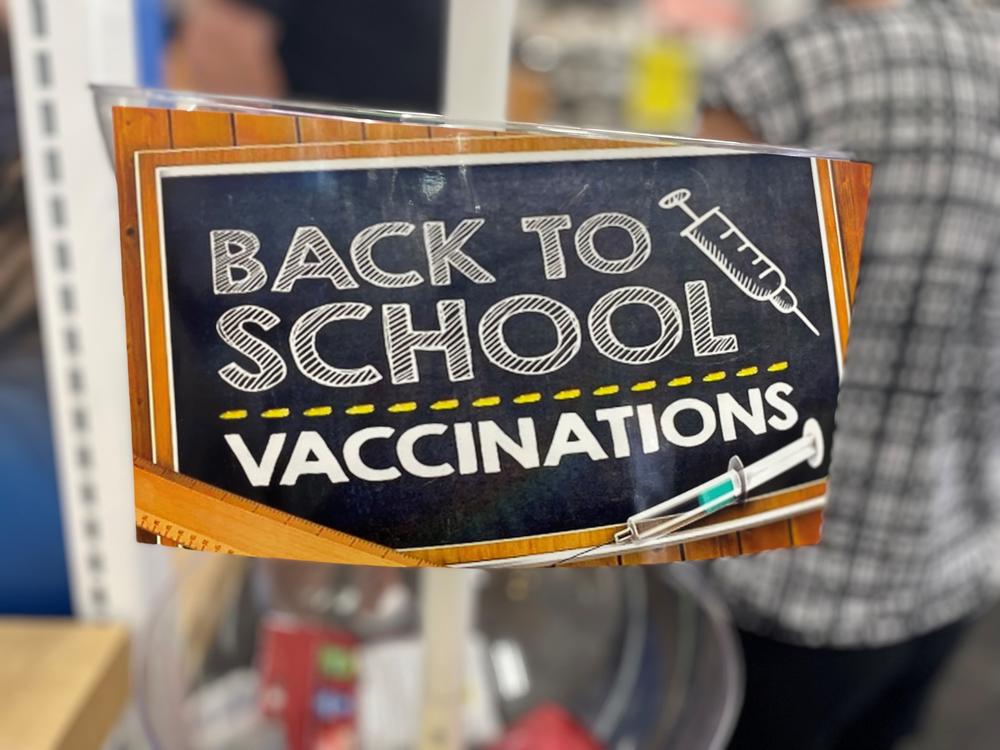 Doctors are reminding people to wash their hands and get their immunizations and school nurses are reminding parents to keep sick kids at home.
It's the season of respiratory illness and influenza-like symptoms.
But, if you're currently coughing, you may want to get a COVID-19 test, said Dr. Felipe Lobelo, the director of epidemiology for Kaiser Permanente Georgia.
"We don't see a lot of flu right now," he said. "Less than 1% of respiratory infections, really, are due to the flu. So if you have symptoms now, most likely it's going to be COVID."
Flu will increase its frequency in the fall, Lobelo said, which is why he said most people should get boosters this fall.
Uptick in cases and variant EG.5 or 'Eris'
While summer travel, increased in-person gatherings, and the return to school are driving up COVID cases in Georgia, public health experts don't anticipate ever seeing the sort of spikes in cases that overwhelm hospitals.
The number of Georgians hospitalized with COVID-19 rose more than 30% between June and July, and the uptick in cases prompted Morris Brown College to reinstate its mask mandate temporarily, but the number of hospitalizations related to COVID remain relatively low compared to the state's peak in January 2022, the state Department of Public Health said in a statement.
I think we can say that the rumors that COVID was dead and gone were greatly exaggerated. 
— Dr. Carlos del Rio
In the U.S., COVID test positivity, wastewater levels, emergency department visits, hospitalizations, and deaths are all rising, based on data from the Centers for Disease Control and Prevention through the first week of August.
However, it's unclear to what extent EG.5, the newest variant also called "Eris," could be driving the current wave.
Waning immunity from previous vaccinations could be contributing, but, overall, hospitalizations and deaths are still drastically lower than they were this time last year.
"I think we can say that the rumors that COVID was dead and gone were greatly exaggerated, right?" said Dr. Carlos del Rio, a distinguished professor of medicine in the Division of Infectious Diseases at Emory University School of Medicine and president of the Infectious Diseases Society of America.
He noted that hospitals are not overwhelmed with COVID patients.
We are in an endemic phase, now, del Rio said, but that doesn't mean COVID can be written off.
COVID is still one of the nation's leading causes of death.
The CDC reported in November 2022 that the disease was the fourth leading cause of death in the United States, dropping from its place as the third leading cause of death in 2020 and 2021.
Heart disease and cancer continue to kill the largest number of Americans, according to the National Center for Health Statistics.
Variants are the reason for updated COVID shots
One of the first cases of COVID from a variant of the coronavirus was reported in an 18-year-old Georgian in January 2021.
That was the alpha variant.
The World Health Organization changed its naming system for variants to use Greek letters because labeling coronavirus variants with geographic locations had proven unnecessarily controversial.
The delta variant caused a spike in cases during summer 2021, when DPH said only 35% of Georgians were fully vaccinated against COVID.
The return to in-person office spaces and classes were complicated that August as the delta variant pushed test positivity to 29%. At that time, Georgia had not seen more than 40,000 new COVID cases in a week since the previous January.
Just as 2021 came to a close, the omicron variant showed up.
Heading into the third year of the pandemic, Georgia saw its highest COVID case counts — particularly among children.
Doctors have excellent treatment options now, but the best means of protection is vaccination, del Rio said.
"The vaccines are still quite effective in protecting you against severe disease and death," he said. "As the virus evolves, you still get protection from the vaccines."
Fall booster shots target newest variants
Tracking COVID cases due to specific variants is difficult because people test for the virus at home and there are fewer folks who are sick enough to see a doctor. That's why epidemiologists have gaps in data that create a barrier to comprehensively evaluate EG.5′s risks.
An updated shot targets the omicron variant and its offspring, which includes the latest variant of interest by the World Health Organization.
"What that means is that it includes protection against the original SARS-CoV-2 virus, as well as the mutated omicron virus or variant," Lobelo said.
The updated COVID-19 vaccines are expected to be available in the U.S. in mid to late September, assuming they receive authorization from the U.S. Food and Drug administration and are recommended by the CDC.
As of May 2023, only 17% of people in the country had received the original bivalent booster.
"It's important to get protected against both flu and COVID," Lobelo said, adding that RSV is also a concern, particularly for people 60 and older. "So the more we are protected with these vaccines, the more you're going to be avoiding sick days or potentially a hospitalization."
Secondary Content
Bottom Content