Section Branding
Header Content
2024 elections: 'Hold on tight,' Raffensperger says
Primary Content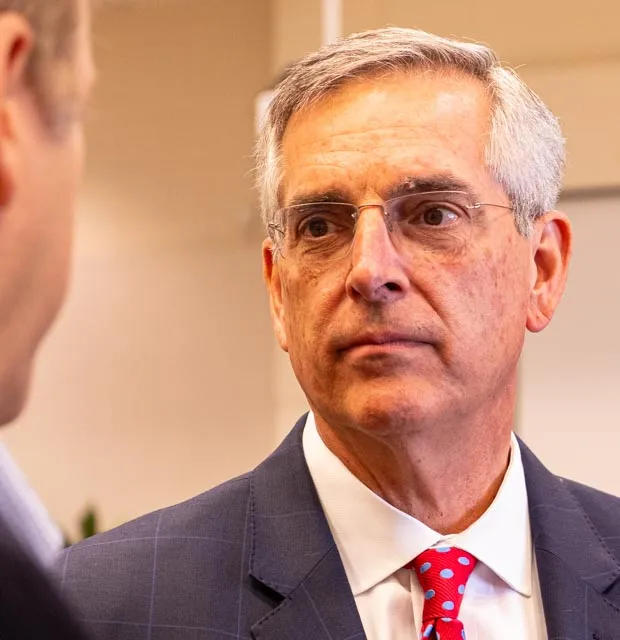 Craig Nelson, The Current
It's tough being a man in the middle.
At least that's how Georgia Secretary of State Brad Raffensperger sought to portray himself in a speech yesterday to the Savannah Rotary Club.
It's true, as Raffensperger noted in his 20-minute address, that in his two terms as Georgia's secretary of state, he has been vilified by Democrats and Republicans alike for his oversight of the state's voting.
By invoking that both-sides history to some 150 attendees at Savannah Technical College's Eckburg Auditorium, the 68-year-old Raffensperger was advancing the old saw that if you're being attacked from both sides, you must be doing something right.
That may be correct as far as it goes, but it's also the case that since the 2020 presidential election, Raffensperger has been disparaged most fiercely by members of his own political party for his actions to certify Joe Biden as the winner of the presidential vote in Georgia.
And while the self-described conservative Republican is esteemed by moderate Republicans and many in the opposing party for his actions in the 2020 balloting, he's reviled by more conservative and far-right Republicans — in other words, those who hold more power than ever in the state GOP.
So, far from being a man in the middle, Raffensperger is fighting a rear-guard action to defend a voting system that he believes will deliver a free and fair vote next year, against the swelling rank and file of his own party who insist the opposite and are campaigning across the region for a return to hand-counted paper ballots.
The secretary of state, a structural engineer by training, ardently defended the state's Dominion voting system yesterday, saying that technicians were currently traveling the state to inspect the security of voting equipment, election software, and the buildings where they're housed.  
"We want you to feel confident in the process," he said, noting that voter totals next year are expected to exceed the nearly 5 million Georgians who cast ballots in the presidential race in 2020. "So, hold on tight. Get prepared."
Asked after his speech if he would comply with any request to testify against Trump in Washington or in Fulton County, the man on the other end of the then-president's request "to find, uh, 11,780 votes" left no doubts:
"I follow the law, and I follow the Constitution. And I believe anyone that holds elected office must and is required because we take an oath to the Constitution of not just the state of Georgia, but to the United States of America. Every elected officeholder does, as well as the office of the president of the United States of America."
This story comes to GPB through a reporting partnership with The Current.
Secondary Content
Bottom Content