Section Branding
Header Content
How people without housing survive during heat waves in Georgia
Hero Image
Primary Content
Temperatures in Central Georgia reached close to 100 degrees this week but the "feels like" temperature was hotter. On July 20, the National Weather Service issued heat advisories for central, southwest and southeast parts of the state. 
Across the U.S., physicians are warning about the risks of exhaustion and heat stroke from excessive exposure. For people experiencing homelessness or housing insecurity, having access to cooling shelters during the hottest parts of the day is vital. 
Daybreak Day Resource Center in Macon is open weekly for people experiencing homelessness. It's one official cooling shelter with access to water, shade and places to sit inside. 
"Our laundry lines have been very long," said Daybreak director Sister Theresa Sullivan, pointing out the packed common room where several people enjoy a snack in the air conditioning. 
With extended hours during the summer and 24/7 access to water, staff at Daybreak are trying to stay on top of the heat. 
But Sullivan said they've already sent people to the emergency room for symptoms of heatstroke, like dizziness, headaches, fever and confusion. 
"People worry about people in the cold and they realize that they need to get out," Sullivan said. "But the heat is just as intense."
Especially for people with mental health or substance abuse issues, Sullivan said, who may forget to drink enough water and stay out of the sun.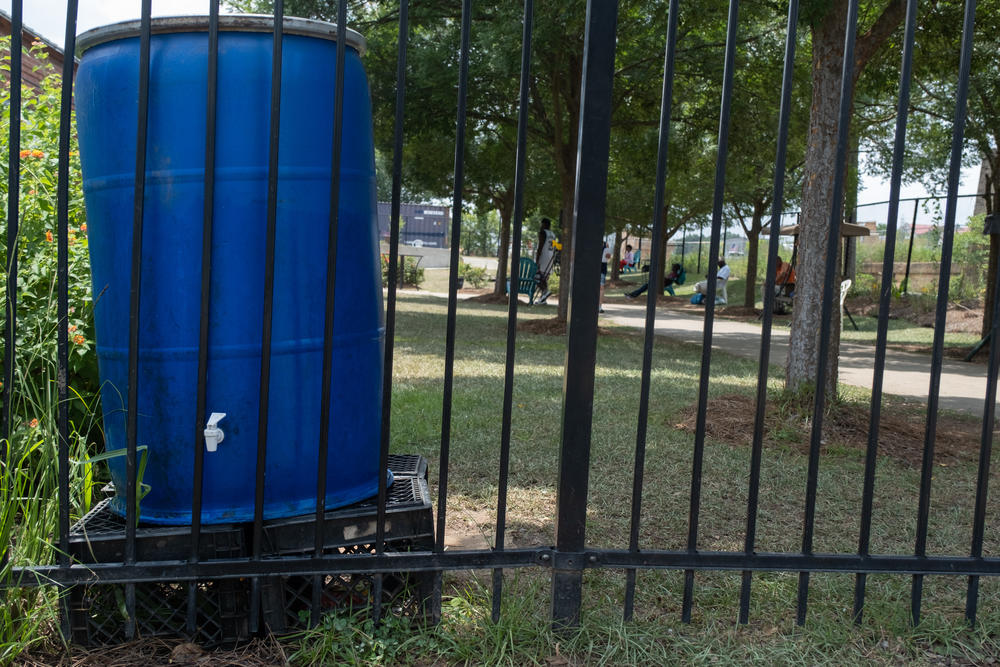 Sullivan said they've been advising visitors at the center to avoid consuming too much caffeine or alcohol, which can counter efforts to stay hydrated. Staff here and at other local agencies have been giving out packets with electrolyte powder and visors.  
Calvin Taylor IV, who lives outside, said he follows key steps to survive the heat. 
"Stay hydrated, drink more water, do less walking, find more shade, wear light-colored clothes," Taylor said. What's been most helpful to him this summer? 
"Taking a shower, and getting to shade my body, keeping cool," Taylor said. 
John Swatz is a regular at Daybreak, and comes to the center in between his days working as a roofer, where he said temperatures can reach over 100 degrees. 
"This summer, it's going to be a harbinger of what next summer is," Swatz said. "And so we really have to find heat hacks now."
For Swatz, a heat hack looks like an electric fan that can plug into his phone, and a wet towel to place around his neck. 
The Salvation Army south of downtown Macon is another cooling center designated by the city's Emergency Management Agency. Sgt. Austin Sturdivant said anyone can drop in between 9 a.m. and 4 p.m. through August. 
"Usually when we have them leave at 4 o'clock, we just send them over to our dining room because we do dinner here every night," Sturdivant said.
After that, they try to send people to other local agencies, he said.
Staff at both The Salvation Army and Daybreak said they're running low on summer essentials, like deodorant, insect repellant and hydration drinks. Donations are tough during the summer with so many people on vacation. 
Sullivan said if there's one thing everyone can do, it's pay attention to outdoor temperatures and offer help. 
"Is there a way we can open a door for shade or we can open a door for water access to anybody? And that makes a huge difference right now," Sullivan said. 
Temperatures in Macon are expected to stay in the high 90s through next week. 
Secondary Content
Bottom Content