WATCH LIVE | Former First Lady Rosalynn Carter's Carter Center Departure Ceremony and Tribute Service at Glenn Memorial Church at Emory University
Section Branding
Header Content
State agencies slow to reopen public meetings to in-person access; DNR reverts to pre-pandemic ways
Primary Content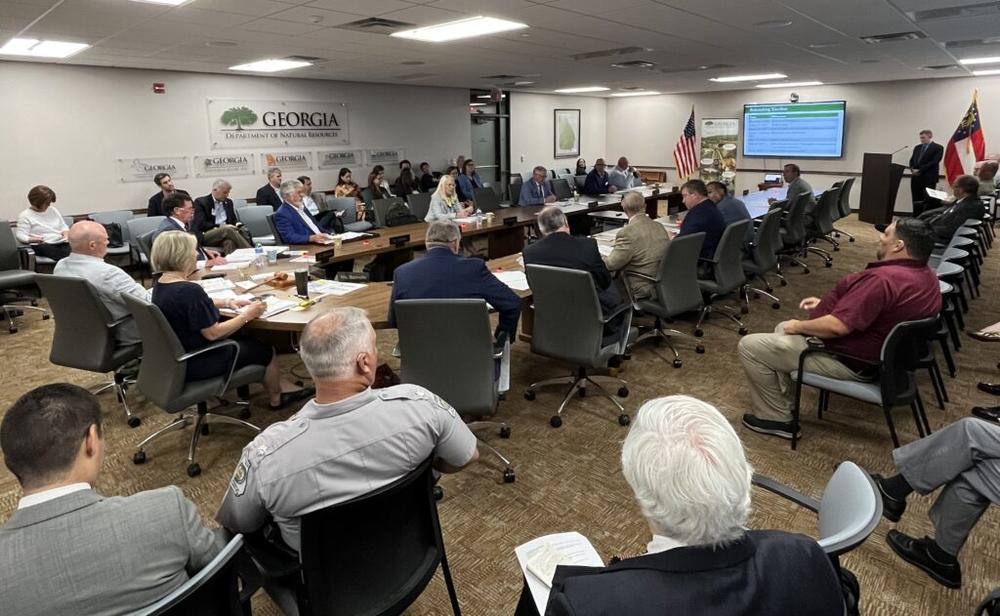 It takes around four hours by car to go from Savannah to Atlanta – not an easy trip to make in time for a 9 a.m. weekday meeting of the state Board of Natural Resources. But with no option to participate virtually, many south Georgia residents are faced with a difficult choice: an eight-hour plus round trip or not attending. 
For constituents who want to make a public comment and listen to issues that affect them, or for reporters like Mary Landers, who covers the environment for The Current in coastal Georgia, going to Atlanta for an in-person meeting is a sacrifice.
"It's a hardship to do that. You can't just go [to the meeting] and then go to work. For that, you have to take the day off from work," Landers said. "It's difficult."
Pandemic-era zooms, recordings and livestreaming paved the way for increased public access to governmental meetings. People could participate from the comfort of their own homes. They didn't need to travel for hours from all corners of Georgia to metro Atlanta to attend a meeting. They could record and rewatch. But despite valuable lessons in technology during the age of social distancing, the return to post-pandemic life has not always heeded the pandemic's teachings.
Some of Georgia's most important governmental agencies have been slow to embrace the widespread public access the pandemic made possible. The return to in-person meetings, and for some agencies, the departure from virtual access, has also come with the return to long commutes and less accessibility. For other agencies, offering a solely virtual platform has cut off meaningful in-person public participation. And for other agencies still, breakout rooms and a lack of readily available meeting recordings online have further hindered transparency.
Though ending pandemic virtual access limits participation, particularly for those unable to attend in-person, it is not illegal. Under Georgia law, as long as meetings are open for the public to attend in-person, they are not required to also be remotely accessible. 
"It would be great if remote access were mandatory because it is a time saver. It allows for people who might have mobility issues to still observe," said Clare Norins, director of The First Amendment Clinic at the University of Georgia School of Law. "But it's not required right now as the law currently exists."
Nevertheless, Norins says that it's important for the public to access government meetings to see the decision making process and stay informed about important issues. "It's a form of accountability that the public be able to observe the government in process." 
In response to questioning about the value of public participation and the legality of solely in-person meetings, the Office of the Attorney General echoed Norins' sentiment that open meetings and records kept the public informed and elected officials accountable.
"We will continue to promote good open government standards that are built on sound judgment and the rule of law," Kara Richardson, communications director for the Office of the Attorney General, said in a statement.
'I just don't go if it's in Atlanta'
The Department of Natural Resources (DNR) is one governmental agency that no longer offers a virtual option for its regulatory board's meetings post-pandemic.
"Due to the technical limitations of many DNR facilities, and in an effort to ensure a consistent experience, the department recommends attending board meetings in person," Donald Kirkland, the agency's director of public and governmental affairs, said in a statement.
Over the pandemic, DNR had a lot of technical and staffing challenges and received complaints from the public about the video and audio quality. Though they attempted a hybrid setup for a short period of time, the size of the room and procedural difficulties with the microphones paired with feedback from frustrated viewers led them to eliminate the virtual option completely.
Mark Woodall, legislative chair for the Sierra Club in Georgia, said that adding a virtual option shouldn't be a big deal, citing the Public Service Commission as a government agency that spent money installing screens to make it easier for board members and experts out of state to connect virtually. "The DNR really doesn't have that sort of thing going on for their hearings," Woodall added. "It seems like a very small thing to do that would help a lot of people access what's going on with the government and Georgia."
To offer some accommodation to people living outside of Atlanta, where the main DNR offices are based, DNR rotates in-person board meetings throughout the state. In a state the size of Georgia, this arrangement provides access to a small number of people some of the time and no access to many people much of the time. 
For reporters outside of Atlanta, like Landers, the lack of virtual access just adds another layer of difficulty as she tries to keep the public informed. 
"If you're trying to find out quickly what happened at the meeting, it's difficult, unless you happen to be in Atlanta," Landers said. "When it's been on the coast, I've been able to go and it's just a much different and more immediate feel."
Landers said that attending in person and being able to speak to people and hear the meeting in real time makes her job as a journalist easier. 
"Otherwise, it's just not very accessible for most people in the state," she added.
Landers said in-person-only access to the roving DNR board meetings has created an additional barrier as she attempts to track the agency's deliberations on a controversial mining project near the Okefenokee National Wildlife Refuge. 
"I just don't go if it's in Atlanta. It's just too far," she said. "I can't afford to drive for hours each direction in both the time and the expense."
Back in person? Not yet
Other agencies such as the Department of Community Health (DCH) lack an in-person option and only meet virtually.
On the same day the federal public health emergency declaration expired, the state's Board of Community Health – which advises DCH – planned to meet virtually on May 11 "in an effort to promote social distancing."
The state agency's website stressed there would be "no in-person attendance for this meeting at DCH" in continuation of the department's pandemic-era switch to virtual meetings.
But technology snafus at the May meeting repeatedly disrupted the Zoom meeting, which had drawn dozens of attendees, and the board adjourned early after signing off on a time-sensitive issue. The rest of the agenda was deferred until the next meeting. 
"The Georgia Department of Community Health's virtual board meeting option provides the necessary level of public access to observe actions of the board," Fiona Roberts, press secretary for DCH, said in a statement. "The pandemic, weather-related damage to the agency's boardroom in December 2022, and the agency's relocation efforts were contributing factors that delayed opening board meetings to in-person attendance." 
The state agency relocated its primary operations in Atlanta in April and said they eventually plan to reinstate in-person attendance "once the technology infrastructure work is complete," although they did not specify when.
Like DCH, the Department of Behavioral Health and Developmental Disabilities (DBHDD) has also been relocating, moving from 2 Peachtree Street to the Twin Towers state building. 
"As that move is nearing completion, we are better able to accommodate in person attendance from the public," Ashley Fielding, the department's assistant commissioner of agency affairs, said in a statement. 
In its May meeting for the Behavioral Health Coordinating Council, Fielding said DBHDD resumed in-person attendance options for the public and "will resume in person attendance options for the public for its June board of directors meeting as well."
The Board of Public Health, which halted its meetings altogether for more than a year early in the pandemic, also has not resumed in-person access to its meetings. Department of Public Health spokeswoman Nancy Nydam said the agency had no official comment on the panel's future plans. 
'Why are we adding more steps?'
Though the Board of Regents offers a livestream of their meetings, the recordings are not readily available online and must be requested.
"Audio recordings of regularly scheduled meetings are available upon request, and approved meeting minutes are available online at https://www.usg.edu/regents/meetings,"  the University System of Georgia said in a statement.
Matthew Boedy, a professor at University of North Georgia, said that requiring the public to ask for recordings of the meetings is unnecessary "red tape."
"That you'd have to ask for it just adds another step for open access information and why are we adding more steps to that?" he said. "If they're going to do a video of the meeting and they're going to record it, why not post it?"
When the board breaks into different committees, all of the committees meet simultaneously leaving viewers to choose which committee to watch. Since the meeting livestreams are not posted online, viewers cannot easily go back and see the committees they missed. 
"They're not transparent in the sense of wanting public access, and that's why they have the public ask for videos," Boedy said.
Although some agencies are not making their meetings as accessible to the public as they could be from lack of virtual to lack of in-person meeting options, the issue of access is not an unsolvable problem. There are state agencies such as the Georgia Public Service Commission and the Georgia Government Transparency and Campaign Finance Commission that seem to have found a solution in offering a hybrid option, where the public can choose to come in-person or attend online. 
"I get it's a big state, and you can't have access for everybody equally," Landers said. "But having a way to be truly interactive with your constituents would be great." 
This story comes to GPB through a reporting partnership with Georgia Recorder. 
Secondary Content
Bottom Content