Section Branding
Header Content
Georgia's oyster season comes to a close, as risk of foodborne illness rises over the summer
Primary Content
LISTEN: Commercial and recreational harvesting of oysters in Georgia is prohibited until Oct. 1, while bacteria build up to unsafe levels in warmer waters. GPB's Benjamin Payne reports.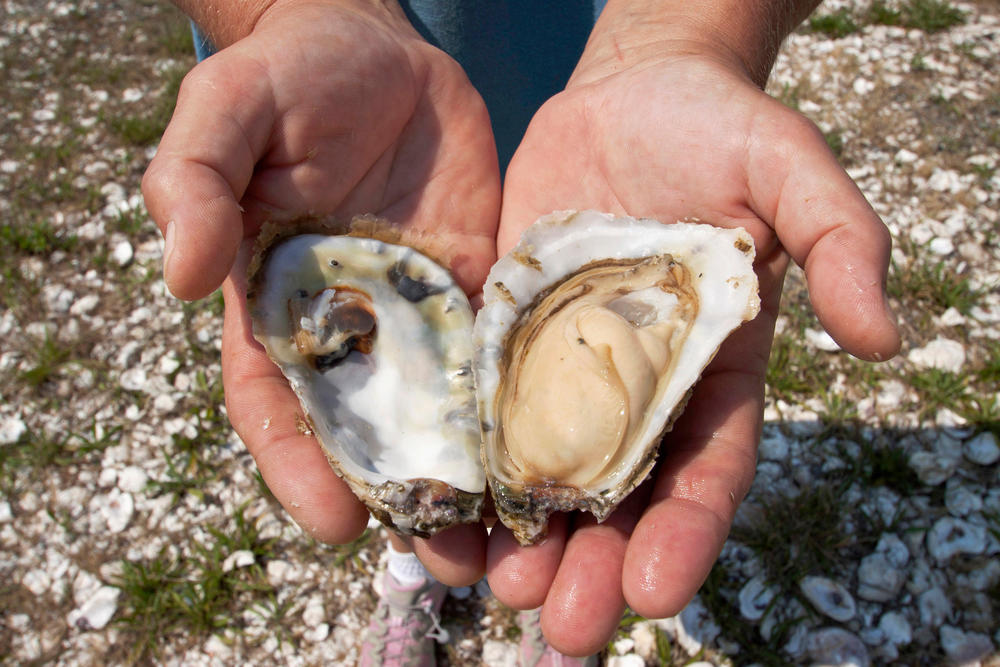 Connoisseurs of Coastal Georgia's signature salty oysters may need to acquaint themselves with the rest of the seafood menu for awhile, as the state's eight-month oyster season officially ended June 1.
The Georgia Department of Natural Resources routinely shuts down commercial and recreational oyster harvesting from June through September, as warmer waters help propagate unsafe levels of naturally-occurring bacteria in some shellfish including oysters, which — unlike clams — are often eaten raw.
So, how did this past season fare? The DNR won't have information on the state's oyster output anytime soon, as shellfish and water quality manager Dominic Guadagnoli said that it typically takes the department several months to summarize and tabulate data. But based on what he's seen so far, Guadagnoli called it "a good, average year."
Sapelo Sea Farms owner Charlie Phillips, who harvests and distributes seafood off Sapelo Island, described his company's oyster haul as productive as it usually is, but with even "prettier" specimens than the previous season.
Although business is good at the moment, Phillips is concerned for the future. He cautioned that pollution from agricultural runoff, municipal waste and industrial activity has worsened drastically since he began plucking oysters in the late 1990s.
"As a culture, we are really bad about 'out of sight, out of mind' — not worrying about what really goes on downstream," Phillips said. "A lot of the stuff that gets dumped in the river, it has a long shelf life. Once you put plastic in the waters — even the microplastics — it stays in there a long time and keeps accumulating."
But while humans have been harming water quality, he was quick to point out that oysters and clams are doing just the opposite.
"All they do is eat algae in the water," Phillips said. "They're cleaning the water. It's one of the few industries that I would say is very environmentally friendly and can be commercial at the same time. So, it's a win for everybody."
Georgia's oyster harvesting season is set to resume Oct. 1 — precisely 30 minutes before sunrise  — but the DNR has the authority to push the start date back, should warm waters linger past September.
Secondary Content
Bottom Content