Section Branding
Header Content
2023 Atlantic hurricane season begins June 1. The first subtropical system formed months ago
Primary Content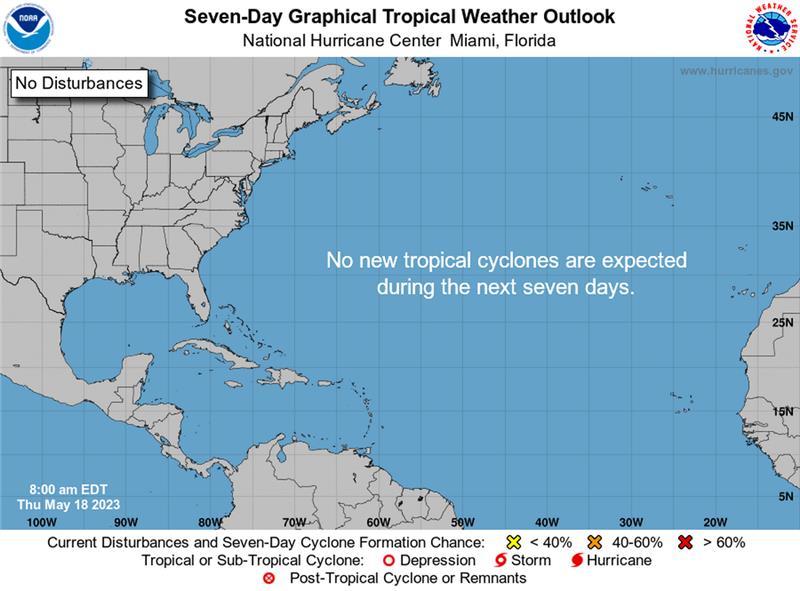 The Atlantic hurricane season has not officially started but the National Hurricane Center has already identified the first subtropical cyclone of 2023 — and it formed months ago.
The subtropical storm formed in mid-January off the northeastern U.S. coast and will officially be designated as the first cyclone for the 2023 Atlantic hurricane season, the NHC said in a tweet on May 11.
The Hurricane Center said key information about the system will be released in a tropical report in the next few months.
The news about the subtropical storm was released four days before NHC began their tropical weather outlook for the 2023 hurricane season, which doesn't start until June 1. There is currently no tropical activity expected in the next seven days, according to NHC.
The Atlantic Basin includes Gulf Coast and East Coast states including Mississippi, Florida, Louisiana, Alabama, North Carolina, South Carolina and Georgia.
January storms are rare, but the month recently had a hurricane. In January 2016, Subtropical Storm Alex formed in the eastern Atlantic and then became a hurricane. It eventually made landfall in the Azores as a tropical storm, according to The Weather Channel.
Only five other Atlantic storms have existed in January since record-keeping began, The Weather Channel reports. The subtropical storm was given an ID for tracking but was not a named storm.
The first system to reach tropical storm strength in 2023 will be named Arlene.
Here is the list of the 2023 storm names for the Atlantic hurricane season:
Arlene
Bret
Cindy
Don
Emily
Franklin
Gert
Harold
Idalia
Jose
Katia
Lee
Margot
Nigel
Ophelia
Philippe
Rina
Sean
Tammy
Vince
Whitney
You can follow updates from the National Hurricane Center on Twitter or at hurricanes.gov.
This story comes to GPB through a reporting partnership with the Ledger-Inquirer.
Secondary Content
Bottom Content