Section Branding
Header Content
Workers at Georgia school bus maker Blue Bird begin voting on whether to unionize
Primary Content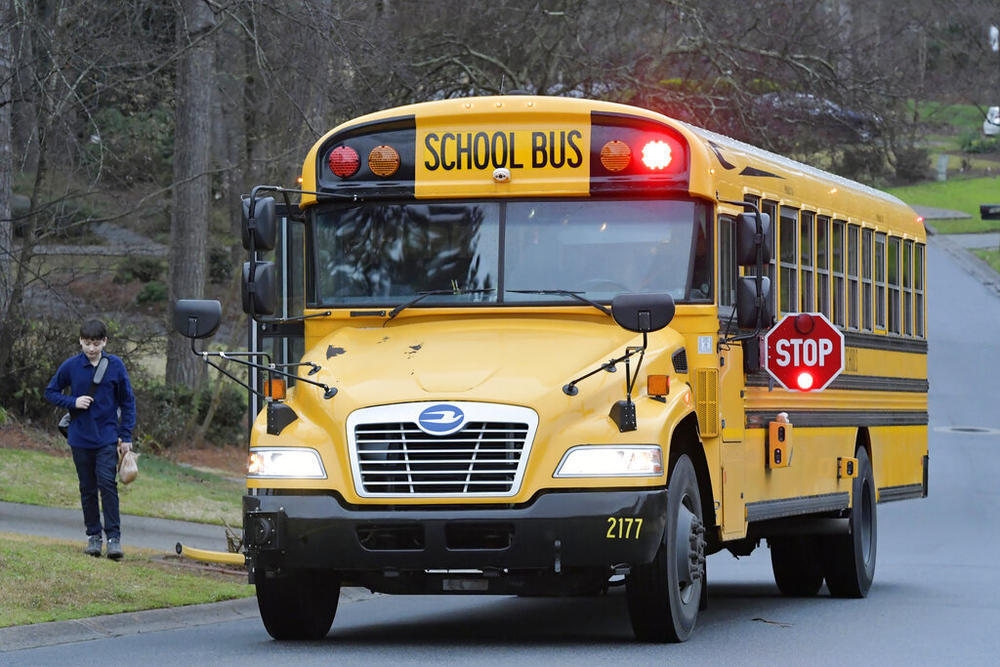 Georgia workers at one of the nation's largest school bus manufacturers will begin voting Thursday on whether they want to be represented by a labor union — a chance for organized labor to make gains on the stony soil of the Deep South.
More than 1,400 employees at Blue Bird Corp.'s two factories and warehouse in Fort Valley will be voting through Friday on whether they want to unionize under the banner of the United Steelworkers. That union represents more than 850,000 workers nationwide in a variety of industries.
Blue Bird workers have said they're seeking higher pay, a more regular schedule, and better vacation and sick time benefits from the publicly held Macon-based company, long the largest employer in nearby Peach County.
"The company has forgotten about the people," pro-union worker Dee Thomas told WMAZ-TV. "We should be able to have some type of say-so about things that we want. We're the ones in there working, but they're making all the decisions."
But Blue Bird has been meeting with employees to urge them to reject unionization, a common tactic among employers, saying it's undesirable to interject a union as an intermediary between the company and workers.
"Blue Bird believes most employees do not desire a union at the Blue Bird facilities," Julianne Barclay, a spokesperson for the company, wrote in an email.
It's the first serious run at forming a union at Blue Bird in decades. The United Auto Workers tried in 2001, but withdrew its petition before a vote could be held, saying it didn't have enough support. That effort included a pro-union rally that was disrupted by anti-union workers.
Maria Somma, organizing director for the United Steelworkers, says a majority of workers signed a petition seeking an election this time, although the company says the final vote tally is what will count. Supporters often melt away under the force of anti-union pushes by employers.
"Only after the employees secret ballot vote will anyone know if a majority of the Blue Bird team want a union," Barclay said.
The share of workers who are unionized nationwide has been falling for decades, dipping to 10.1% last year according to the federal Bureau of Labor Statistics. And private sector workers are much less likely to be union members, with only 6% paying dues.
Organized labor is an even smaller sliver of Georgia workers, with only 4.4% of workers being union members. That's the eighth lowest union rate in the country, part of a belt of southern and western states where workers and employers have long resisted unionization.
Union organizers at Blue Bird have filed formal charges with the National Labor Relations Board alleging that the company's anti-union campaign has stepped over the legal line into improperly threatening and harassing employees.
The union alleged in the charges filed last month that the company has been improperly following workers outside the plant, has threatened to close the plant, and has warned it could freeze pay and benefits or not bargain fairly on a contract. The union says Blue Bird also issued threats to workers that all local employers would blackball pro-union workers from future jobs and that managers improperly polled workers on how they will vote.
The company has declined to comment on the specific charges, but denies doing anything improper or illegal.
"We have respected the rights of our employees and the USW at all times," Blue Bird said in a statement.
U.S. Sens. Jon Ossoff and Raphael Warnock, both Democrats, wrote a joint letter to Blue Bird CEO Matt Stephenson on May 3 urging "free and fair elections."
The NLRB won't resolve the complaints until after the vote.
One issue is pay. The company hires general laborers at $16 an hour, and says its average starting wage is $17.69 an hour. Workers say pay hasn't kept up with inflation, noting Blue Bird has gotten $40 million in federal aid to build electric school buses.
Workers also say the company forces them to work overtime, making it hard for them to plan their own schedules, but penalizes workers who have unplanned absences.
"We're on an eight-hour work schedule, but we work over. You don't never get off on time," Thomas told WMAZ-TV. "People have families, and they would like to spend time with their families."
Barclay said absences can be excused when workers call in at least an hour in advance, and sometimes can be excused later.
"Employees who are not present for scheduled work create unnecessary hardship for their co-workers and create costly rescheduling to meet customer demands," she said.
The company and pro-union workers are also arguing about how much vacation and sick time workers receive, telling sharply different stories about the level of benefits.
"We think they just haven't kept up with the times and the workers have felt like they haven't had the opportunity to advance and do well as the company has done," Somma said.
Secondary Content
Bottom Content