Section Branding
Header Content
Artist Ebony G. Patterson, winner of High Museum's Driskell Prize, on career upswing: 'Unbelievable'
Primary Content
LISTEN: GPB's Leah Fleming speaks with Ebony G. Patterson a Jamaican born visual artists and educator and the winner of the 2023 David C. Driskell Prize.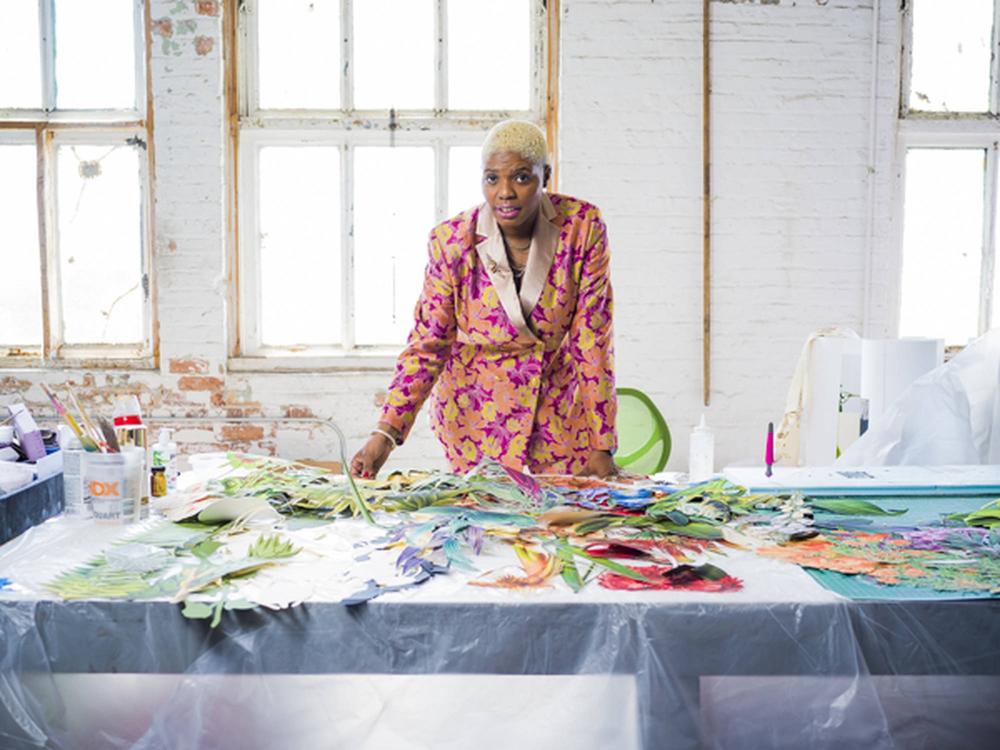 Gather up some glitter, sequins, colorful fabric, toys, and perhaps some faux flowers, and what do you get? Well, if you are Ebony G. Patterson, you get a masterpiece. Patterson is a Jamaican born visual artist and educator. And she is now the 2023 recipient of the David C. Driskell Prize. Driskell was born in Eatonton, Georgia. He was a legendary African American artist and art historian. He died in 2020. Established by the High Museum of Art in 2005, the David C. Driskell Prize in African American Art and Art History recognizes field-defining contributions to African American art by some of the leading scholars and artists from around the country. Ebony Patterson received the award at the 18th annual David C. Driskell Prize Gala on April 28.
GPB's Leah Fleming spoke with Patterson, who talked about the magnitude of this moment in her career. 
TRANSCRIPT:
Ebony G. Patterson: When I look at the cohort of people who received the award since its inception, you know, it still seems really unbelievable. I think, last night, I said to a friend, it almost feels like it's actually happening. I think there's still a little tinge of disbelief in this happening. But I'm still quite stunned.
Leah Fleming: There are a lot of people that describe your work, but I'm curious, how do you describe your work?
Ebony G. Patterson: I describe myself first as a painter. But I'm a painter who is not a purist. And so, what that means is that I use all things available to me in the world. I haven't used the kitchen sink yet, but I use all things available to me and then interpret those things materially through a language that's anchored in painting. Over the years, there's been this investment in exploring the use of the figure or the body. And that's varied over the years in terms of how that ebbed and flowed throughout the work dependent on the ideas or the problems that I'm trying to unpack within the work.
Leah Fleming: You know, there is a piece at the High Museum that they acquired, and it is titled "...they stood in a time of unknowing... for those who bear witness." And this is one of your works. And I'm wondering what the significance of the work is, the title.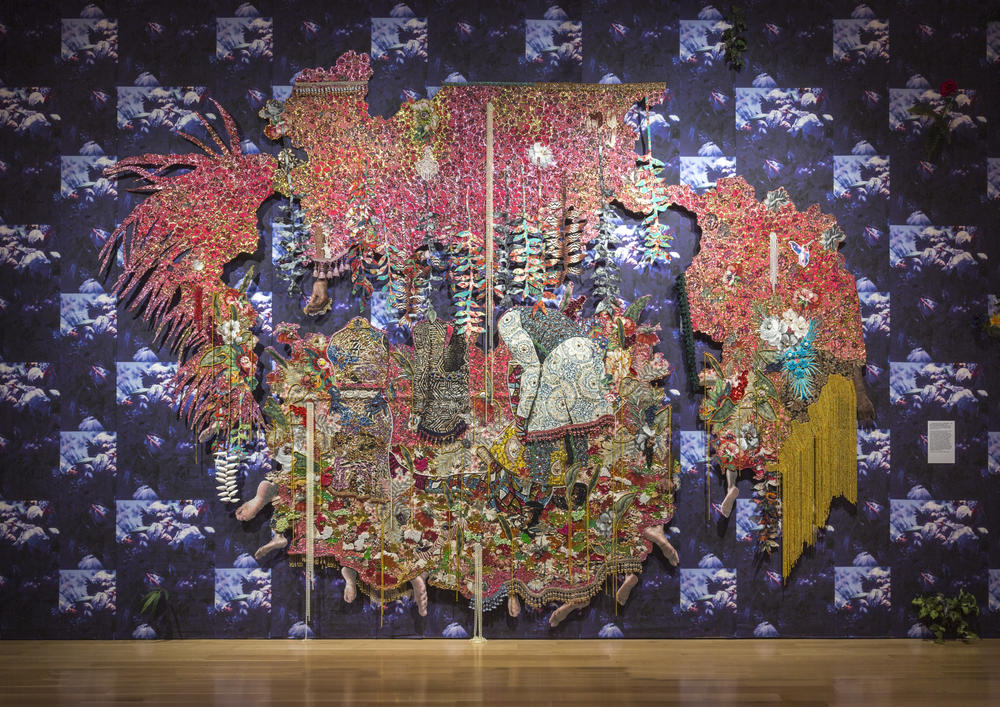 Ebony G. Patterson: Yeah, the work came out of looking or spending a lot of time looking at photographs —that were often coming either through social media ...or traditional or conventional news sources— at black bodies at sites of violence or communal violence, more specifically. And the way the images were almost always shared and then the comments that would often follow was always really problematic, you know, to me.
So, you know, there's a one conundrum of, like, spreading the information about something horrible that has happened. But then there's the other conundrum of, like, what if this was my relative? How would I feel about an image of their mutilated body just being passed around almost like an object? And also, too, the way people would speak about, you know, the deceased often in these images, it is almost centered on a kind of object-ness. So the work, the body of work "...they bear witness" was really about unpacking the weight of witnessing, the weight that is held by witnesses witnessing, and then also too the vulnerability in witnessing that also comes with its own engagement, not just in looking at violence, but also being a body that also becomes a part of a cycle or becomes a part of that extended act of violence because of the unknowing moment where your image is being taken and then shared in a particular way for consumption and for a byte.
And then also, too, the work is also really large strategically, because I was also interested in what would happen if the viewer then also became a part of that moment, you know. They stand inside the picture as opposed to outside the picture. So there's also this question about who is able to witness? Who has the right, who, you know, whose voice is given weight in the moment of witnessing? So what happens also, too, because you are, you know, from a particular social background or particular racial background, that your voice is also nullified because of these things. What does it mean also to not be able to participate in witnessing your own violence? And that your voice somehow becomes invalid because of this kind of inherently colonial, you know, structures which are quite institutionalized in the way we think about each other and the way we negotiate each other.
Leah Fleming: So, you know, the High Museum says that this prize this Driskell Prize, it comes along with a gift of $50,000 to use toward the furthering of artistic practice or research. And I'm wondering if you have any plans yet in the works for how you will do that.
Ebony G. Patterson: Yeah, I'm going to be using the money towards building a studio back home in Jamaica. You know, our ecosystem in Jamaica is, you know, it's a little different from the States. And I think that the opportunity through the resources of this prize to be able to build a studio at home also helps, I guess, burgeon something else for younger artists. You know, to be able to see that it is also possible to have a practice that can exist in a way that you needed to exist in your home space is also an incredibly important thing, has always been incredibly important to me to demonstrate. It's been the reason I've always had a space at home. I know to be able to build a space for myself will be really great.
Secondary Content
Bottom Content