Section Branding
Header Content
Kemp signs near-total ban on outside money for Georgia elections offices
Primary Content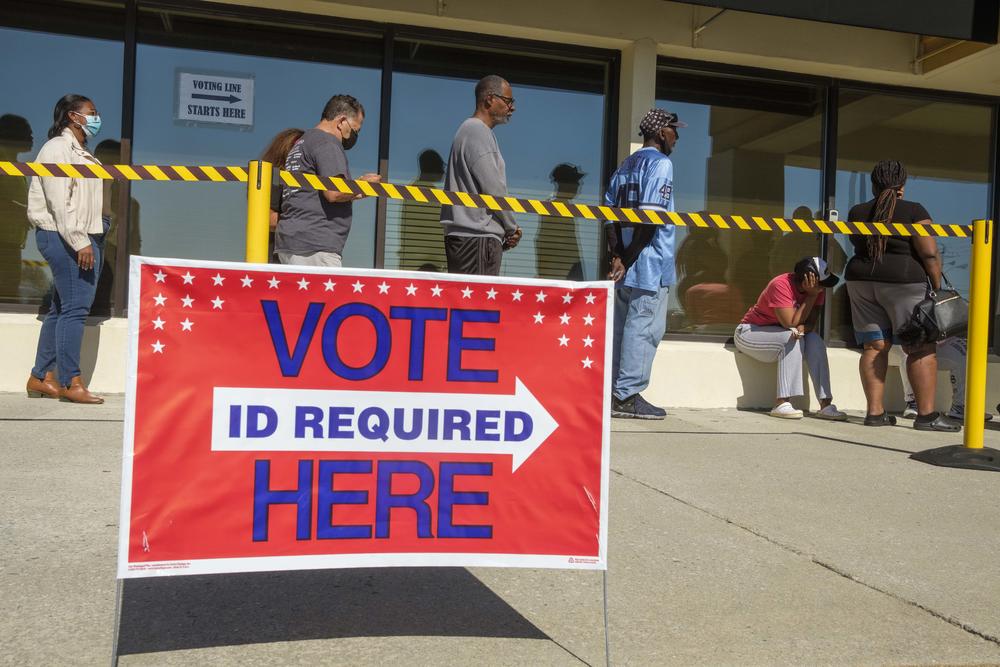 Gov. Brian Kemp has signed a measure that virtually eliminates the ability for local elections officials to receive third-party funding to help cover their costs.
Under Senate Bill 222, it is now a felony for local government officials or election workers to ask for or receive money to pay for elections except for funds that come from the state or federal government.
 
Republican lawmakers in Georgia and other states have focused on cracking down on outside funding in recent years, in part driven by false claims about grant money elections officials received during the 2020 election — and as local elections officials report funding and staffing shortfalls.
It was already against the law for county elections boards to directly receive funds from outside nonprofits, thanks to the sweeping 2021 law SB 202 that instead required county governments to request and disburse that type of money. 
But when majority-Black, Democratic-heavy Dekalb County used those rules to receive a $2 million grant earlier this year to allocate towards its election office, some Republicans simultaneously accused the county of breaking the law and pushed the General Assembly to outlaw that from happening, too.
In the aftermath of the 2020 election cycle, groups such as the nonprofit Center for Tech and Civic Life (largely funded by Facebook founder Mark Zuckerberg and his wife) donated millions to elections offices across the country to help ease the costs of running elections during the coronavirus pandemic. Some conservatives have argued, without evidence, that the money somehow led to more people voting for Democratic candidates and the funds improperly influenced electoral outcomes.
Georgia and other states saw funds go to elections offices across the geographic, ideological and populational spectrum, with more money going to counties with more people.
"Schemes to privatize our elections have no place in Georgia or anywhere else and undermine the confidence of voters who have doubts about the legitimacy and accuracy of our elections and whether they were conducted with fairness and honesty," Ken Cuccinelli, a former Trump administration official who's now with the Election Transparency Initiative, said in a statement about the new Georgia bill after it passed.
Democrats and voting rights groups say the further restrictions will only increase the burden on elections workers and lead to more workers leaving and potentially more issues with voting.
"Election grants are not the problem; there's simply no evidence of it," state Rep. Saira Draper (D-Atlanta) said during debate on the bill. "The real problem is cutting off lifelines to our chronically underfunded elections offices."
An earlier version of SB 222 sought to require DeKalb County to pay back the $2 million it received from the nonprofit U.S. Alliance for Election Excellence, money that the county said would be used for things like upgrading its facilities. That language was removed after Democratic lawmakers and others pointed out the fact that making the grant retroactively illegal would have violated the Constitution.
Georgia's new restrictions do not apply to groups such as churches that donate locations to serve as polling places, "services provided by individuals without remuneration" or goods with a value of less than $500.
The 2022 midterm elections saw few lines or hiccups, even with a highly watched U.S. Senate runoff that was held just four weeks after the general election after the 2021 law change shortened it from nine weeks. Still, the Republican-led legislature advanced several other proposals to further tweak election rules that did not get final passage before the end of this legislative session, including an omnibus measure that might have violated federal voter registration law and included a last-minute proposal to ban all absentee drop boxes.
Lawmakers also added several election requests Republican Secretary of State Brad Raffensperger asked for in the FY 2024 budget that begins July 1, including funds to add staff for the State Election Board, adding an absentee ballot tracking system through the U.S. Postal Service and data plans for early voting check-in tablets.
The budget does not fully fund Raffensperger's request to replace heavy battery backup power supplies for voting machines.
"The current [backup] is a lead-based battery," Raffensperger said in a budget hearing earlier this year. "It's robust; it also weighs 80 pounds. Our average poll worker has an age of over 65 years old, it's a burden."
Secondary Content
Bottom Content