Section Branding
Header Content
Plugged in: Collective Soul headlines Fox Theatre's third 'Revival' to benefit historic theaters
Primary Content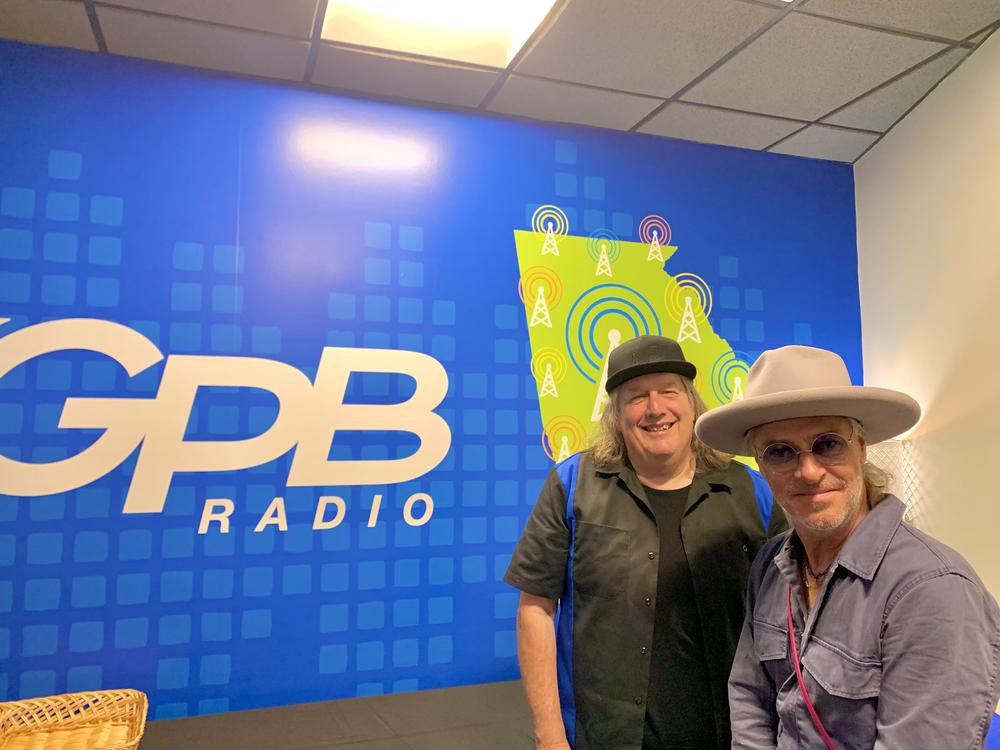 On May 13, musicians from Georgia and across the country will take to the stage at the Fox Theatre in Atlanta with a mission to raise money to preserve Georgia's historic theaters and expand The Fox's education programs. Two of those musicians with Georgia roots dropped by the GPB studio. 
GPB's Peter Biello spoke with Ed Roland of Collective Soul and event host Kevn Kinney of Drivin N Cryin to find out more about the special 'Revival' performances, which also includes Peter Buck of R.E.M., David Ryan Harris, Lenny Kaye, Mother's Finest and Jet Black Roses. Watch the full conversation below.
TRANSCRIPT
Peter Biello: Ed Roland has been a singer and songwriter for Collective Soul for going on three decades. And Kevn Kenney is singer and songwriter for Drivin N Cryin. Ed, thanks very much for being here. 
Ed Roland: Thank you so much. Anytime I get to hang out with Kevn, it's a blessing. So, thank you.
Peter Biello: I'm about to share in that blessing. Kevn, thank you so much for being here.
Kevn Kinney: All right. Thanks for having me.
Peter Biello: We'll start with you, Kevn, because you're the host of the show. I'd like to ask you first — and Ed, I'd love to hear from you on this, as well — what made you say "yes" to hosting a show like this, this fundraiser at the Fox? 
Kevn Kinney: You know, for me, in this era where people aren't going to theaters anymore and kids aren't growing up in theaters — they're streaming constantly in the in the family playroom or whatever— and it's a rare thing to get everybody together [at a theater]. As a parent [in those days], it was not a lot of fun bringing your kids to a theater. But it was a great memory for all of us. And so for me, it's the American theater. It's not only a building, but it's a place that we can — that we all celebrated being one thing together. Like when somebody went to go see Ghostbusters or E.T., it was people from all walks of life, all getting together and laughing or doing whatever came naturally to them, you know?
Peter Biello: And what about you, Ed? What brings you to a fundraiser like this? 
Ed Roland: My mom, after my dad passed, became an usher at the Fox, and it was an escape for her. And she got to see plays. And I was like, I forgot that there were plays [there] and I can remember it. It joggled my mind that Mom and dad took me to go see all these great plays at the Fox Theatre. And it's just it's a beautiful place. It's something that for me, there's a lot of memories. First, I skipped my junior/senior prom because Mother's Finest was playing two shows the same night. So I went to the second show. So I can't wait to tell them that [on May 13]. And then this would be my fourth time on that stage [at the Fox]. R.E.M. opened for The Police. You know, I'll do my best Michael Stipe impersonation: "Anybody wants to come up here and dance? You can dance with us."
Peter Biello:  And so you did.
Ed Roland: I did. It was just me and my buddy because we were the only two up there just dancing with Michael Stipe, you know? And then [Collective Soul] were fortunate enough to do a show with Lenny Kravitz there. So to me, there's a there's an aura about that place.
Peter Biello: What can people expect when they sit down and go to the show and the curtains open?
Kevn Kinney: Peter Buck [from R.E.M.] is joining us for our show. He's going to play with Collective Soul. He's going to play with Drivin N Cryin. And also Lenny Kaye from the Patti Smith Group, who curated the compilation called Nuggets, which is a vast array of psychedelic singles that he put together 50 years ago. It's having its 50th anniversary, and he's joining us for a 15-minute Nugget celebration. He's coming down from the Patti Smith Group, and last time he played the Fox was when Patti Smith Group was the band opening for the Rolling Stones [in 1978].
Ed Roland: Yeah, that surprise thing.
Kevn Kinney: Yeah. He hasn't been back there since. And his first single in 1968 was called "Crazy Like a Fox." So he's going to be recreating that song. 
Peter Biello: That's perfect, crazy, perfect.
Kevn Kinney:  I think it's going to be a great night of celebration.
Peter Biello: Ed, you've got quite a huge catalog over the decades, what can people expect from you?  Mostly new work, some of your classics? What do you think? 
Ed Roland: Well, we'd like to play some new stuff. I mean, you know, anytime you hear Drivin N Cryin and you go see them, you sprinkle it in. You always start the set with the new songs because they're excited. So you don't you don't give them a bathroom break, bring the hits in later.
Kevn Kinney: Collective Soul is one of those bands that it's just one of my favorite Georgia, but also American bands. Really amazing to see them at The Fox. You know, the venue. The venue is always the fifth member of the band.
Ed Roland: I know, it is. 
Kevn Kinney: But the venue really is. If we play the Star Bar or if we play The Fox or we play an outdoor venue, the venue is really the fifth member of whatever band it is. And so, you know if you've seen Collective Soul at the Amphitheaters, that's a groovy scene. If you've seen them at Music Midtown or in a bar or whatever. The Fox adds a whole new element — 
Ed Roland: It does. 
Kevn Kinney:  — to anything that's happening.
Ed Roland: The same thing. It's the energy that Drivin N Cryin brings anywhere any stage they play. The energy is just different at The Fox. It just is. And like you said, it's a fifth member of the band. 
Peter Biello: How much are tickets?
Ed Roland: $40 to $75 and what a deal.
Kevn Kinney: And it's $1,500 cheaper than some of these stadium shows. 
Peter Biello: Well, Kevn Kinney, singer and songwriter for Drivin N Cryin and host of this fundraiser for The Fox, also Ed Roland of Collective Soul performing as well. Thank you both very much for being here. Really appreciate it. 
Kevn Kinney: Well, thank you for having us. I appreciate it.
Ed Roland: Yeah. Thank you so much, Peter. 
Secondary Content
Bottom Content