Section Branding
Header Content
Georgia plant fire extinguished, shelter-in-place lifted
Primary Content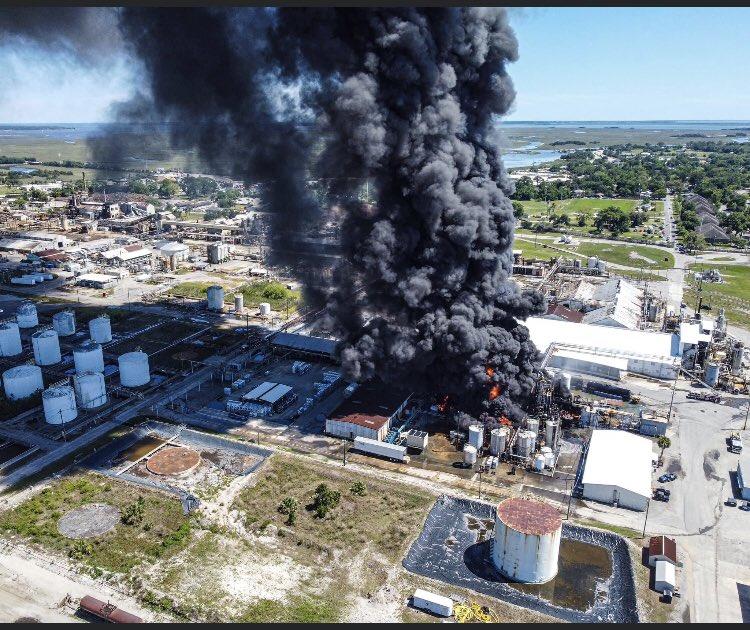 Emergency crews extinguished a fire at a Georgia chemical plant shortly after 10 p.m. Saturday, allowing officials to lift a shelter-in-place order issued in the afternoon when the fire broke out for the second time in the day.
The fire at the Pinova plant in Brunswick, Georgia, began Saturday morning and had been extinguished, but the Glynn County Board of Commissioners said the fire rekindled around 3 p.m.
A shelter-in-place order was issued for a half-mile (0.8 kilometers) from the plant at 3:25 p.m. and about an hour later was expanded to a 1-mile (1.6-kilometer) radius because of shifting winds, the board said in updates posed on Facebook.
Thick plumes of black smoke rose into the air before the fire was extinguished at the Pinova facility, which makes rosin and polyterpene resin.
Brunswick Mayor Cosby Johnson declared a state of emergency and a shelter-in-place order for the whole city of Brunswick at 6 p.m. Saturday, he said.
"Because we did not know the extent to which we could contain this fire and we could not foresee where the wind would be moving, we thought it would be best for us to talk to our entire city and not just one singular piece of it," Johnson said during a news conference.
A voluntary evacuation was recommend for those within a half-mile of the Pinova site and the city established a shelter for those affected, Johnson said.
The board of commissioners issued an update at 10:08 p.m. announcing the fire was out and the shelter-in-place and evacuation orders had been lifted.
Brunswick Fire Department Assistant Chief Laurence Cargile said the origin of the fire was not immediately known, but firefighters had used foam to contain and control the blaze.
No injuries were reported.
Emergency crews from several departments including Jacksonville, Florida, about 70 miles (112 kilometers) south of Brunswick, responded to assist with the emergency, officials said.
Secondary Content
Bottom Content