Section Branding
Header Content
A South Georgia hospital hopes to ease the nursing shortage with a new housing development
Hero Image
Primary Content
Away from the stressors of a real emergency room, a group of nurses at Phoebe Putney Memorial Hospital in Albany are huddled and prepping for their next patient, Mr. Sherman Yoder.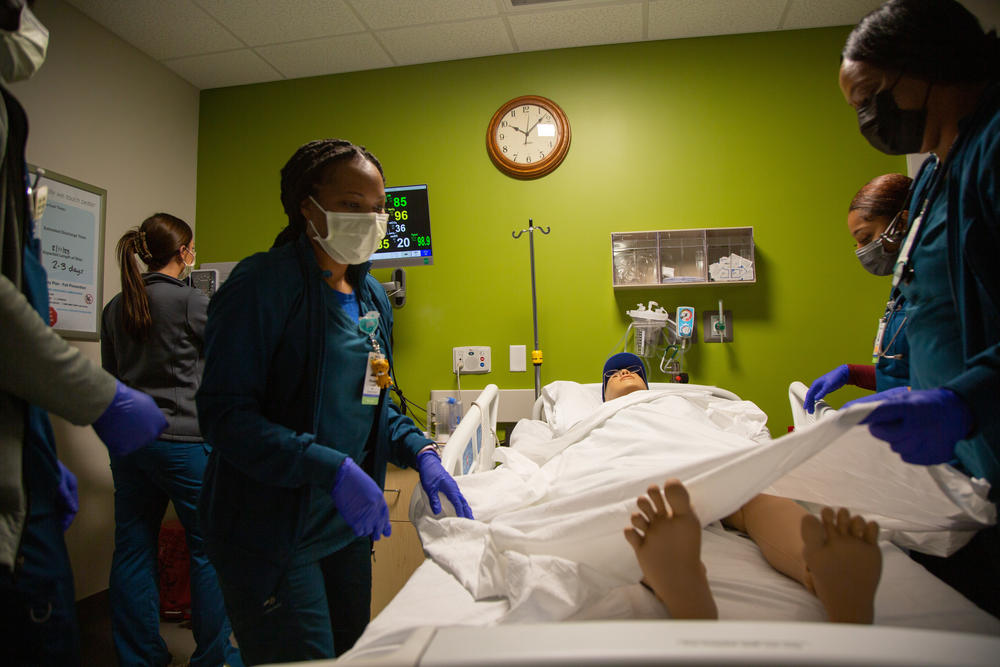 "He's 80 years old, he's a Type 2 diabetic," explains a nurse practitioner. She says Mr. Yoder developed a pressure ulcer on his right toe a few weeks ago, and likely has an infection. 
But Mr. Yoder isn't a real person. He lives in Phoebe Putney's simulation lab, a space where nurses can complete essential training with lifelike mannequins. 
In the lab, preceptors watch and pretend to be the patient from behind a two-way mirror. 
"How is your pain today, with your foot?" one of the nurses asks. 
 "Oh, my toe's sore," one of the teachers answers, as the mannequin blinks its eyes while laying flat on a hospital bed. 
"They have a whole script we kind of follow, and then we have a back story that we can follow too," a preceptor explains behind the glass. 
Tracy Suber is the vice president of education at Phoebe Putney. She says the $5 million simulation lab is a long-term investment — by being able to train nursing students at the hospital, Phoebe hopes they're  one step closer to recruiting them after graduation. 
"We're starting to see the pipeline is there because we built it," Suber said. 
Although national workforce estimates point to a gradually closing gap between supply and demand of nurses, Georgia is expected to see a 21% shortage of registered nurses by 2035, the second-highest estimated shortage among 10 other states. 
This year, Phoebe Putney broke ground on another investment in the hospital's workforce — a multi-million-dollar expansion to a local technical college. 
Growth through proximity 
The building will have 80 apartments for nursing students from Albany Technical College, a public college with just over 3,000 students. The nursing students will live above a floor of classrooms, labs and offices, right across the street from Phoebe Putney. 
Scott Steiner's office looks out over the work site. 
"It's going to be three stories and then you'll have this common area, some picnic tables and benches," Steiner said. "It's going to be a lot more activity than there is today."
Steiner is the president and CEO of the Phoebe Putney Health System. As he put it, the project is well worth the cost to the hospital. 
"So this project is about $55 million," Steiner said. "Last year we spent $100 million on contract nurses."
He estimates that's about $225 an hour per nurse, between four and five times more than the average hourly pay for a non-traveling registered nurse in Georgia. Most of those traveling nurses come from out-of-state. 
Steiner said health care has always struggled, but that COVID-19 created even bigger gaps in the workforce. 
"We want 300 nurses that live in our community, go to our churches, shop at our stores, buy houses, raise families," Steiner said, instead of the 300 contract nurses they have at Phoebe Putney. 
Lisa Stephens is the dean of the nursing program at Albany Tech. She says close to 90% of the students she enrolls end up working at Phoebe Putney. 
But her aim is to grow the program to 200 graduates annually, 10 times as many compared to some years, and she has a good idea of the challenges in the way.
"When we really look at why we aren't able to attract as many from the more rural areas of our service delivery area, transportation tends to be one," Stephens said. 
She expects students living maybe 40 or 50 miles away will be more likely to enroll at the college if they can live and study in the same place. And maybe one day, if they can get a job there, too.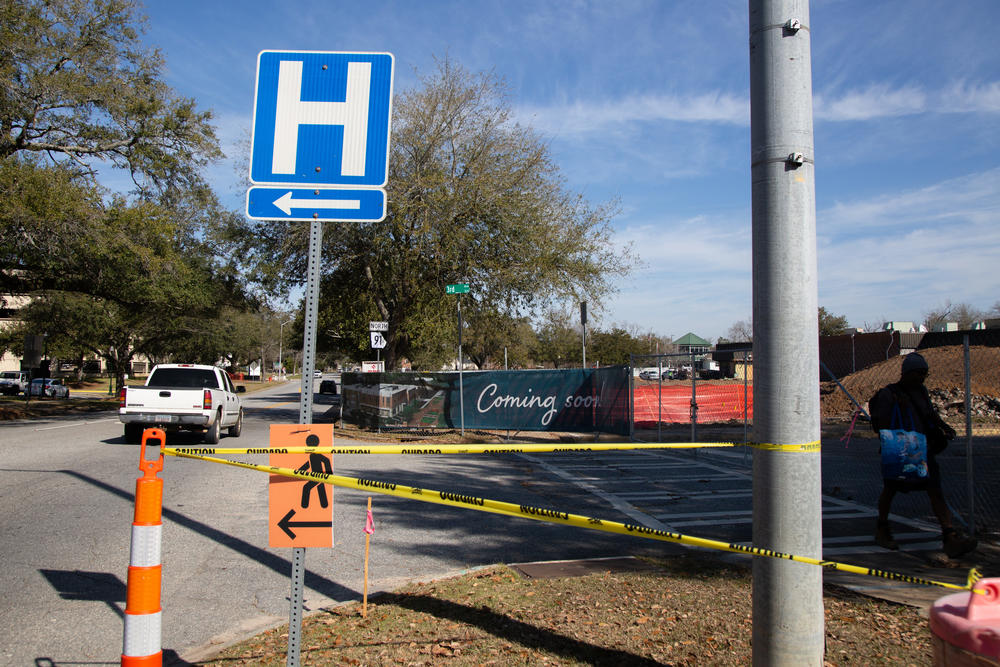 "It's right across the street; I can't stress that enough," Stephens said. 
Albany has seen a steady population decline over the past decade. Even Stephens, who was born and raised in Albany, left for 17 years and came back in 2017 after working in health care in other parts of the state. 
"Projects such as this one are, in my opinion, going to be one of the biggest driving forces of attracting those of us that have left," Stephens said about the new development. 
The new housing development is slated to open by fall 2024.
Meeting future needs
Tanya Sudia, dean of the College of Nursing at Augusta University, said she thinks the project in Albany is a "resurgence" of a traditional model of education — hospital-based nursing schools. 
"It's a modern twist to it to meet current needs," Sudia said. 
Sudia served on the Georgia Healthcare Workforce Commission, a group established through state legislative action last year to study workforce shortages across health care and come up with possible solutions. It released a final report in January. 
"Georgia's growing demand for health care services is primarily driven by three factors: overall population growth, an aging population, and increasing disease burden among Georgians," the report summarizes. 
The commission recommends that to meet that rising demand, the state should make investments in three key areas: the retention of the existing labor force, the growth of faculty in health care education, and outreach efforts to target incoming students 
Suber says something like what they're calling the living and learning community would have been really helpful when she first started in health care. 
"I was 20 when I started … I lived at home," Suber said. "I didn't have access to all these resources, and good grief, I would have really appreciated it."
It's the kind of support Suber and others hope will keep newly trained nurses in Southwest Georgia.
Correction
An earlier version of this story read:
The building will have 80 apartments for nursing students from Albany Technical College, a public college with just over 1,000 students.  
Secondary Content
Bottom Content