Section Branding
Header Content
Georgia lawmaker wants more Georgians to know about HB 216, the sexual assault survivors bill
Primary Content
LISTEN: Rep. Marvin Lim explains to GPB some of the actions he and the Criminal Justice Coordination Council will work for House Bill 216 after the 2023 legislative session.
——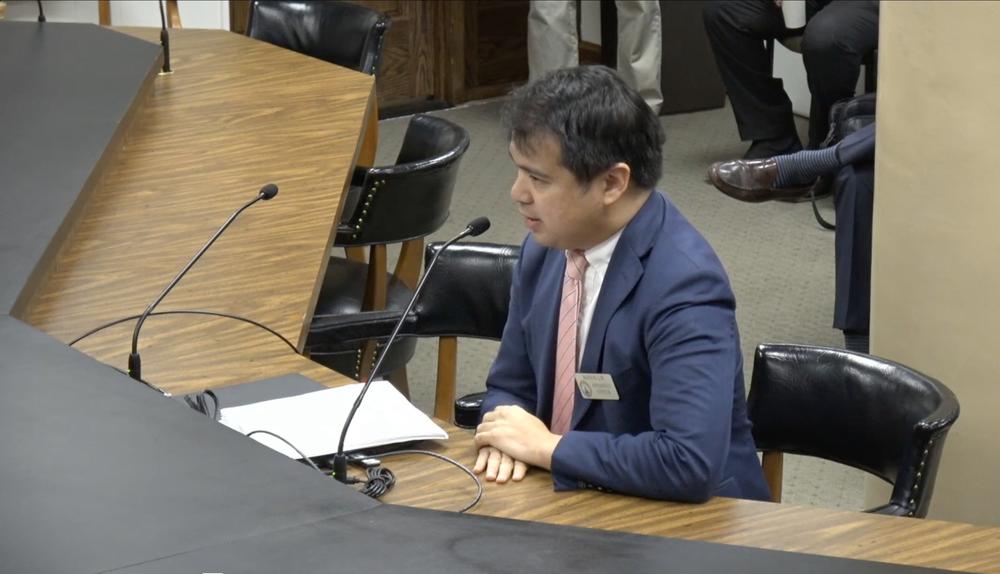 Democratic Rep. Marvin Lim will continue working on House Bill 216 despite its failing in Georgia's 2023 legislative session.
The bill awards sexual assault survivors medical treatment and counseling under the Georgia Crime Victims Emergency Fund.
Applying to documented incidents and reported crimes, HB 216 addresses survivors whose insurance covers medical treatment and counseling — especially those who may not be the primary policyholders and chose to opt out of using their insurance and instead have their treatment covered under Georgia's Crime Victim's Emergency Fund from the Criminal Justice Coordination Council's (CJCC) Crime Victim's Compensation Program.
There's a good reason to the option.
"Many survivors are unfortunately victimized within their own family, by those who are holding or are the primary policy holders, or those who simply do not wish to disclose a traumatic event — at least by means of an insurance notification, which is legally required," Lim explained to the House Judiciary Non-Civil Leverett Subcommittee. "And [they] may further have reason to seek to shield their treatment not only from that person, but the employer who may be the one sponsoring that coverage."
Under the Violence Against Women Act, federal and Georgia law, forensic examination for sexual assault survivors can't be charged to someone's insurance. VAWA does not cover medical treatments and counseling, but Georgia's Crime Victim's Emergency Fund does — if and only if a survivor's insurance policy declines to cover both.
Lim confirmed to the committee that CJCC favored the measures of House Bill 216 after finding that treatment places no financial burden on the money allocated to the fund.
"CJCC are supportive of the idea, per their analysis, considering average payout for medical treatment and counseling expenses in previous years, of taking specifically fiscal year 2022 under a budget of this fund of right over $8 million, thanks to this General Assembly," he explained. "The total cost to the program would have been an estimated $157,750 had this change been implemented and had all insured survivors opted out of using the insurance according to the council."
Failure of passage
HB 216 failed to make it past the House Judiciary Non-Civil Leverett Subcommittee after receiving a hearing, but not a vote.
The committee thought the bill was a great idea, Lim said, but its failure involved its involvement with the budget.
"From what I understand, because there's larger questions about the budget, not even with respect to the fund itself," Lim said to GPB. "The General Assembly was very careful with budgetary items, so unfortunately, [the bill] did not advance beyond subcommittee despite it being fully supported; the bill is bipartisan, has two Republicans on there. So it didn't go far in committee, but it was for that reason, not because of any opposition."
Despite its failure, Lim said he was happy to have brought the bill to state lawmakers' attention.
"I'm very grateful to have presented on the bill, just to raise awareness of the fund — not only for those who might seek to use it, but also for the General Assembly to continue to fund it," he said. "I know that the CJCC is looking at the long-term solvency of the fund, and we did appropriate again, through the amended budget, another $8 million — which is great, but they are going to continue to look at the different sources for the fund so that, in the long run, it is viable."
Off-session agency work
Lim said he plans to work to reintroduce HB 216 in next year's session so it's codified in the statute. He is also working with the Georgia Criminal Justice Coordinating Council to enforce the measures of the legislation through rule-making.
"Rules and regulations are a bit easier to create," Lim said. "It's not as permanent as statute, but in effect, should the rule go into place, it would be at the same effect as a bill — i.e., those survivors being able to access the fund even if they have that insurance."
He added, "The hope is that in the next few months, maybe even the next month or so, we could come up with a proposed rule, then have a notice and comment period for three or four months. And then after that, they could vote that in at one of their quarterly meetings, so that it's within the rules and regulations."
Lim also wants to use the off-season to raise awareness of the bill.
"I'm hoping to work on this with [CJCC] on how do we — through that rule-making process but also other kinds of outreach efforts — ensure that this information goes to people, like in my district, that may be limited English speakers or other people that might be fearful of government help," he said.
"The money is in there and would not be a large impact at all, but the flip side of that is we have to look at why that is the case," Lim explained to GPB. "It's not, unfortunately, just because there are not a lot of sexual assault survivors. We know there are. I think the larger issue is there's a lot of fear and lack of knowledge, and even when there is knowledge, there is fear to access the fund."
An idea that has been floating considered by CJCC and Lim is forming a study committee that examines how to continue funding the Crime Victims Emergency Fund.
He plans to reach out to the House Judiciary Non-Civil Committee to form such a study committee, a working group, or other things that could continue to work on the fund in general.
"The awareness for us as advocates and lawmakers particularly is important as well for the long term of this fund, because you don't want this fund to go away," he said. "You want to be able to get it to more people."
Georgia Crime Victims Compensation Program
Individuals who qualify for the Georgia Crime Victims Compensation Program include those who:
Were physically injured or witnessed a violent crime
Suffered serious mental or emotional trauma as a result of being threatened or being present during a violent crime
Were trying to help a victim
Are the parent or guardian of someone who was killed or injured as a result of a violent crime
Depended on someone for financial support who was killed as a result of a violent crime
Are not the victim, but have been paying bills related to the crime
Have a child who was the victim and you relied on the offender for financial support
Were the victim of family violence who relied on the offender for financial support
Each victim has a maximum award of $25,000 for each victimization, as the GCVC reports.
The program covers the following expenses: medical (up to $15,000); funeral (up to $6,000); counseling (up to $3,000); lost wages (up to $10,000); loss of support (up to $10,000); and crime scene sanitization (up to $1,500).
Secondary Content
Bottom Content