Section Branding
Header Content
What do the proposed Georgia prosecutor oversight bills do? An explainer
Primary Content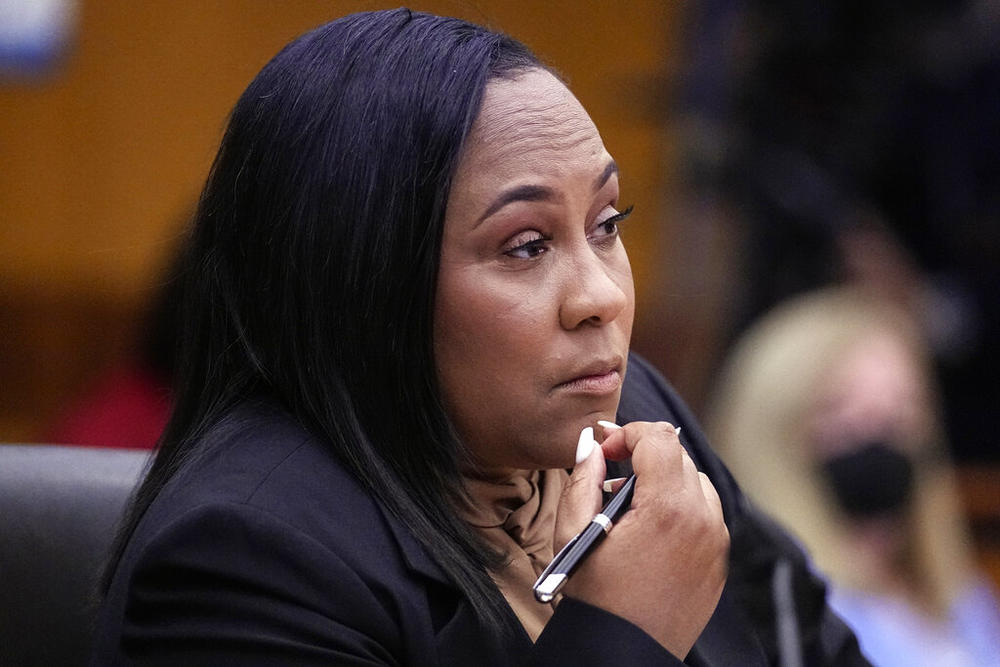 Republican lawmakers in Georgia are moving forward with legislation that would create a new oversight panel in the state that, depending on who you ask, either cracks down on "rogue" prosecutors or will be wielded to remove progressive Democrats from office.
After passing two slightly different versions of oversight legislation, House Bill 231 in the House and SB 92 in the Senate, Republican leadership is expected to spend the final days of the 2023 legislative session hashing out a finalized agreement on what new prosecutorial oversight would look like.
But like many legislative proposals on controversial subjects, the motivations of supporters, the concerns of those opposed, the actual language contained in the bill(s), and the political reality of making changes in a closely divided state all offer slightly different perspectives on this effort to create a new commission that could discipline district attorneys and solicitors general who violate their duties spelled out in state law, including potential removal from office.
Here's a look at similarities and differences in the bills and explanations of what a commission would and would not look like. But first: how we got here.
Recent history of the controversy
In recent Georgia history, prosecutors behaving badly has been a bipartisan affair, with Democratic and Republican DAs facing scandals that resulted in defeat at the ballot box and, occasionally, criminal charges. Sponsors of the push say the commission would mirror an existing panel that monitors judges in the state and provide more timely accountability for misconduct and wrongdoing. 
In fact, Democrats introduced a very similar piece of legislation in 2020, HB 1214, that would have created an oversight commission for prosecutors after the murder of Black jogger Ahmaud Arbery and revelations that two DAs declined to pursue charges before video of the incident sparked national outcry.
But the political landscape (especially around prosecution) has changed, as has the language in the proposed oversight measures. In Georgia's last district attorney election cycle in 2020, nearly one in five incumbents lost their primary or general race and a historic number of nonwhite Democratic women took office as their circuit's top prosecutor. Nationally, Republicans argue progressive prosecutors and policies aren't properly addressing problems with violent crime and have sought to reign in those they deem soft on crime. Locally, DAs themselves are divided on the proposal beyond simple partisan splits, with some expressing a desire for more oversight but concerned that language in the bills could infringe upon prosecutorial discretion on what cases to pursue and how.
Clarifying prosecutors' duties
The House version of the proposal would add sections to the state laws outlining duties of a district attorney and solicitor general that explicitly requires them to "review every individual case for which probable cause for prosecution exists, and make a prosecutorial decision available under the law based on the facts and circumstances of each individual case."
During a vote on the measure this week, sponsor Rep. Joseph Gullett (R-Acworth) said this part of the bill came to light because he felt not every prosecutor was reviewing the specifics of each case before their office made a decision.
 
"Some also issue blanket statements to say 'Anything in this world, I'm not going to prosecute," he said. "They don't look at the merits of each individual case today. And that's a big reason why this bill is being brought forward."
On the Senate side, there is not new language added to prosecutors' duties specifically enumerating the need to review each case before making a decision.
Some district attorneys expressed concern in committee hearings that this language could hamper prosecutorial discretion and how they pursue cases, while others said that language would not alter how they did their jobs.
Creating an oversight commission
Logistically, the bulk of the House and Senate bills spells out how the Prosecuting Attorneys Oversight Committee (House) or Prosecuting Attorneys Qualification Commission (Senate) — same body, different name — would operate.
In virtually identical wording to the Democratic-sponsored bill in 2020, the GOP's eight-person oversight group would have the power to "discipline, remove, and cause involuntary retirement" of district attorneys or solicitors-general.
It would include one five-member panel that investigates allegations made against prosecutors and a three-member panel that would conduct hearings on any charges filed by the investigative panel, issue disciplinary orders, standards and advisory opinions regarding the grounds for disciplining prosecutors.
The old Democratic proposal included 10 total members, including several ordinary citizens.
Another difference between the current Republican bill versions is who would serve on the investigation and hearing panels and how they are appointed.
The House would see the Georgia Supreme Court appoint all eight members and have no requirements other than being a registered voter in the state.
The Senate would see the investigative panel be filled with attorneys that have at least 10 years as a State Bar of Georgia member and generally experience as prosecutors, including:
One member with experience as an elected DA or solicitor-general appointed by the governor
Two attorneys with at least five years' experience as an assistant DA or assistant solicitor-general, one appointed by the lieutenant governor and one by the Senate Committee on Assignments
Two practicing attorneys appointed by the Speaker of the House
The Senate bill would have the hearing panel include one current DA or solicitor-general appointed by the governor, an elected DA or solicitor-general selected by the Senate and a former judge with at least 10 years of experience, including serving as a DA or solicitor-general selected by the House.
Republicans would currently control the selection of every commission member if the Senate's breakdown prevails. The 2020 legislation proposed by Democrats would have seen 10 members, including several citizen members, and also would have been controlled by Republican-held majorities and elected positions.
What would cause a prosecutor to face discipline?
A key difference between the Democratic proposal from three years ago to now is the addition of specific reasons prosecutors could be disciplined or removed from office.
Under the Republican proposals, that includes:
"mental or physical incapacity interfering with the performance of his or her duties which is, or is likely to become, permanent,"
willful misconduct in office,
"willful and persistent failure to carry out duties,"
conviction of a crime involving moral turpitude,
"conduct prejudicial to the administration of justice which brings the office into disrepute"
or allowing a staff member to do any of the aforementioned things.
The House version also adds that violating the Georgia Rules of Professional Conduct of the State Bar of Georgia, including a specific rule regarding special responsibilities of a prosecutor, could be grounds for discipline.
Complaints would not be taken up on based on a prosecutor's decisions around a case unless there is some possibility of bias, conflict of interest, the decision was made with factors "completely unrelated to the duties of prosecution" or a "stated policy, written or otherwise, which demonstrates that the district attorney or solicitor-general categorically refuses to prosecute any offense or offenses of which he or she is required by law to prosecute."
In theory, there could be wide latitude given to what could constitute things like "willful misconduct" or "willful and persistent failures to carry out duties" that could see prosecutors targeted by politicized complaints or a review panel comprised of an opposing party.
But in practice, the commission will have to develop rules and procedures for investigating complaints, hearing evidence, following due process and making decisions about what, if any, discipline to recommend. In both versions of the bill, it would require a majority of the investigative panel's vote to move forward with pursuing a complaint.
The commission's composition would either selected by the state's highest court or required to be stocked with experienced prosecutors who understand the roles and constraints placed on those they are investigating.
The bill does not specify how a prosecutor would be removed from office, but the House version would have any disciplinary action against a prosecutor reviewed by the state Supreme Court.
In short, we don't know what exactly would result in a prosecutor being punished under this new oversight group or how that punishment would be meted out, but that's more a design of to-be-determined parameters rather than wide latitude to axe elected officials.
What prosecutors' actions influenced this legislation?
Several district attorneys in the near past and present factor in to different groups' support or opposition for the bill.
Gullett, the House sponsor of the bill, pointed to former Republican Paulding DA Dick Donavan who was indicted in 2021 on charges of bribery, violation of oath by public officer and two counts of false swearing before pleading guilty to one charge and resigning. He was also accused of sexual harassment.
Senate sponsor Randy Robertson (R-Cataula) also mentioned former Chattahoochee Judicial Circuit DA Mark Jones, a Columbus Democrat, who resigned after pleading guilty to several charges in a public corruption case.
There's also the fallout from the murder of Ahmaud Arbery, where former Brunswick DA Jackie Johnson was charged with meddling in the investigation of the case before handing it off to a second DA who declined to bring charges against the men involved in Arbery's shooting death. The public release of video of the killing sparked national outcry, a state investigation into Johnson and the case being handled by a third district attorney.
Johnson was ousted by voters in the 2020 election and her case has not been resolved more than three years after Arbery's murder and 18 months after a grand jury indicted her. Johnson has not appeared in court since her indictment, as a Dec. 29, 2022 hearing was continued with no new date set.
In today's news, Republicans have taken aim at Athens-based Deborah Gonzalez, who made waves upon taking office in 2021 with a memo that outlined certain drug crimes her office would not prosecute. Some lawmakers argue Gonzalez, whose office has also seen high staff turnover and criticism over alleged missteps and botched prosecutions, is failing to uphold her oath of office and should face disciplinary action before the next election in 2024.
The current options for removing a district attorney from office includes initiating a recall, which would require a petition signed by 30% of the registered voters in that judicial circuit (thought a Republican-backed bill wants to lower it to 2%), impeachment by the Legislature (which has not been tried in decades), a State Bar complaint or voting them out of office in a primary or general election.
Supporters of the commission say all of the existing methods take too long to rectify when someone needs to be removed from their role, but a look at the Judicial Qualifications Commission (a similar panel reviewing judges) suggests this way might not be much faster.
In January, the JQC recommended the extreme step of removing appeals court Judge Christian Coomer from office — two years after he was first suspended — for a litany of ethics violations, and the Georgia Supreme Court will still have the final say.
If you think it's primarily a response to the Fulton County investigation into Trump…
…you're missing the bigger picture of the last few years of district attorney elections, Republican messaging around crime, and testimony about the bill.
Fulton County District Attorney Fani Willis is in the national news for investigating efforts by former President Donald Trump and other Republicans to overturn Georgia's 2020 election results as well as a sweeping racketeering case against Atlanta rapper Young Thug and associates.
Some on the left and in national media outlets argue this legislation is primarily a reaction to impending indictments in that investigation and an effort by the GOP to remove her from office before Trump and his allies face trial.
While Willis is investigating the role some GOP lawmakers played in the failed attempt to reverse Trump's defeat, the main political driver of the legislation is the clash between progressive prosecutors and Republicans who feel they don't handle crime in their communities in an appropriate manner.
For her part, Willis has pointed to the election of a record number of nonwhite Democratic DAs as an impetus for the bill and shared her concern in committee hearings about negatively influencing prosecutorial discretion when resources to fight crime are stretched thin.
Potentially prosecuting the former president and his allies certainly does not make some Republican lawmakers and voters happy with the Fulton County DA, but the desire to create more oversight for prosecutors has floated around the Capitol long before the special grand jury finished its work last year. That, and the general framework of the commission language being copied from the Democratic-sponsored effort in 2020 shows that the reality of this legislation is, unsurprisingly, more nuanced than some may have you think.
So when would this commission begin its work, if it is signed into law?
It depends on which version of the bill is final, but nothing would happen very soon.
The House version of the Oversight Commission would see things begin by October 2023, have its rules established by April 2024 and take no complaints until that April as well. But it does not specify any limit on the time periods complaints may cover.
The Senate's Qualification Commission would also start by October 2023 with rules established by April 2024, but it would wait to take complaints until July 2024. Additionally, the commission would not take any complaints about actions prior to July 2023 unless it was part of a pattern of conduct that was continuing into that time.
So the long on-ramp before a commission would be fully up and running with rules for investigating and disciplining prosecutors would not even begin to hear complaints before voters start to make their voices heard when DAs are on the ballot in the 2024 election cycle, let alone see the investigative and hearing process to completion.
Secondary Content
Bottom Content