Section Branding
Header Content
Charges dropped against detainee beaten inside Georgia jail
Primary Content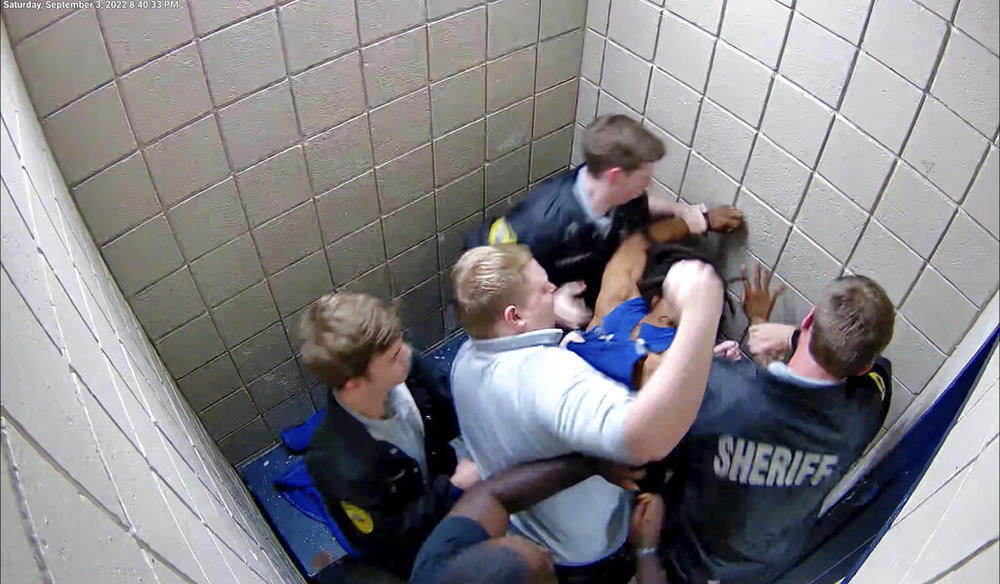 Prosecutors have dropped charges of assault, obstruction and other counts against a Georgia jail detainee after video from security cameras showed him being beaten by sheriff's deputies who rushed into his cell.
The decision to dismiss charges against 41-year-old Jarrett Hobbs came several months after an investigation following the video's release in November led to the arrest of three Camden County deputies on battery charges in the jail beating.
"When the video came out, it was abundantly clear that Mr. Hobbs was not the aggressor," Harry Daniels, a civil rights attorney representing Hobbs, said Thursday.
Hobbs of Greensboro, North Carolina, was booked into jail in coastal Camden County for traffic violations and drug possession charges Sept. 3. Later that day, a security camera recorded deputies charging into Hobbs' cell and pushing him against a wall before repeatedly punching him in the head and neck.
Another camera recorded Hobbs being hurled against a wall and pinned to the floor.
Hobbs was charged afterward with aggravated battery, simple assault and obstruction of law enforcement officers. A court filing by prosecutors Tuesday dismissed those charges, citing "insufficient evidence" against Hobbs. Also dropped were the traffic and drug counts that initially landed Hobbs in jail.
Brunswick Judicial Circuit District Attorney Keith Higgins had no further comment on the case, said Cheryl Diprizio, his executive assistant.
Hobbs' beating at the Georgia jail came to light after federal authorities in North Carolina looked into his September arrest. They wanted to determine whether Hobbs had violated his probation stemming from his 2014 guilty plea to a charge of conspiracy to commit bank and wire fraud, according to court records.
The jail videos were first obtained by Hobbs' attorney in the federal probation case, Daniels said.
Daniels shared the security videos with reporters in November. Sheriff Jim Proctor ordered an internal investigation more than two months after the beating occurred and Hobbs was the only one charged. Higgins, the district attorney, asked the Georgia Bureau of Investigation to get involved.
The following week, three Camden County deputies were arrested on charges of battery and violating their oath of office. They were also fired. Two others faced disciplinary action but weren't charged with crimes.
Hobbs is Black. The three deputies charged are all white, according to Capt. Larry Bruce, the sheriff's spokesman.
Hobbs was returned to federal prison after authorities determined he violated terms of his probation by leaving North Carolina. Daniels said having his charges dismissed in Georgia should improve Hobbs' standing in the federal case.
"He's now eligible for release to a halfway house because he no longer has pending charges, which is major," Daniels said.
 
Secondary Content
Bottom Content